Litter left on Mount Maunganui beaches over summer has sent local residents into strife on social media.
A post shared to the Mount Maunganui Facebook page shows a number of items which have been collected by a group of residents during a clean-up between Mount Main Beach, Omanu and Papamoa.
Some of the items discovered on the beaches include empty liquor bottles, cans and packaging, takeaway packaging, plastic water bottles, fireworks and a water-logged tampon.
"Thanks to Maria Munoz and everyone else who is helping clean up other people's rubbish on the beach from the Mount to Omanu to Papamoa," the post reads.
"It is sad that after so many locals have worked hard all year to help keep our environment pristine, some people from around New Zealand think it's ok to come holiday here and dump their rubbish.
"There are also great conversations we've overheard where visitors who have been walking their dogs have stopped to pick up their dog poo explaining to their family 'In Tauranga we have to pick this up. Or we can get fined $300, so let's keep on top of it ok?'
"This is heartening as it's clearly possible to make people aware, and often it's the few who can ruin things for others.
"So please keep smiling and say hello to visitors."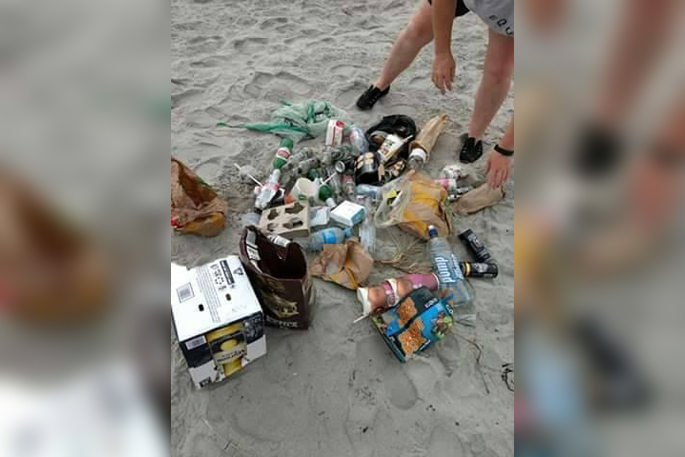 The post has generated more than 40 comments so far.
"Every year it's always the same. It's time we got a crew together in the early hours of New Year's Day to do a sweep," says a comment left by Saje Jarvis on the post.
"Whenever I walk my dog on the beach I always collect the plastic rubbish that I find. Shame it's dropped but it gives another purpose to my walk," says Sarah Farr.
"So sad that some people feel so entitled to leave their rubbish behind for someone else to tidy up after them," says Lisa Fowler. "This is our local backyard. Would you leave your own personal backyard looking like this? Our beaches are there for everyone to enjoy but this is not ok. Thank you Maria for your hard work."