An air of calm pervaded the passenger area of the Cathay Pacific flight which returned to Auckland after birdstrike on Thursday.
But one passenger, Beth Nunn of Manchester, says she was disappointed the flight crew were "not around to reassure" passengers who may have been concerned.
Flight CX198's nose was stoved-in mid-flight as it left Auckland for Hong Kong.
Beth was returning to the United Kingdom after a brief holiday in New Zealand, lodging with friends at Papamoa.
She says the extent of the damage was a shock especially assuming it was "a small amount".
The captain had "really downplayed" the damage, says Beth.
While the return trip home was calm, flight crew, however, was "pretty much non-existent".
"I asked for water at one point but no drinks or food were offered in the almost two hours we were flying (we took off at about 3.05pm and landed about 4.40pm).
"If anything, I was very disappointed with the service, reassurance and advice offered by the crew.
"They were not visible or particularly accessible after the initial announcements. They were certainly not around to reassure passengers who might have been concerned."
Initially, passengers were told the aircraft was returning to Auckland and would land in 20 minutes. The time was extended to 45 minutes as the plane looped from east to west to dump fuel.
"It was played down and implied that they hoped the damage would be repaired [so] we could restart the journey on that aircraft.
"The captain was excellent in his manner to reassure passengers – it's a shame his crew were not the same."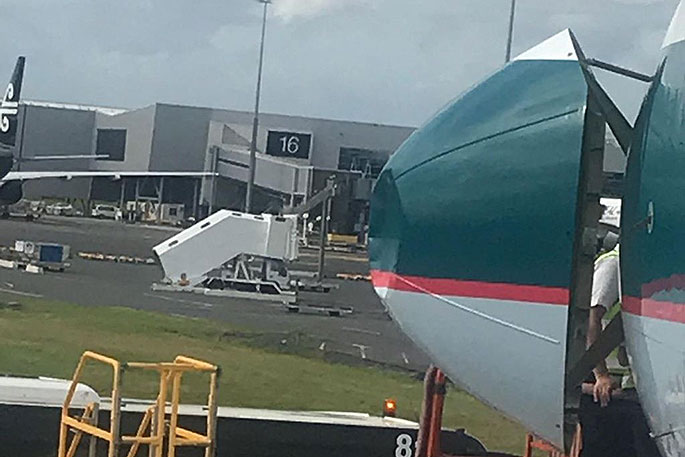 The stoved in nose of the plane.
On landing, the aircraft and passengers sat on the runway for half an hour with no updated information or refreshment.
"After being told the flight had been cancelled and would be rearranged for the next day, passengers were still calm and mostly happy with the decision to turn back. I think after seeing the damage we were even more relieved!" says Beth.
She says airport service was also disappointing and instructions were confusing and business class passengers were given preference over those in economy.
"I almost went through customs without claiming my bag after being told to 'just get in this line if you're from the cancelled flight," says Beth.
"By 11pm last night, I still had no news on my replacement flight."
Though a re-booking was confirmed at midnight, Beth did not learn of it until she rang the airline this morning.
She is booked on a flight this afternoon to return via Dubai.
The former teacher, who owns and operates a social enterprise in the UK, working with young people from disadvantaged backgrounds, says she was looked after "with regards to a hotel and food but there was much confusion and I am still unsure as to when my mammoth return journey to the U.K. will begin.
"I was told to come to the hotel and would receive more info but felt unable to settle for the night not knowing when I am supposed to be boarding two long haul flights home."
Beth says other passengers were also frustrated.
"I know many other passengers are feeling the same as me – frustration.
"When at the desk trying to sort my inward journey, it was also frustrating to see first class passengers being quickly reassigned flights and economy being partly dismissed; understandably, an element of service is expected for first class but maybe airlines need to be more mindful of how this is managed so not to cause more frustration."
SunLive has contact Cathay Pacific for comment and will post any updates to our site when we get them.