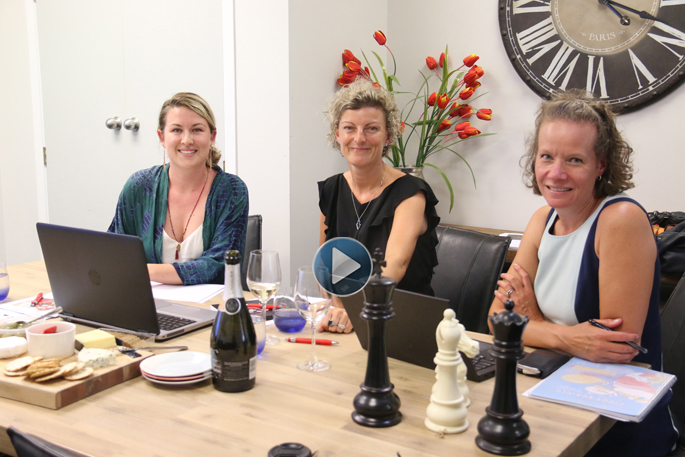 Click the image above to watch the video
The judges of the 2019 Trustpower Photographic Exhibition are busy deliberating over the more than three thousand entries received in this year's competition.
By Thursday evening, the judging team of Millie Newitt from Downtown Tauranga, Jenny Rudd from UNO. Magazine, and Carolyn Schofield from Trustpower had managed to whittle down the 3698 entries to a final 100, from which the 20 finalists will be chosen.
The three judges have already found that the standard of photography this year far exceeds anything that they've seen in the previous two years.
"It's a really exciting task for all three of us," says Jenny. "Particularly as we've got to know each other well over the three years, we understand what we're looking for and what makes people in the Bay of Plenty tick and what they enjoy looking at on the Strand.
"Together we are looking for something that really hits us in the chest, and that makes us feel something. We want to know that the photographer has really felt something when they took the photo.
Carolyn is finding this year her most enjoyable year so far for judging, partly because of the variety of photographs sent in to the competition.
"We've opened up the competition beyond the bay this year," says Carolyn, "which means we've got a wider variety of images, which is lovely. I'm also looking for the photos that may not technically be the perfect photo, but are the ones that are going to make me stop and think or respond emotionally.
"Being involved in the community is an essential part of Trustpower's DNA, so what I'm looking for as Trustpower's representative is something that our community will enjoy as they wander along The Strand on a summer's evening or a summer's day."
Jenny believes the competition reflects Trustpower's community focus.
"This competition is about feeling," says Jenny. "If you think about Trustpower, how they like to be based here, and how they're very community focussed, they're the perfect sponsor for this competition because it's the same style of character behind the competition."
In 2018, there were a number of categories that photographers could enter. This year there is just the one category -'Finding Beauty'
"It's been interesting to see that even though there's not the four categories, there's still been a range across landscapes, people, and other subjects," says Millie.
"By having only one category, we've actually opened it up," says Carolyn. "It gave people a lot of scope and they could interpret it in a lot of different ways."
"It's been so enjoyable to see people's interpretations of finding beauty," agrees Jenny.
The three judges all individually viewed all 3,690 photos.
"We all looked at all of them, and we all aimed to select around 20 to 30 each, and we're now deliberating," says Jenny. "We've actually ended up with about 100 between us, and we're going to refine it down until we get down to our final 20 winners. So we'll have first, second and third plus 17 finalists."
The judges found that there were some photos in the initial selection that they all chose.
"There were quite a few that we all chose," says Jenny, "and actually on reflection, going back through there were some that we had discarded that have since become more interesting after discussion.
"Discussion with judging for something like this is a huge part of it. Making sure you stay open-minded and listening to the other judges so you can open your own mind and heart.
The judges don't read the descriptions and don't know the names of the photographers when they are judging.
"All we get to see is the photo and the title," says Jenny. "We have no idea if it's been taken by a professional photographer or an amateur. And children get to play on an equal playing field with adults."
Last year, the supreme prize for the region's largest outdoor photographic exhibition was won by a nine-year-old, who took a selfie surrounded by a wave at Papamoa beach. From more than 2090 entries in 2018, nine-year-old Lulu Boorman emerged as the supreme winner of the 2018 Trustpower Photographic Exhibition, winning more than $3400 in prizes in the second year of the competition.
"Last year's winning entry wasn't encumbered at all by the winner's age," says Jenny. "And we're really excited that the core and heart of the competition was represented well by the winner."
Previous years' entries have also been a range of posed and quite spontaneously captured images.
"Given that we're looking for emotion, it's a lot easier to convey emotion when it's not posed," says Jenny. "So I think naturally those ones would come to the fore. The ones capturing beauty with emotion in it will probably naturally be not posed. But we're not close-minded to anything."
The top 20 finalists will be contacted once the winning selections have been chosen, and the competition winners will be announced on Friday January 25 at the launch of the exhibition. The twenty final photographs will be unveiled at 6pm next Friday January 25 on The Strand.
The six sponsors of the competition are Trustpower, UNO. Magazine, More FM, The Weekend Sun, Downtown Tauranga and Tuskany.
"We understand that it's really important to look at technicality, but for us feelings are really important," says Jenny. "That's how we operate here in the Bay of Plenty. We really care about how people feel and how they are represented. For us that's all in the heart, so that's what we're looking for."
The photographer winning first place will receive $5000 cash plus their winning photograph in a Weekend Sun photo feature and profiled in an UNO. Magazine feature on the exhibition. Second prize is $3000 cash and third prize is $2000 cash plus the winning photographs in a Weekend Sun photo feature and profiled in an UNO. Magazine feature on the exhibition.
The 2019 Trustpower Photographic Exhibition will take place on The Strand in downtown Tauranga from January 26 to April 14.