Frustration levels are reaching boiling point in relation to parking at McLaren Falls.
With the hot days we've had lately, people are flocking to the popular spot in order to keep cool.
During the long weekend, police received a number of calls about people parking on the yellow lines.
People parking on the yellow lines are frustrating residents as it makes it difficult to pass the parked vehicles and can cause danger for drivers heading straight into traffic coming the other way.
On a hot, busy day, like it has been in the past couple of weeks, vehicles have been spotted parking along the yellow lines all the way up to the 100km sign.
According to the New Zealand Road Code, is says:
Where not to park: on 'no stopping' lines (broken yellow lines) marked within one metre of the edge of the road, which you many see near pedestrian crossings, intersections, driveways, or narrow roads.
A police spokesperson says they received six complaints about cars parked on yellow lines in the McLaren Falls car park on Sunday afternoon.
"Police attended and cleared as many vehicles as possible, and issued a number of infringement notices."
Western Bay of Plenty District Council Compliance and Monitoring manager, Alison Curtis says with McLaren Falls being a popular spot in the summer months, the increased traffic and sightseers can cause issues for locals and visitors alike.
"The Council has marked the sides of McLaren Falls Road with yellow lines to restrict parking.
"We have received recent complaints regarding people not giving any consideration to these restrictions. Council has put these restrictions in place to inform drivers where they should be safely parking.
"Council does not have parking staff monitoring the parking at McLaren Falls Road and relies on visitors to McLaren Falls being responsible and mindful of other road users and pedestrians.
"Parking areas regularly monitored in the district are Te Puke, Katikati, and in the summer months, Waihi Beach.
"We understand that these road safety concerns regarding McLaren Falls have also been raised with the police. Both police and council have limited resources and we advise road users and visitors to consider others to ensure that McLaren Falls is used in a safe manner for all to enjoy."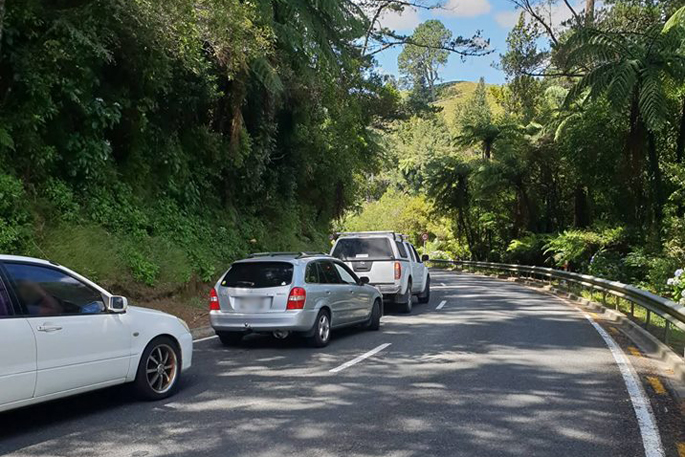 A line of traffic waiting to get past the falls, but can't do so because of the parked vehicles blocking the road.