A "surprising" amount of people showed up on Mount Main Beach this morning to snap the sunrise.
SunLive photographer Cameron Avery was among them and captured the sun as it rose into the sky.
The idyllic setting is just a precursor to another scorcher of a day in the Bay of Plenty.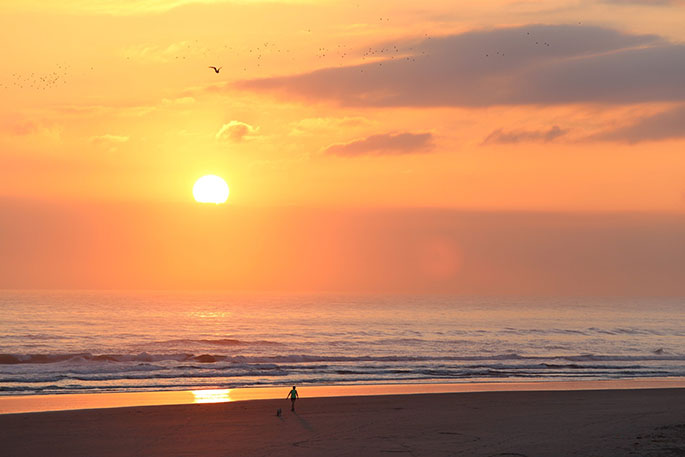 While a cold front is moving northwards over the South Island today, WeatherWatch.co.nz is forecasting temperatures of between 27-31 degrees for the region.
The weather organisation says conditions are mainly settled in the north.
Northland, Auckland, Waikato & Bay Of Plenty
Mostly sunny, there may be some morning cloud about the Waikato and Bay Of Plenty. Light winds then afternoon sea breezes.
Highs: 27-31
Western North Island (including Central North Island)
Some morning cloud then mostly sunny, west to northwest winds.
Highs: 24-27
Eastern North Island
Sunny with afternoon east to northeast winds, northwesterlies for Wairarapa.
High: 24
Marlborough & Nelson
Sunny with afternoon north to northeasterly winds about Nelson, afternoon northwesterly winds for Marlborough.
Highs: 26-33
Canterbury
Morning cloud then sunny, a few evening showers move through as northwest winds change southwest, gusty about the coast. Showers clear at night.
Highs: 29-33
West Coast
Rain about South Westland with heavy falls, spreading into North Westland during the afternoon, some sun possible before rain moves in. Rain clears at night as a southwest change pushes through.
Highs: 18-26
Southland & Otago
Rain develops about Southland in the morning, spreading into Otago around midday with a southwest change. Rain clears during the evening. High cloud before rain moves in.
Highs: 17-23
By Weather Analyst Aaron Wilkinson - WeatherWatch.co.nz