It was one man's obsession. And it was contained in more than 60 cartons which sat, alongside his ashes, in the sleep out where he read voraciously, where he inhaled hours of National Radio, where he died.
The cartons were a whole lifetime's reading for a reclusive, eccentric and gay man, a complex man, Colin Marshall of Te Puke.
"Also a very beautiful looking man," says former wife Elaine Rickard. "And a very clever man, could have been a doctor or a diplomat, but his sexuality got in his way at a time when it was very difficult being different. A man of great class."
And above all else, she still loved him dearly, this father of her four children. "And I was still his very best friend."
But the books – everything from "The Secret World of the Fly" to "The History of Ancient Europe" volume 3, and Christine Clements' "The Pioneers, Settlers and Familes of Te Puke and District." Sixty plus cartons.
There was a pile of books a metre high on his bedside table. And a well-thumbed dictionary. And an Atlas. "All his books were on shelves," says Elaine." And had there been an earthquake he would have been buried alive."
But what to do with them? Did she ask Colin before he died of congenital heart failure last September?
"I always wanted to but I never could." It saddens Elaine to the point of tears. "It would have seemed like we were wishing his life away. I loved him so much I couldn't do it. But I now wish that I had had that conversation."
But she did in a way. Because when "two lovely men from Tauranga Rotary" came to take the books away for their book fair, Elaine seized her moment. "I told them I needed some time alone in the room because I needed to tell Colin what was happening to his books. His ashes were sitting on the bed."
And after the book fair, Colin Marshall's endowment to readers will adorn book shelves far and wide. What a legacy.
"He was my husband for 25 years. Then he told me he was gay. I felt he needed to go live the life if he wanted it so we divorced."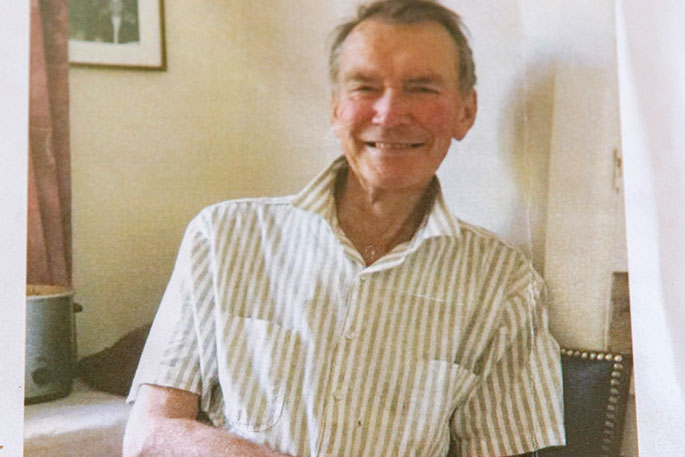 Colin Marshall.
Colin moved into the sleep out at his father's place next door in rural Te Puke. The orchardist – a reluctant one it seems - became absorbed in books, National Radio and pestering newspaper editors and local body politicians. He was an inveterate and rapier-like letter writer, even jousting with "the politically incorrect ramblings" of Rogers Rabbits who he accused of making fun of gays.
"…you are on the verge of being offensive….and that your jibes are rather cheap. They're cheap because you fire them from the comfort and security of the fortress of overwhelmingly majoritarian heterosexuality. Do I need to remind you of the power of imbalance?"
And on a planned beach highrise at Papamoa – "What a cheek, for a barrister to claim the moral high ground for defending his client's beachfront privilege from the effects of 'Papamoa Gateways' developments next door! Since when did the rich and their hired guns give a toss about the experience of ordinary kiwis walking the sands of the coastal commons?
He was a man of conviction and conscience. A trained male nurse was the 'medic' aboard Fri – which in 1973 led a flotilla of yachts in an international protest against atmospheric nuclear tests at Mururoa in French Polynesia. "He went," explains Elaine, "because he said there was really no one else." He was also a member of Greenpeace and Forest and Bird.
Colin Marshall saved every envelope that came into his sleepout. Shoe boxes of them. He would use them to jot down book titles and authors after hearing reviews on National Radio.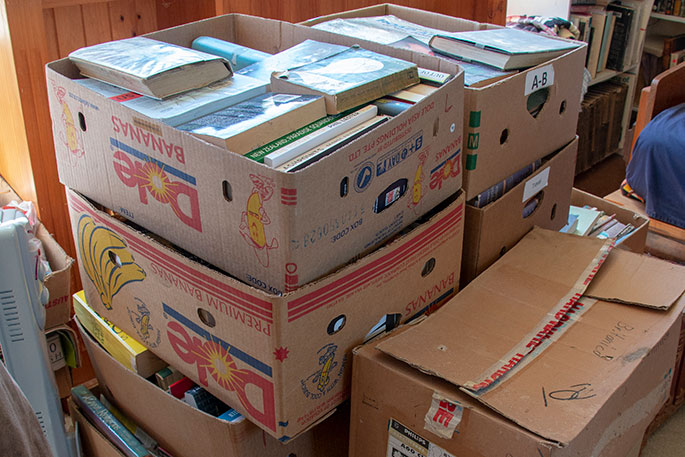 Some of his boxed up books.
Then this dux proxime accessit from St Kentigern College in Auckland would source them for someone he thought might be interested. But probably only after he had read it himself.
"His heart started playing up," says Elaine. "Arrhythmia." He had an operation and understood there was an 80 per cent chance of everything being alright. He was very unwell but we didn't think he would die."
Colin Marshall would tell everyone his wife saved his life. "It was probably true. Because a lot of gays his age died of AIDS in the 1980s. They were out there having a wild time. But while he was with me he was behaving and he insisted I saved his life.
"Imagine coming out gay in Te Puke in 1990 – people wild cross the road, find it very difficult to deal with although he came across with great mana and respect."
Even then books consumed him. His one day out a week was to the Te Puke Library where he meticulously recovered books.
But now Colin Marshall's sleepout library has been dismantled and scattered for the greater good.
A book bought at the Tauranga Rotary's 32nd annual book sale opposite Classic Flyers on March 8,9 and 10 could well be a lasting gift from the consummate bibliophile – Colin Marshall, a man who loved books, who loved words, reading them and writing them and above all a man who treasured information and respectful exchange of opinion.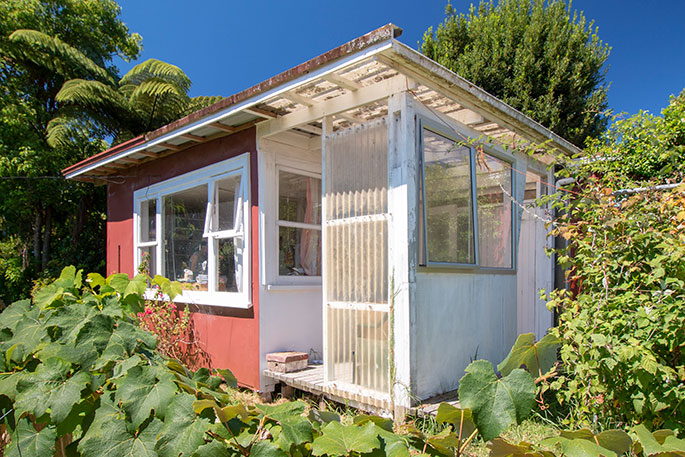 The sleepout.