Tauranga's Lisa Carrington powered to her tenth national K1 200m to lead home an impressive all-Kiwi podium on day two of the NZCT Canoe Sprint Nationals and Oceania Championships at Lake Karapiro on Saturday.
The double Olympic and six-time world champion gave yet another clear demonstration of her supreme prowess in the event to stop the clock on 40.50 on a picture perfect day in Cambridge.
However, in a further illustration of the current strength in depth of Kiwi paddling, Carrington's team-mates, Aimee Fisher (42.00) and Caitlin Ryan (42.10), rounded out the podium to blunt the strong Australian challenge.
The best of the rest was Alyce Burnett, the 2017 World K1 1000m champion from Queensland, who placed fourth in 42.60. Kiwi Kayla Imrie, the 2018 double World Championship silver medallist, produced a quality performance for sixth in 42.70 with 19-year-old junior international Alicia Hoskin a highly-commendable eighth (43.60).
"It was cool to race the other girls I train with and nice the Aussie girls came over to race. The final was tough. It was great to see so many New Zealand paddlers make the final because we had some very strong overseas athletes," says Carrington.
"I have been racing this event for a number of years now and I know what is required to perform well. I'm lucky that I have a great training group and a really good coach to help me out."
Carrington also successfully navigated a route through to the final of the open women's K1 500m by claiming victory in the second semi-final in 1:50.70. The Aussie duo of Burnett (1.51.63) and Jo Brigden-Jones 1:52.87 were her nearest pursuers.
Ryan, the world best record-holder in the women's K1 500m, produced an impressive performance to win the first semi-final in 1:49.21 ahead of Fisher (1:51.06) her fellow Kiwi.
Alyssa Bull of Australia clinched the win in the third semi-final in 1:47.21. She will lead a charge of five Australians who have advanced to tomorrow's final, scheduled for 9.08am. Qualifying alongside the five Australians and three Kiwis is Sarah Troel of France.
Carrington's busy schedule was complete for the day as she, with her Australian crew-mate Ella Beere of Australia, topped the qualifiers in the women's K2 500m. The duo defeated the all Australian duo of Burnett and Bull by just over a second.
The Australian combination of Brigden-Jones and Jamie Roberts won the second heat in 1:48.86, finishing 0.35 clear of the impressive Mana duo of Kayle Imrie and Danielle Watson.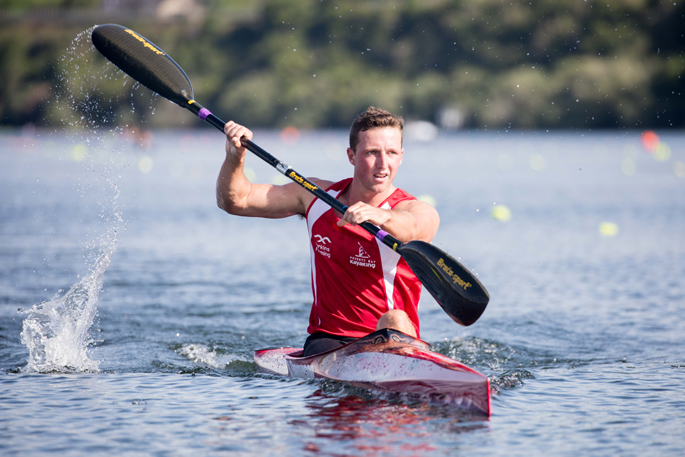 Quaid Thompson. Image: Jamie Troughton/Dscribe Media
Quaid Thompson (Poverty Bay) mounted a successful defence of the marquee open men's event of the day – the K1 1000m – to repel the challenge of the older generation.
Steven Ferguson, 38, the four-time Olympian, who has returned to the sport after a lengthy break and Fred Teere, 33, had both impressed in qualification with the second and third fastest times.
However, it was Thompson, the World U23 K1 1000m fourth placer, who bossed the race to stop the clock in 3.34.42 In a further boost for the younger generation men's NZ elite duo Kurtis Imrie (Mana) in 3:36.81 and Max Brown (Wanganui) 3:37.79 earned silver and bronze. Ferguson (3:38.12) and Teere (3:38.44) placed fourth and fifth but can be proud of their efforts in an absorbing battle.
"It was pretty good, I didn't feel the greatest in the build-up, but I backed myself and I felt much better," says Thompson.
"I never thought I would race Steve (Ferguson) in a kayak. He was someone I looked up to when I was growing up, so it was pretty cool to get to race him."
Best buddies Kurtis Imrie and Max Brown (Mana) teamed up to retain their open men's K2 1000m title in emphatic style.
The NZ men's elite duo, who are based out of Lake Karapiro, destroyed the opposition to record a victory in 3:18.71 – by a little over five seconds from the nearest opposition Fred Teear and Alex Fort (Arawa), who grabbed silver.
There was also a reward for veteran Steven Ferguson and Canoe Racing NZ CEO Tom Ashley who took out the bronze (3:24.89).
"Paddling with your mate you know that they are going to empty the tank and give their best," says Imrie glowingly of Brown.
"I'm 23 years old and I feel so privileged to train twice a day for six days a week and do what I do. I'd just like to thank the clubs that have brought me through and the support we receive from our coach Fred Loyer," says Brown.
The North Shore K4 combination of Ashton Reiser, Karl McMurtrie, Timothy Waller and Tuva'a Clifton finished top of the dais in the men's 1000m just as they did 24 hours earlier in the K4 200m. In a competitive final the quartet covered the 1km distance in 1:27.61 to finish 1.22 clear of Wanganui. Arawa completed the podium in a time of 1:29.40.
Sam Ferkins (Poverty Bay) added the U18 K1 1000m crown to the K1 200m title he won on Friday with a dazzling display. The teenager dominated to strike gold more than five seconds ahead of Fletcher Moles (Waitara) in silver.
In the women's U18 division, Olivia Brett and Pieta Luthi delivered the K2 500m title and the pair also teamed up to help the Arawa team claim top spot in the K4 500m.
Zane Mills-Nossiter added a further two gold medals to the three he secured yesterday by winning the U14 K1 and K2 500m (alongside Angus Sewell) titles.
The highlight of the final day of the 2019 NZCT Canoe Sprint National and Oceania Championships on Sunday will be the open women's K1 500m showdown.
Up to the minute draw and results can be found via the App (find Canoe NZ in the Play Store – free to download). Or check the Live Results Website. https://liveresults.co.nz/competition/210