Cyclone Oma is stumping some computer models with two of the most trusted cyclone forecast models taking oposing views about the future track of the storm.
It places New Zealand in a frustrating 50/50 position with one model (GFS) showing a direct hit while ECMWF shows Oma doing a 180 turn and backtracking north again.
WeatherWatch.co.nz says many other models show the low sliding into the New Zealand area while becoming extra-tropical (the technical change within a storm when a tropical cyclone drops far enough south).
The reason for the confusion? High pressure around Tasmania.
Like an invisible barrier in the sky the high pressure system will do one of either three things later this week:
• Take its time to cross the Tasman Sea, allowing Oma a direct hit to NZ this weekend.

• A slow build over the Tasman Sea which gently guides Oma north of NZ.

• The Tasman high builds much faster, stopping Oma in her tracks towards NZ and then pushing the cyclone back northwards where it came.
Across the weekend and again on Monday GFS modelling supports option 1 or 2 while ECMWF supports option 3.
So it is very much a waiting game for the models to align. WeatherWatch.co.nz says Cyclone Winston in February 2016 had a similar issue as it tried to track south towards New Zealand but high pressure in the NZ area kept pushing Winston back around the tropical South Pacific, changing direction a number of times.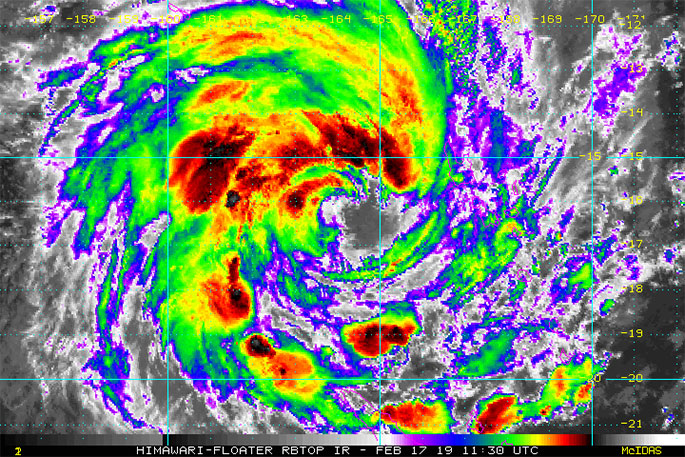 WeatherWatch.co.nz says while both models don't yet agree about tracking, they do both agree that a low of some type will deepen around the eastern North Island this weekend, which is likely to bring in some rain regardless of if Oma directly comes here.
"There are dozens of other reliable global storm models we are monitoring too, many lean towards Oma directly impacting New Zealand but some aren't as trustworthy as others for our part of the world. NZ is a complicated area for tropical storms as cyclones go through a technical change to become extra-tropical when they reach us.
"This is when the core of the low goes from being warm and tropical to instead cold air and more like "the usual" southern storms we see. This adds a greater level of complexity than just forecasting "a cyclone" as you would do in the tropics itself.
"As we exclusively forecast last week, Oma reached Severe Category 3 status over the weekend for about 24 hours and may hover around the strong Cat 2/weak Cat 3 level for the next couple of days in the Coral Sea, where it may brush northern New Caledonia - but should give Vanuatu a nice wide birth to the west."
#CycloneOma's future track remains uncertain, 50/50 chance #NewZealand has #severe #weather (+19 Maps) https://t.co/OnqHnOLZS7 via @weatherwatchnz Also maps for #NouvelleCalédonie #NewCaledonia

— WeatherWatch.co.nz (@WeatherWatchNZ) February 17, 2019