To commemorate those who lost their lives in the Christchurch terrorist act, Rotorua folk have been making their tributes known in Tawera Rd today.
The assuaged their grief by laying flowers and tributes at the address of a home of a member of the Rotorua Islamic Community.
Members of the public stopped by on bicycles, in cars and SUVs. Nor did they discriminate, for the callers who laid wreaths represented diverse cultures. Some were in tears, others in sheer disbelief as a community grieved with the rest of the nation in tacit tribute.
Like most of the country, Rotorua was subdued today. Neither laughter nor banter at the Rotorua Lions' Saturday Kuirau Park market or a Friends of the Library book sale rent the air. Silence reigned.
Darlene Thomas was one who poignantly laid flowers on a typically humid Rotorua afternoon. She quickly rushed across Tawera Road, presented her flowers and just as quickly returned to her ride.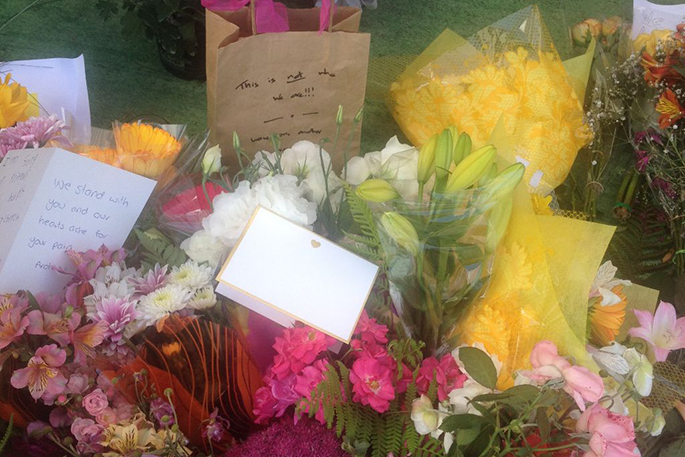 A representative of a Chinese radio station was also present, interviewing passers-by – even a passing journalist.
A young Maori man stood silent, head bowed for some minutes as he stood before the growing tributes and tangible marks of respect.
On Saturday night at 11.30pm, Ayhan Semiz called in. He had become aware of the mounting floral bouquets and sprays.
As head of the local Muslim association, Ayhan says the real New Zealand has emerged.
"My reaction was: what a nation we are. Strong, united and accepting the others as they are," says Ayah. "I've seen the real and true New Zealand. Tino New Zealand. Tino Rotorua."
Though nationally, the Police have permitted entry into local mosques, Ayhan says the Rotorua mosque is not open today.
On Friday, it was reported that 49 people were killed in a shooting rampage, with 48 injured, some seriously, during prayers in mosques near Hagley Park and Linwood. Today, NZ Police announced that a further body was found at the Deans Avenue Mosque on Saturday, bringing the death toll to 50. Thirty-six people remain in hospital in Canterbury District, being treated for injuries. Eleven of those are in a critical condition.