Residents who live in the Arataki area, or motorists who drive through the area, will be seeing some transport changes.
In a statement issued by the Tauranga City Council, it says they will be sending out information each month to anyone that is keen to find out more about what's happening transport-wise around the Arataki area.
"In a nutshell, 'Moving Forward in Arataki' is a series of improvements along our roads between Sandhurst Drive and Golf Road. Over the last few years, people have asked Tauranga City Council to improve the safety for people travelling to school and work within this area.
"TCC and the Bay of Plenty Regional Council are trying to make it safer and easier for more people to walk, bus and bike through this area.
"We would ideally like to start with a new wide road, where we can easily accommodate all transport options. However, we have to work with what we've got, which is narrower roads with limited space. So some compromises have had to be made."
One of the changes is parking time in the bus lane at Links Avenue.
"A new bus lane on Links Avenue was the starting point, as BOPRC was keen to improve the bus routes as soon as possible. The bus lane only operates as a bus lane between 7.15am and 10am on Monday to Friday. The rest of the time vehicles can park in the bus lane."
Another change will be a shared path between Mount Maunganui Intermediate and Ascot Road.
"TCC will shortly be constructing a new shared path between Mount Maunganui Intermediate School and Ascot Road. This is to provide improved and safer walking and bike links.
"The works are planned to take place from April 15 until mid-May 2019. We have specifically chosen the school holiday period to start this work to minimise any inconvenience to students, residents, local businesses and road users.
"Please be aware of any footpath closures/diversions within the works area. We will be ensuring that site traffic management will be in place for when students return to school after the holidays. Council's contractor for this job will have staff available to provide directions where required."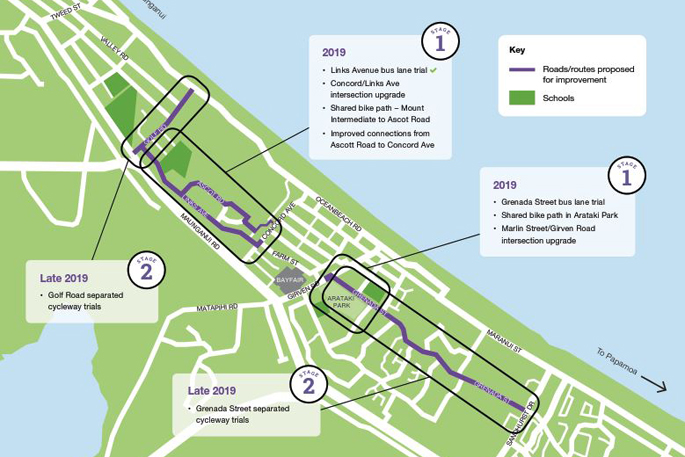 A map detailing the changes that have been implemented and the changes the council intend to make in 2019. Image: Tauranga City Council.
Tauranga City Council says there are other plans instore for Links Avenue.
"Council's traffic safety staff have been out regularly checking how the changes have been working. We have received lots of useful feedback for parents, local residents and Mount Maunganui Intermediate School.
"A zebra crossing is to be installed outside Mount Maunganui Intermediate School. This will improve safety for pupils and parents crossing Links Avenue to enter the school. The installation of a crossing is our top priority."