Kia ora and welcome to Easter Sunday!
We have a fine start to the day, but expecting a few showers from the afternoon, turning to rain overnight. It's a one-clothing layer day with a light northerly, an expected high of 20 degrees, and an overnight low of 15 degrees.
On Easter Monday, the forecast is for rain, with a chance of it being heavy but easing by the evening.
Today being Easter Sunday, is a great opportunity to check out some of the local churches and their Easter events.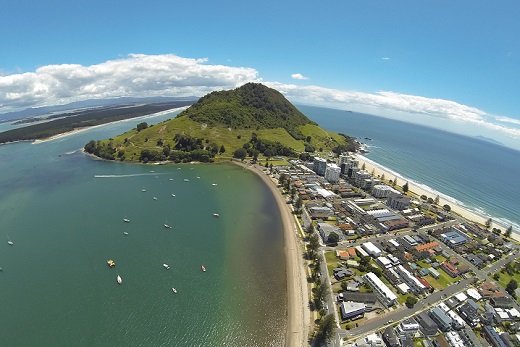 The coast churches have a combined picnic event at Mt Drury from 10am to 2pm. Bouncy castle, free sausage sizzle and bring along a picnic lunch. More information here
Easter services are also being held at Curate Mt Maunganui (9 and 11am), Curate Tauranga (10am), St George's Anglican in Gate Pa (9.30am), St Peters in the City (10am), C3 City Church Tauranga (9.30am), C3 City Church Papamoa (10am), Wesley Church (9.30am), Holy Trinity (10am), St Enoch's (9.30am) and Bethel (10am).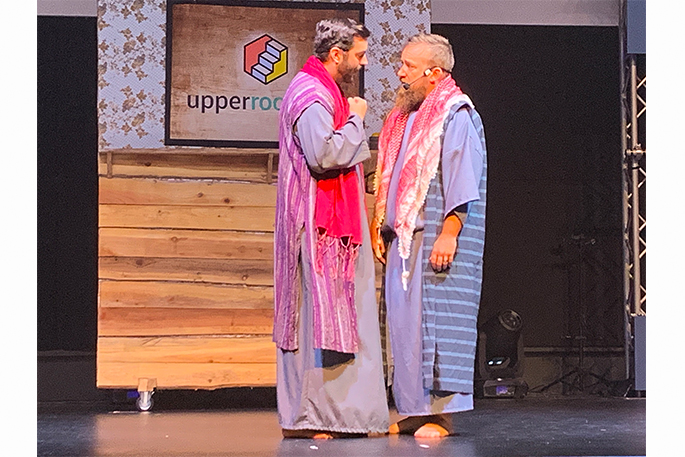 The Experience Easter stage performance at Bethlehem Baptist is on at 9am and 10.45am. More info here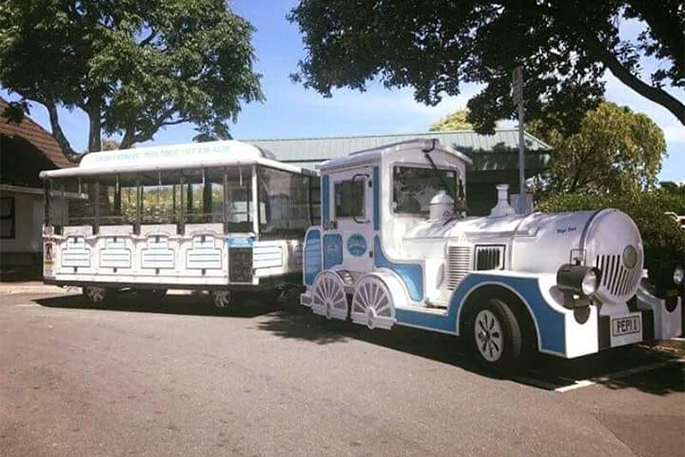 At Mount Maunganui, the Pepi Toot Beach Express is out for the last weekend of the season, leaving from Salisbury Ave between 10am to 2pm for a 30 minute ride around the Mount. For more info click here. All aboard! Toot toot!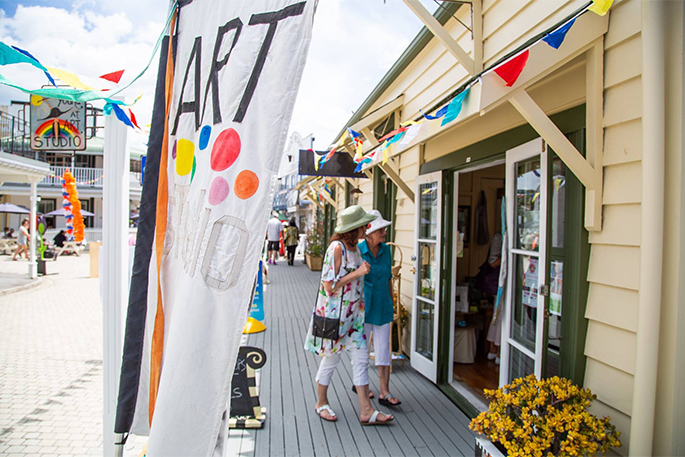 The Bethlehem Te Puna Lions Market is happening this morning at the Tauranga Historic Village until noon.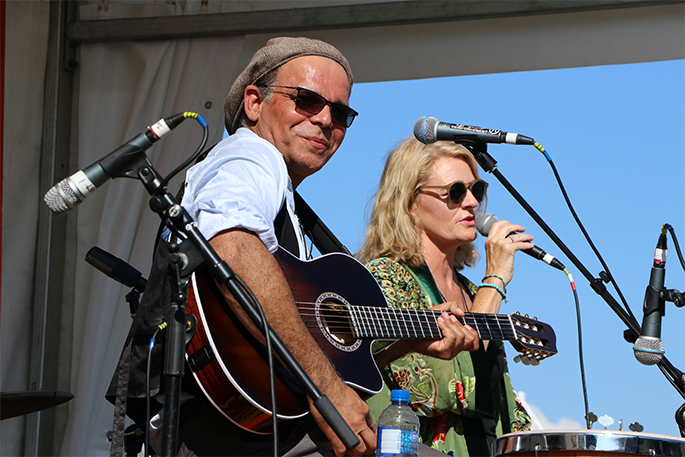 Downtown Tauranga Carnival. Photo: Daniel Hines
In downtown Tauranga, come and join in the jazz fun at the Downtown Tauranga Carnival which begins at noon. Stages are along the Strand, at the Red Square and at Hotel Armitage.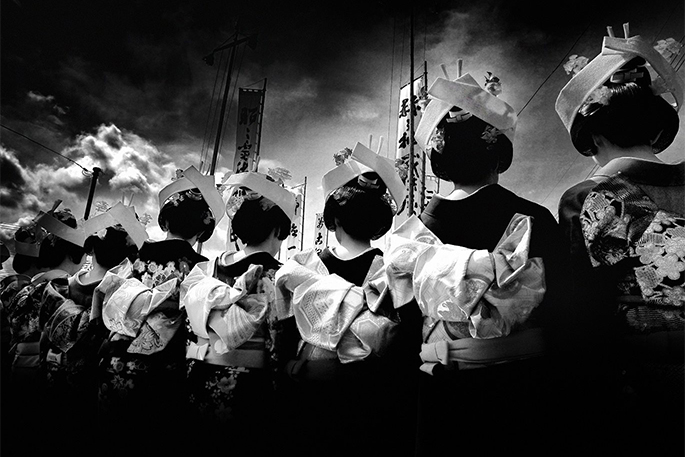 Come and view the 'Finding Beauty' Exhibition which includes five winning images from the 2019 Hitachi City Art Exhibition, a profile of Tauranga's sister city relationship, a digital display of hundreds of this year's entries from the Trustpower Photographic Exhibition and information storyboards profiling 'The power of an image – a history of photojournalism.' The exhibition is located within the Pacific Toyota Container at Our Place Tauranga on Willow St.
For more art, over to the Odyssey' Art Exhibition, at The People's Gallery-Toi ka rere at Tauranga Historic Village. There you will find that Kinsa Hays, Carolyn Watts and Bob Drake, three exhibitors from the Katikati Art Group, are each showing their own take on an aspect of their journey through life. Expressed in completely different ways, 'Odyssey' brings together colour, assemblage and form in a community setting. The exhibition runs until April 22. More information here
Accordion-Keyboard
Old time music-makers, Welcome Bay Hall 1-4. $3 entry & Ladies a plate please. All welcome. Ph Ces or Joy 544 3849
---
Antipodes
An ocean-spanning collaboration featuring musicians from Wellington, Sydney & Berlin! Baycourt 9pm. Go to www.baycourt.co.nz for tickets & info.
---
Bible Seminar
1:45pm Greerton Senior Citizen's Hall, Maitland St, Greerton. Title: The resurrection of Jesus, the Bible's promise. Interactive, Q&A. All welcome. Vic 543 0504
---
Computer Club (Tga) Inc
At Art & Craft Centre, Elizabeth St West on last Sunday of month 9:30-12:30. Ph 572 1230
---
Corkers Toastmasters
Corkers Toastmasters meets 3rd Sunday of month at 2pm at Zone Cafe (upstairs) Owens Pl Mount Maunganui. Ph Chrissy 027 296 7939
---
Croquet
Tauranga Domain, Cameron Rd, 12:45 for 1pm start, Sun, Tues, Fri. Beginners welcome. Peter 571 0633
---
Downtown Tauranga Carnival
City comes alive with jazz! Family fun zone 11am-6pm. Music 12-6pm. Entry by gold coin, free for children 14 & under. See www.jazz.org.nz for programme.
---
Easter Service
What is Easter all about? Cecil Peasley will speak on "The Wonder of Easter" at Mt Bible Chapel, Monowai St, Mt Maunganui @ 7.30pm. Ph Len 021 230 2210
---
Friendship Force Travel Club
Enjoy travel & meeting visitors? For world-wide exchange travel ph Jonathan 572 2091, Barbara 574 5711, www.friendshipforce.org.nz
---
Hollie Smith
Presents a one-off jazz inspired concert with her band of leading jazz musicians. Baycourt, Addison Theatre at 7pm. Go to www.baycourt.co.nz for tickets & info.
---
Jazz High Tea
Enjoy stand of sweet & savoury delights, glass of bubbles, tea/coffee while enjoying music from Carol Storey & Friends. Hotel Armitage 12-3pm. www.baycourt.co.nz for tickets
---
Jazz Sunset Cruise
Join historic cruiser, Kewpie on a gentle harbour tour of Tauranga Moana. Enjoy on-board jazz band & fine wine & beers. 4:30-6pm. www.baycourt.co.nz for bookings
---
Kim Paterson Quintet
Presents Kim's originals, each with a story that brought the music to life. Baycourt 5pm. Go to www.baycourt.co.nz for tickets & info.
---
Kitten Adoption Drive
Wild Whiskers Tauranga are holding a kitten adoption drive at 4 Manson St, Greerton, Easter weekend Sat-Mon, 10-2
---
Maketu Market
Maketu Market is held 3rd & 5th Sundays of the month, 7am-12pm at Maketu Village Green. Ph Carolyn 027 251 0388 or Pat 021 447 420
---
Messy Church Holy Trinity
Cnr 3rd Ave & Devonport Rd. 4-6pm Theme: Easter, New Life with Jesus. Varied activities, short Christian story, simple meal, GF, vegetarian options. All free. Ph 578 7718
---
Radio Controlled Model Yachts
Sundays & Thursdays 1:30-4, in pond behind 24 Montego Drive Papamoa, sailing Electron Yachts for fun. Adult beginners welcome. Graham 572 5419
---
Spiritual Centre Psychic Cafe
Greerton Community Hall. Doors open 6:45pm, starts 7pm sharp. Door-charge $10, then everything free. Bay's top 30 Psychics, Healers. Refreshments & more. Ph 578 7205 or www.psychiccafe.nz
---
Tauranga Spiritual Growth Centre
Meet the mediums & energy healers. Citz Club, 14 Norris St. Every 2nd & 4th Sunday, 6:45pm. $5 door charge
---
TePuke Country Music Club
1pm at Te Puke Citz RSA Club. All welcome. Put on your Easter bonnet! Ph Gayle 573 8255
---
Tibetan Buddhist Teachings
Teachings by Geshe Jamyang Sherab held at Papamoa Community Centre, alternate Sundays 10am-12pm. Teachings free, donations appreciated. For dates contact Jaki on 021 216 1102