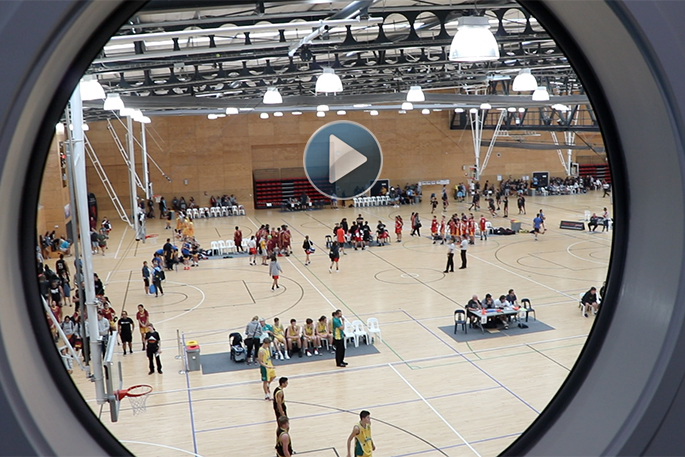 Click the image above to watch the video
The demand for more players to compete in NZ's largest basketball tournament over the Easter weekend has strained Tauranga's available capacity and resources.
Basketball Pacific's premier event, the Mel Young Easter Classic, has filled the available venues, with teams from around NZ turned away from competing.
"This year we're using six venues. We're at capacity now as there are no more facilities that we can access," says tournament director Mark Rogers. "We're getting more and more interest from Australia, as well as nibbles from China. The opportunities are there for it to grow, and be a more beneficial event for the city. We need to grow."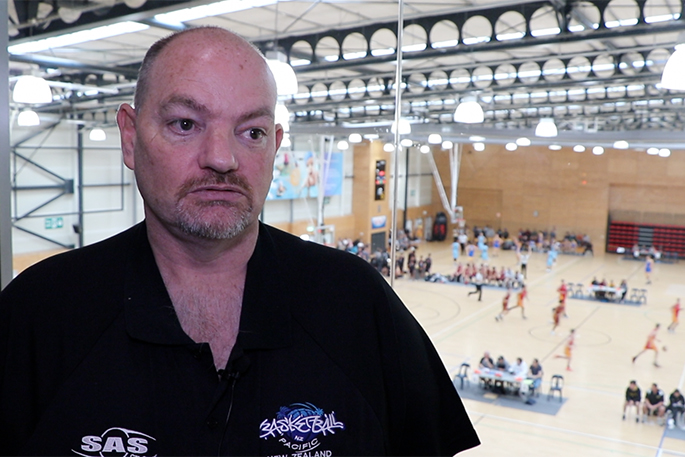 Tournament director Mark Rogers
The tournament, held across six venues, started on April 19 and will run until Monday April 22. Trustpower Stadium, the largest of the venues has nine courts, QEYC has three courts, but the other venues - Tauranga Boys' College, Tauranga Intermediate, Aquinas College, and Mount Sports Stadium only have one court each.
"The tournament's been going for nearly 30 years. It started with four associations, and we've grown to 135 teams here this weekend. They've come from Taranaki, Hawkes Bay, and Northland. We also have five teams over from Australia.
"We have expressions of interest from the South Island and Wellington but we have to say to them that we're at capacity. Some of the other teams have been coming for 30 years and they get precedence over new associations wanting to join the event."
Mark says that partnering to host the event with other nearby cities isn't workable.
"We've tried splitting it across the two cities – Tauranga and Rotorua. But it's too difficult as lots of families have kids in different age groups, and mums and dads have difficulties getting to both cities.
"We just need more basketball courts here.
"In the past it's been held in Auckland, North Shore and Rotorua. There is the possibility it could go to Palmerston North."
Tony Long, the Country Cup Director from Victoria has travelled across from Australia with players.
"This is a great experience for our kids to come across here and play at a top level of competition," says Tony.
"We extend our basketball and our basketball behaviour by being ambassadors and it's a great growing part of the game for the young athletes that we bring over here."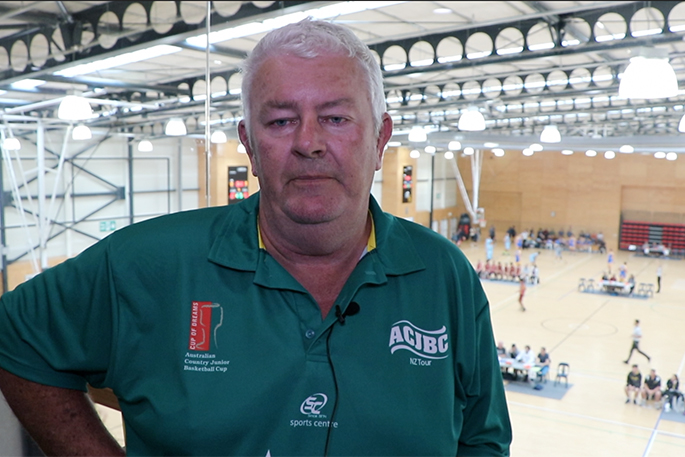 Tony Long, Country Cup Director - Victoria
Every three years the annual tournament is up for tender.
"We've tendered for it twice, and hosted it five times," says Mark, "and next year will be bidding again to secure it for another three years. It's great for the city."
To grow the capacity of the tournament requires logistics and planning.
"Every time we add a new court we have to resource it, and it stretches our ability to deliver. It also adds to the expense of putting the event on.
"We need to get the refs from venue to venue, so every time we add a venue, it complicates the logistics."
A key focus of the tournament is on referee development, and providing opportunity for teams to play other teams that they wouldn't normally be able to play in their own region.
"The tournament is huge. We spend a lot of energy on developing refs, with coaches also over from Australia."
"This is my first trip in a long time," says Tony. "So I'm just enjoying taking in the fantastic venue here. And the competition and the level of basketball which is being competed at out on the floor has been fantastic. It's an excellent organisation and excellent competition."
The level of competition is also good for developing the NZ teams.
"This weekend is a great opportunity for the teams to play other teams they wouldn't normally be able to play in their own region," says Mark. "It's an opportunity for kids to see how others in the country are going."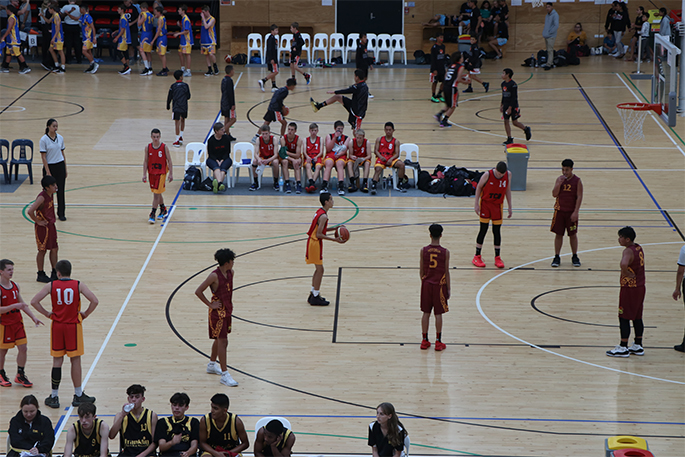 Mark estimates there are about 7,000 visitors to the city over the weekend who have come specifically for the basketball.
"We're doing a survey for Council over the weekend to try and get an accurate figure. Economically it's good for the city to have that number of people in town.
"We've got I-pads from Council collecting information on people here at the basketball and they'll put it through their matrix and systems so they can come up with figures. This will help us gauge spectator numbers, and the overall economic benefit."
Mark says that as well as the tournament being at full capacity, local people are being turned away weekly from being able to participate in the regular basketball activities that are held.
"It's a real challenge," says Mark. "We'll need to keep talking to Council and make sure we're in the plans for new builds and facilities. And look for options that will allow more people to get on the court."
Mark would like to see a large venue on the Tauranga side of the city.
"Just with traffic issues, it makes sense to have a couple of decent size venues so that we can spread the load.
"So we're talking with Council around the size of the event and what support we can get from them."
Basketball Pacific's premier event, the Easter Tournament was renamed to the Mel Young Easter Classic in 2016, to honour the dedication and work of Mel Young in providing opportunities for everyone involved in the basketball game. Mel forged a number of key relationships with like-minded basketball organisations, which today now give Players/Coachers/Managers and Referees opportunities to attend events such as the Koru Tour and the Jamboree in Australia.
The tournament schedule is at https://basketballpacific.com/mel-young-easter-classic-2019