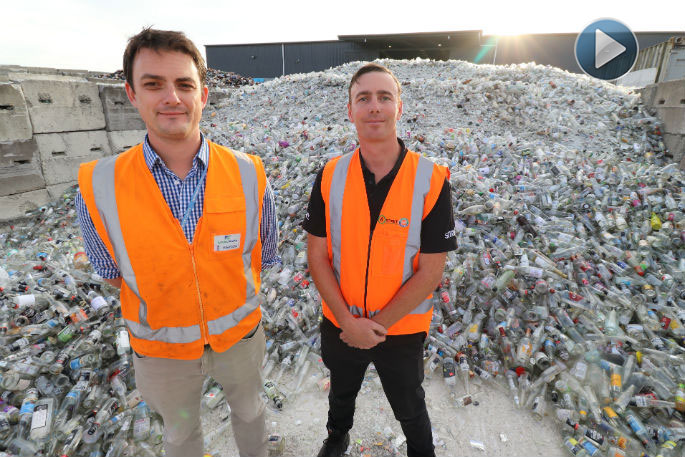 Click the image above to watch the video
What does an 80 tonne pile of bottles and jars tell us about ourselves? What does it tell us about our lifestyles and attitudes?
Maybe quite a lot.
It's a less than scientific and perhaps even light-hearted demographic study as SunLive went ferreting through the glass mountain at the Te Maunga Recycling Centre – just a portion of the 1826 tonnes the city's new kerbside glass recycling scheme has saved from the landfill to date.
"Lots of craft beer bottles from down Ocean Beach Road in Mount Maunganui," observes Smart Environmental's area manager, Jonny Dick. Smart by name and smart by nature – they run the fleet of flash new tucks doing the pick-ups.
Well trained and well supported drivers and trucks with ground breaking technology in their noise suppression systems because glass and recycling is a noisy business. Inordinately loud. Annoyingly loud. Ear plug loud at the recycling centre.
Anyhow, craft beer from Ocean Beach and something called "heavy glass" from Matua. Champagne bottles. But they're also "the most active" in town – the suburb which scored the highest pick up rate, 88 per cent, the most bins put out to the kerbside one fortnight compared to the number of bins distributed to residents. Matua has embraced kerbside glass recycling.
There's some concern about attaching labels to people and places when the kerbside recycling scheme is just six months old and roaring – well on track to reach its goal of saving 6000 tonnes, the equivalent of 60 KiwiRail locos – from the tip. But telltale trivia buried in recycling bins is too interesting to ignore.
Kerbside collections down The Avenues suggest "smart or discerning purchasing." Lots of Pic's peanut butter jars – you know, the "fresh roasted peanuts lovingly squished in sunny Nelson" and sold in infinitely recyclable glass jars rather than the plastic containers of their Australian adversaries. The Avenues, it seems, make a conscious decision in favour of glass over plastic.
And Maungatapu - consistently more beer than wine bottles. And RTDs.
Then there's the artful recycler in Otumoetai who fills his bin to the allowable level – a quick ferreting shows Mumbo Jumbo, Stella and Sisters Run shiraz are his poisons. Then under cover of darkness he checks the neighbours' bins for room to accommodate his overflow.
And at Te Maunga recycling centre, right beside the 20-metre-long and two-metre-high bin, chocka with 80 tonnes of clear bottles, is another for brown bottles and another for green bottles. And there are many, many more green bottles than brown or clear– a ratio of 50 percent green, 30 brown and 20 clear. Does the green pile suggest the city's preferred tipples are Steinlager and Heineken and wine? And, in fact, is the kerbside collection for boozers?
"It's a scheme for anyone and everyone," insists Tim Senington, the Tauranga City Council man running the day to day operations for waste contracts. "There are lots of baby food jars where we are standing."
And that's right in front of a clear glass mountain, 80 tonnes representing three or four weeks collection in one of the three bins.
"There are marmalade and strawberry jam jars, coffee jars, olive oil bottles. So the scheme's for every bit of glass out there on the circuit."
There's still a lot of Corona bottles, Smirnoff vodka bottles, Woodstock bottles, Ice Bottles, Gordons Gin bottles. But perhaps we shouldn't read anything into that as long as those bottles are being kept out of landfills.
"Exactly," says Tim Senington. "We're here to collect and recycle." And not to judge.
Then all that glass, the world's most natural and sustainable packaging, is carted off to O-I in Penrose – New Zealand's only glass bottle and jar manufacturer where it's processed through three furnaces and six production lines 24/7 and then shipped back to us containing beer, wine, jam, baby food and a myriad of other products. The city's glass is going round in circles.
Tauranga has embraced recycling – the national average put-out rate is 40 per cent but in Tauranga it's 65 per cent.
"The presentation rate is much more than we thought. And that's causing some handling issues. But we are working to smooth the issue," says Tim.
Each of the Smart Environmental trucks picks up and sorts between two and two and a half tonnes of glass a day, all of it sorted into colours by hand at the point of pickup. It means almost 100 per cent of the glass can be recycled – more than ever before. A big day, right after New Year, and Easter and it was six tonnes.
But the crews are having very positive exchanges with residents. "People want to talk about glass with our men," says Jonny Dick. "People are interested in what we are doing and that's all good."
It's mostly positive and that's reflected in the demand for the service.
The future of the scheme will be reviewed over the next couple of months – if people aren't using kerbside recycling then why not? Are there things that could be done better and how? The council will be seeking feedback from the community.
Meantime, the kerbside collection service is expected to be extended in 2021 to include more types of waste.
For more information about the glass collection service, visit www.tauranga.govt.nz/glass or phone 07 577 7000.