Jacqui Rolleston's idea for a small at-home breakfast event with a few friends to help support the Breast Cancer Foundation has grown into a large fundraiser.
She has been blown away by the support.
"It goes to show important this kaupapa is to a lot of people," says Jacqui.
Jacqui, from Mana Taiao, is hosting the official Pink Ribbon Breakfast event on Sunday May 19 in Te Puna. With no set cost to attend, a koha (donation) to Jacqui's Pink Ribbon Breakfast page is the way to reserve a ticket to the breakfast which will be held at 10.30am at the Te Puna Rugby Club.
"Too many of our beautiful ladies are being diagnosed or have been affected by breast cancer," says Jacqui.
Pink Ribbon Breakfast is Breast Cancer Foundation NZ's biggest fundraising campaign, held in May each year, where Kiwis across NZ sign up to host a breakfast and bring together groups of people to help raise funds.
A Pink Ribbon Breakfast host signs up on the site to host a breakfast, and receives a host kit with some goodies to help get started. The host kits usually have items supplied by the Pink Ribbon Breakfast sponsors - Robert Harris, Something to Crow About, Ocean Spray and Best Ugly Bagels.
The host then plans their event - it can be at any time of the day or night that suits, and can be as large or small as the host would like. It can also be any kind of event the host would like it to be.
Some of the most common types are hosting an event and collecting donations, hosting an event with activities, games or an auction to collect donations, and hosting a ticketed event where a percentage of the ticket is donated.
What started as an idea for a small, intimate breakfast at Jacqui's house with a dozen or so ladies, quickly gained momentum with many becoming interested in attending it.
Realising the event would end up requiring a larger venue, Jacqui requested support from her whānau rugby club to host the event there. The Te Puna Rugby Club, about to celebrate its 100-year anniversary in October, supports many community events and was happy to also support this important kaupapa for Jacqui.
She also received support from local suppliers with all the food and beverages completely provided. The food was all provided by New World Mt Maunganui and New World Brookfield, with a koha from Ewen Cameron Drilling. Thirty-three bottles of wine came from Matahiwi Wines, HaHa Wines and Kono Wines.
Given the event has now attracted 100 women from Tauranga and beyond, Jacqui is taking the opportunity to find additional ways to raise more money. With help from daughter Maraea Ranui and sister Jessica Rolleston, she decided to ask local and regional businesses for items they could donate for auction. The response was positive.
"There have been some amazing items that have been donated," says Jacqui. "I am blown away not only by the communities but also individual people's generosity to just give."
Hawkes Bay Wine Tours, Infuzed, Beautiful You, Unichem Brookfield, Redwoods Treewalk, Braemar Poultry Farm, Tohu Wines, ECP, Just Selfies, Chrissie Makeup, Daisy and MTEM Ltd have all contributed items.
Larger items will be auctioned as single pieces, with smaller items compiled into hampers. Sponsorship by businesses means there is an attractive array of goodies being auctioned including clothing, beauty and hair packages; wine and food; dinner and entertainment vouchers; and concert tickets and passes to tourist attractions in the region.
"If anyone has anything they'd like to donate or to sponsor to this very important cause, please contact me," says Jacqui. "We have received some wonderful items for auction so far, but the more we have, the more dollars that can be raised.
"If some of the items don't sell at auction tomorrow, or if they don't meet reserve, we will offer the public the opportunity to bid also."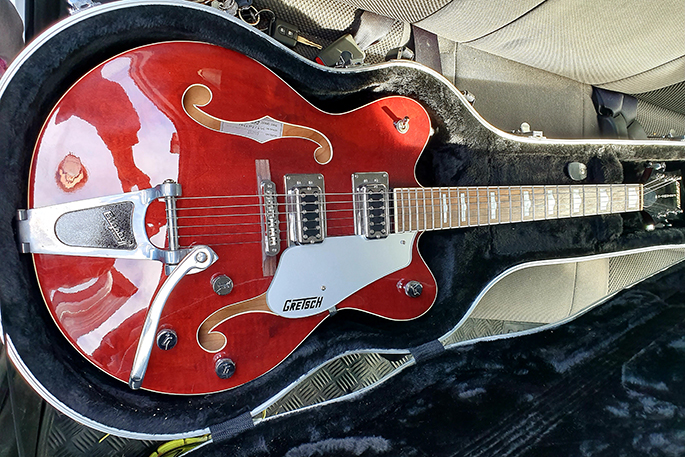 Jaqui says the auction's main ticket item is a Gretsch Hollow Body guitar that has been donated by Gavin Kemble, managing director of Enspire. Gavin had a battle with cancer in 2018, after being diagnosed with papillary thyroid cancer. He entered the 2018 'We Run the Night' event to raise funds for the Cancer Society along with his elder brother Grant Kemble and good mate Richard Turner.
"The guitar is beautiful," says Jacqui. "I was only after a random-leftover-sitting-in-the-cupboard guitar that would make a great 'starter' for a budding muso-wanna-be."
Jacqui says the guitar will be 'artified' by her son-in-law Kaydin Budd who has offered his talents with creating Maori designs.
"If the public are interested in this guitar, they are welcome to put in a silent bid for tomorrow's auction by contacting me," says Jacqui.
Gavin has also donated $300 to the breakfast event through Jacqui's Pink Ribbon Breakfast donations page.
The MC for the breakfast is the Breeze Tauranga breakfast host, Jolene James, who Jacqui says is thrilled to be supporting the Pink Ribbon Breakfast in Te Puna.
Speakers include Ann Mitchell, a breast cancer survivor with an amazing zest for life who supports and motivates women and their health; and Bridgette Tapsell who will talk about how our stories and journey in life can be a healing process. Jacqui says Bridgette will also share a little bit about her book 'Hangi Pants'.
Motivational speaker Steffi August, motivational speaker has also been invited.
"She has kindly donated 36 copies of her book 'That's It, I'm out of Here!'" says Jacqui.
"This event is for our wahine, to not only raise funds for the Pink Ribbon, but to also enjoy the day with other women, have fun, and celebrate life. We will have about six husbands and fellow Mana Taiao Director Buddy Mikaere in the kitchen cooking and cleaning for us. Our auctioneer Tenby Powell will also give a hand in kitchen. Musician Damo Innes will play music while we mingle. In essence however, it's all about the ladies."
"Every cent raised will go back to the Breast Cancer Foundation which will help to fund cell-sorting tests to measure effectiveness of cancer drugs, laboratory equipment needed for vital research and even tailored physio sessions for women affected by breast cancer."
Last year, in NZ, more than $2.1 million was raised by everyone who took part.
The money raised helps fund innovative projects by some of our country's top researchers, and supports patients and their families as they navigate through their breast cancer journeys.
Jacqui set a target of $1,500 to raise, and already her fundraising has passed that goal, reaching $1,730 from 30 donations, with still a day to go before the breakfast is held. Her Mana Taiao breakfast fundraiser is currently in 13th place on the Pink Ribbon Breakfast leaderboard with 2920 hosts nationwide having already raised $349,265 during May. Jacqui thinks her placing on the leaderboard is likely to escalate significantly once the money is received on sold auction items.
"I'm supporting Pink Ribbon Breakfast because I want to do my bit to help kiwis affected by breast cancer," says Jacqui.
To register or enquire about sponsoring contact Jacqui on jacqui@manataiao.com, phone 027 282 2095go to https://pinkribbonbreakfast.co.nz/page/mtemparakuihi