A Tauranga-based musician is raising awareness for mental health through music.
Adam McLean released his song titled 'A Different Blue' on Thursday, after being asked to write a song for the relay event Shining Light on the Dark.
"I was approached by friends in my home town of Putaruru, to write a song in memory of friends and people from my home town that have lost their lives to suicide, and they did a big relay over there.
"They wanted me to sing at the relay, and I had about four months' notice. I worked on it and it was very hard, very difficult, I've known a lot of people that have gone through a mental illness."
Adam says the Shining Light on the Dark organisers and the Putaruru community loved his song so much, that Van Dyk's sponsored the music video and the song recording.
Adam recorded the song with adopted kiwi Kristian Lund and Tauranga local Ash Laforteza.
The song played for the first time at the Shining Light on the Dark event, and Adam says following the songs official release on Wednesday, May 22, he's received great feedback.
"The response has been amazing, so many people have emailed me saying how much it means to them and how it relates to them, because they have all known someone, or they've been the person, or they've been the family or the friend.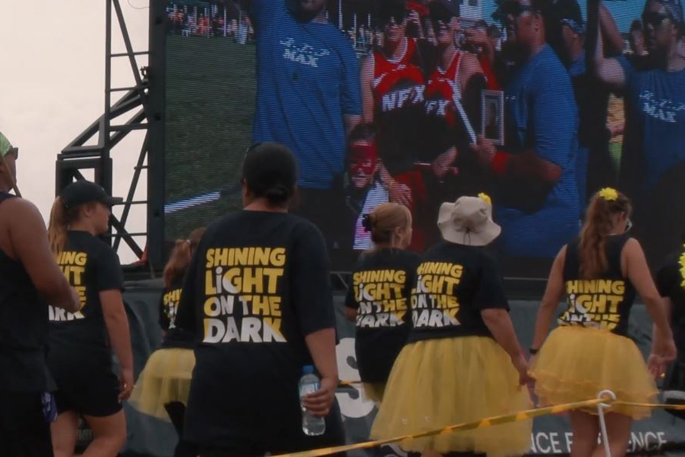 Shining Light on the Dark participants walking at the relay event.
"The song is broken up into three; the sufferer, the family, and the friends.
"It talks about the different blue, someone who is going through depression. We might think it's a beautiful day, a great day, but when they look up its dark and miserable."
Mount Maunganui College student Joe Spiers also chipped in to Adams song by producing the music video.
"He's 15 and he is dynamite, he is amazing. He's also a musician, he does lighting and sound and videos, he's just an amazing kid."
Adam says he is humbled by the opportunity to write the song, and he hopes his message hits those who haven't been affected by suicide so they can become more aware.
"Having the three different perspectives in the song helps people relate."
Adam left his role as a teacher at Otumoetai Primary at the end of last year to pursue music full time.
He now runs the Bay Music School and Bay Originals, as well as song writing and performing at functions.
To listen to 'A Different Blue', click here.