Two amateur Kiwi scriptwriters have secured the rights to the stage version of the hit film 'Blues Brothers' after talks with Hollywood bigwigs Dan Ackroyd and the late John Belushi's widow.
Tauranga writers Liam Hagan and Gordy Lockhart spent three years writing the script and secured permission from Ackroyd and Judith Belushi by promising to donate to a children's charity in the name of the film's lovable main characters Jake and Elwood.
The 1980 blockbuster earned rave reviews and featured an all-star Hollywood line up of Ackroyd, Belushi, Carrie Fisher, Aretha Franklin, John Candy and Ray Charles.
"We set out to put on a 'Blues Brothers' movie adaptation but we were told we had to write our own one, so we did," Lockhart said.
"We wanted to do it properly so we reached out to the IP owners."
That led to discussions with Aykroyd and Judith Belushi, who own the intellectual property for the name 'Blues Brothers' and the characters.
"After a lot of negotiation, and a few rewrites, we got the script approved."
The result is 'Blues Brothers: First Contact' which aims to capture the essence of the films, including the 1998 sequel 'Blues Brothers 2000', and bring them to the stage in what Lockhart calls an "off, off, off, off, off, off Broadway production."
Belushi asked that the only payment for the rights be a $500 donation towards a childrens' charity in the name of Jake and Elwood, the names of the characters from the film.
"It's very exciting to be dealing with these Hollywood names and they were all so nice and supportive of the idea," Lockhart said.
The story picks up from where the first movie left off, at the Joliet prison. The brothers are given a mission from the President of the United States directly, but that is just the start of their madcap adventure.
"Every 'Blues Brothers' story has the same formula," Lockhart said. "They are released from prison. Given a mission. Get the band back together. Get chased for some reason and put on a show."
Hagan, who will direct the production, said a big challenge is bringing action sequences that made the movies iconic to a small-theatre production.
"I grew up watching the films so want to do them justice," he said. "There is a car chase scene which will be fun to put onto the stage."
Casting for the show will begin shortly with the musical expected to debut next year, around the 40th anniversary of the film's release.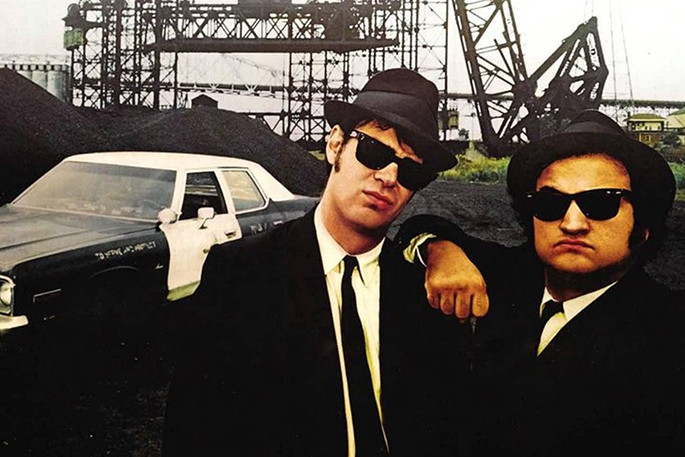 The fee for the rights was a donation to a charity in the name of Jake and Ellwood. Image: Supplied