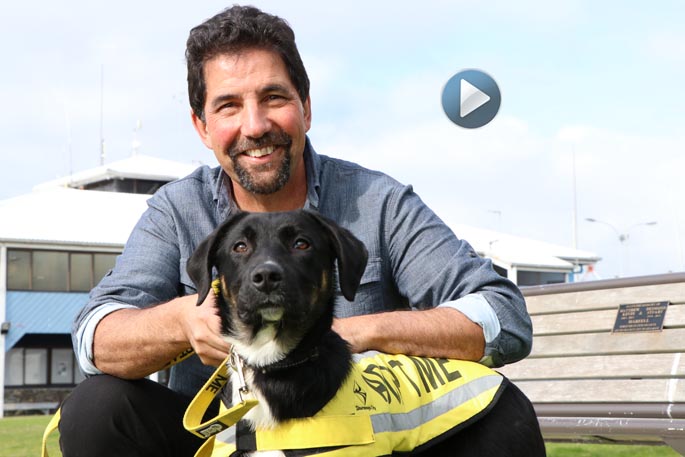 Click the image above to watch the video
Tim is a Hunterway/Border collie cross and is currently spending his time at the Tauranga Animal Shelter.
The young pup was found roaming around Mount Maunganui and was picked up by the Tauranga City Council's animal services team and has been hanging out at the shelter ever since.
Team leader of the animal services team at the city council Brent Lincoln says a lot of the dogs that end up in the pound like Tim, were found by a member of the public.
Brent says the first thing they do is check for a microchip.
"We scan for a microchip, check if there's any dog registration tags so that we can compare those to our database and quickly find the owner if that's the case.
"In Tim's case unfortunately we're not sure who the owner is. We hold the dogs for seven days and then after seven days, we do a temperament test on them and can put them up for adoption."
Being a part of the animal services team Brent says their job is primarily dog control.
"Our main emphasis is on the safety of the citizens of Tauranga. So it's any acts of aggression from dogs. We investigate those and take appropriate action.
"We kind of have a three-fold approach, its education in the first instance. Sometimes we then have to impound a dog if people don't learn from that and other times we have to take a bit more proactive action and that could be fines and things, but what we ideally like to do is work with the dog owner and get them to understand what their responsibilities are and to do the right thing when looking after their animal.
"Part of our role is the pound and at the pound it's where dogs that are found roaming end up. We work to try and find the owner of those dogs and get the dog reunited with the owner as quickly as we can," says Brent.
At the animal shelter located on Hewletts Road, Brent says it has the capacity for 40 dogs.
"It's one of the more modern pounds in the country. It's temperature-controlled. It has its own individual pens for the dogs. It's designed to shelter the animals, to protect them from the other dogs and minimise any cross-contamination with disease spread and that sort of thing.
"It's one of those things that we constantly reviewing and upgrading, It's also designed for the health and safety of staff involved as well to make sure they can handle the dog safely in a proper way."
One way the members of the public can help out the animal shelter, is by keeping an eye on the council's website for any dogs they may have up for adoption.
"If you have a look on there from time to time under the animal control sector, we have dogs for adoption. Each dog comes microchipped, registered and neutered. We do that before the dog does out to the public.
"We're always open for people to come and have a look at our dogs that are up for adoption. There is not always on there but most weeks we'll have a dog that's up for adoption."
Currently there are only five dogs in the shelter, and Brent sees that as a great thing.
"We normally run about 15 dogs in there, but we're down to five this week. So it fluctuates quite a bit. The most we've had is about 37.
"Our impound rates have been dropping over the last three years. We used to be over a thousand a year ago and now we're down to just 650 last year, which is still a lot but it seems to be that the message is getting through to dog owners to look after their dogs.
"I think the key for dog owners is to be responsible for your animal. They are a beautiful beast. We prefer not to see them at the pound, so look after your animal.
"If you're taking your dog for a walk always have a lead with you, pick up any poo after you if you're coming across somebody on a narrow walkway or something, clip your dog back on the lead until you pass them.
"So it's just being a responsible dog owner even in areas that you're allowed to exercise your dog off a leash, when you approach people the best thing to do is clip your do on, it's safer for the dog and everybody else."
He is also encouraging dog owners to make sure they have registered their dog for this year.
"If you haven't got a yellow tag, you registration is now expired. You've got till the end of this month to get it registered at the cheaper rate. From August 1 it increases by 50 per cent.
"I just encourage everybody to get your dog registered, that way you're in our system, and if your dog does go walkabout we can track you down early and get your dog back to you."
If you wish to make an appointment to meet Tim or you wish to adopt a dog from the shelter, visit the council's website or call 07 577 7000.