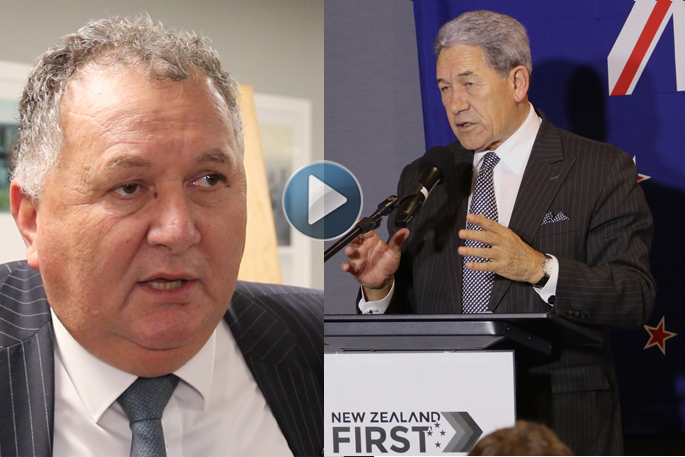 Click the image above to watch the video
State Highway 2 from Bethlehem to Katikati has always been a vocal talking point in the Bay of Plenty, but recently there are promising comments from members of the Collation Government saying that something must be done about it.
But are they just saying what we want to hear and leaving it at that?
On Monday night during the funding announcement for Tauranga's new cruise hub and visitor welcome centre Te Tomokanga, Shane Jones agreed that SH2 should be one of the projects that is upgraded in the next Government Policy Statement.
Deputy Prime Minister Winston Peters agreed that the stretch of road required work during his visit to Tauranga last week.
But even going back to August 2018 when Shane Jones was in town once again, he mentioned SH2 and how he got a first-hand experience of the controversial highway in the worst weather after his flight was cancelled and he had to drive to Tauranga.
"I finally got to see that dodgy piece of road that Clayton Mitchell has been telling me all about and something needs to be done about it," says Shane, during his August 2018 visit to the Tauranga Citizens' Club.
During a media stand-up on Monday night, Shane mentioned he had driven along the stretch of road once again.
"The one that my wife and I drove down and almost got run off the road, either because of bad Tauranga drivers of the hopeless nature of the road."
He says the government has set aside $1.5b for transport but the only positive impact Tauranga will see from that is the rail funding.
"About 500 million of that does come from the Provincial Growth Fund to increase rail connectivity and if it moves more heavy freight, logs, off the road then that's good for Tauranga.
"But our fund will not be available to fix up the roads such as the very dubious stretch of road near Katikati.
"So that lies with the NZTA as opposed to the Provincial Growth Fund.
"I thoroughly agree it should be one of the projects that is upgraded in the next GPS, the policy statement that governs the allocations of the NZTA and I'm under no illusions that we need to work a lot harder to find a way of bringing those improvements, certainly safety improvements to the market ASAP," says Shane.
Winston Peters told the crowd at the public meeting last week that he thought SH2 was a traffic danger and there was a need to get work started as fast as possible.
"We will do our best to find that money.
"That is a project that looks like it needs to be funded," says Winston.
Winston told SunLive they 'are going to make as many representations as we can because we think it meets the safety requirements as well'.
"One can't stand here and make promises because it has to be a decision in the end by the Minister of Transport and the Minister of Finance but we will make as strong representations as we possibly can."