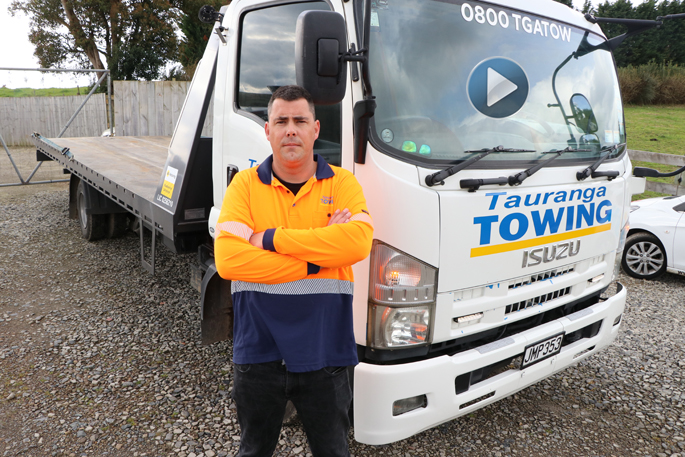 Click the image above to watch the video
A Tauranga towing company is calling for a fair roster system to tow vehicles from crash scenes.
Tauranga Towing is located out in Te Puna and has been wanting to be involved with police contracted tows for the last three and a half years.
"Back when we first started the business, we approached the police in order to see how we would get into the tender process and nothing really came out of it," says a spokesperson for the towing company.
"Our drivers would turn up to crash sites and have been told to pretty much move on, even when we're first on scene."
Tauranga Towing claims this is affecting the business and isn't allowing it to grow.
"We want a fair system for everybody in trying to clear our roads. Obviously, on State Highway 2 we have a lot of crashes and we're right here."
As well as being told to move on from crash sites, they say they have also experienced aggression from some officers.
"The aggression from some police officers is to the point where we've had paperwork ripped out of our invoice books, saying that the client doesn't want the tow to be done and they've got to organise another tow company.
"We've met with the police before and tried to negotiate something that would be fair for everybody. We don't have to appropriate storage space to have forensic crashes and stuff like that and that was also discussed with the police, but if there is anything minor on SH2 from Bethlehem onwards, we just wanted to be considered and have fair system, because there's quite a few tow companies in Tauranga."
All they want from a business point of view is to be considered.
"When you have a crash that's blocking SH2 and it's not serious, it takes three hours to get from town to Katikati, when it can be cleared in the first hour or half an hour if that."
The business owners of Tauranga Towing are very frustrated and know of other businesses, such as panelbeaters, that are frustrated as well.
Tauranga Towing has got to the stage where they want to expand and potentially buy a second tow truck and by having a police contract they say it will help them to expand.
They say their current truck is at full capacity with the current tenders they have and are at the point where the business needs to grow.
"Grant Norton, who passed away last year, loved the business and stood by Tauranga Towing from day dot. We want to honour that and have a family business and a shot at making it well established in Tauranga, as much as it already is."
The company also has support from members and businesses in the community.
"We've got a lot of support, especially with the local guys from Whakamarama and businesses as well. We've got a range of clientele and we don't just do towing of cars, its diggers and stuff like that as well."
Tauranga Towing say they want a fair roster system between all tow companies in the area and to be able to attend minor crashes along SH2 from Bethlehem onwards, so it can be cleared straight away.
"I've been stuck in traffic multiple times on the state highway for minor crashes. Not so long ago we had one where someone had a power pole.
"Our truck was on site and got told to move on, so the driver kept going towards Bethlehem and there was another four car pileup, which was no injuries and they were also told not to use Tauranga Towing.
"It's quite upsetting being business owners. You want a fair deal, and I just think we're getting robbed."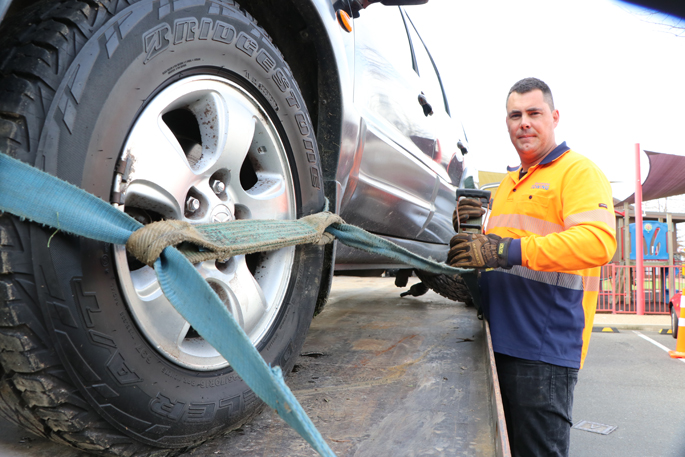 SunLive put Tauranga Towing's concerns to police to see what they wanted to say in the matter.
"From time to time police review tow arrangements to ensure that the best possible service is available," says Bay of Plenty Road Policing manager Inspector Brent Crowe.
"The review assess tow operators on the service they can provide and include vehicle fleet capability, storage facilities and overall service.
"At this time police are comfortable with the current tow arrangements in the Western Bay of Plenty."