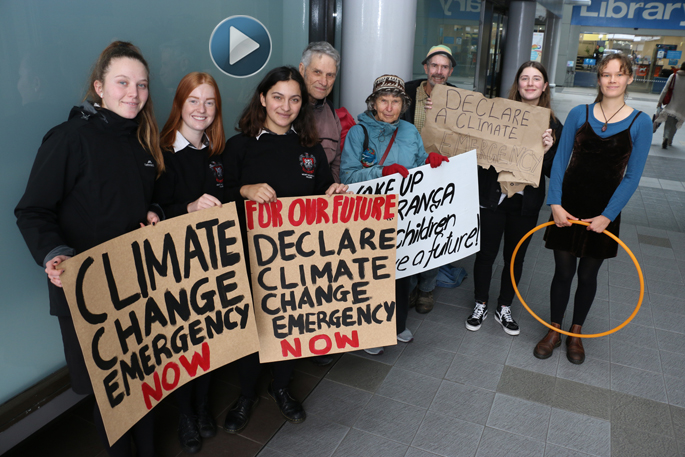 Click the image above to watch the video
Tauranga students stood outside council chambers this afternoon to support Wellingtonian Ollie Langridge for his 100th day protesting outside Parliament
Ollie is calling on the Government to declare a climate change emergency.
"We are on a vigil for Ollie as it's his 100th day on Parliament today. We thought this is the least we could do come out here and show our support in Tauranga as a lot of us can't make it down to Wellington," says School Strike 4 Climate convenor Zoe de Malmanche.
Tauranga resident Mary Rose took the bus into the CBD today to join students standing in solidarity with Ollie.
She is absolutely wrapped about the rising up students around the world acknowledging the issue.
"I have come here to be supportive. Good on you, and may you be heard."
Schools Strike 4 Climate BOP are organising another strike for Friday, September 27 on the Tauranga waterfront and are encouraging those of all ages to involve themselves.
Zoe says it is important to strike again as local council is currently not doing enough to address climate change.
"We need to show and give the councillors our back end so they can have confidence in their decisions when they are discussing climate change mitigation."
"Also, we need to have conversations about where our carbon footprint is and what we can do to stop that."
Within the financial year of 2015-2016, Tauranga produced approximately 760,000 tonnes of CO2 equivalent, 61 per cent of these emissions resided from the use of transport, which alone equated to higher than that of Wellington.
Zoe says people in the Bay should focus on catching the bus, biking and carpooling to reduce their carbon footprint.
For more information about the upcoming protest visit https://www.facebook.com/schoolstrike4climate/