In its proud sawmilling history, the small Bay of Plenty hinterland village of Mamaku had seldom seen anything like the farewell to Jason Ducre, a distinguished soldier who died last week aged 56.
Though it is 15 years since his honourable discharge, old soldiers – his peers – and his superiors converged at Mamaku on Saturday to pay their last respects at the War Memorial Hall.
Inside the hall, the names of eight soldiers killed in WW1 and 12 in WW2 oversaw a secular ceremony at which 220 mourners attended – many in military uniform.
While these servicemen died in action overseas, this was the first NZ Army presence the small but historic village had seen, old timers claimed. They were farewelling a man, who, after enlisting aged 16, saw service in Singapore, Bosnia, Bougainville and East Timor. He served in conflict and in peace-keeping roles.
One set of mourners arrived on flash Harley motorbikes. They were the Veterans New Zealand Motorcycle Club, a collection of retired army enlistments.
Warrant Officer (Class 1) Ducre's status was recognised by the personnel – Major General Jim Boswell, DSO, Chief of Army; Brigadier (ret) Phil Gibbons, ONZM, Honorary Colonel, IRNZIR; W/O (Class 1) Tich Mortiboy, W/O, Defence Force; and W/O (Class 1) Clive Douglas, Sergeant Major of the Army – named during the obsequies.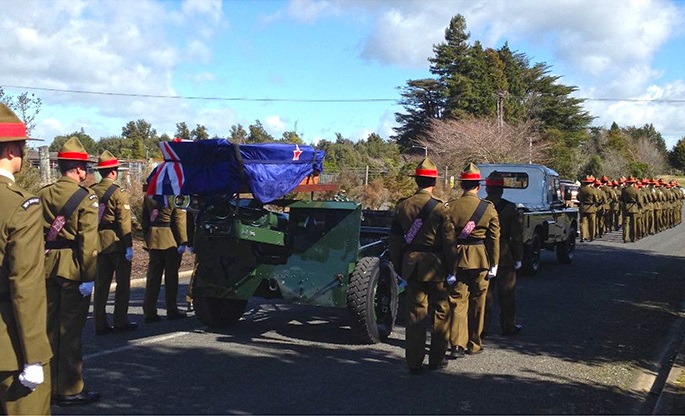 The gun carriage carrying Jason Ducre heads down Mamaku St to Karamu St.
In turn, speakers revealed a man of raffish, if sometimes slightly risible humour, but a loyal friend and respectful of authority, that air reciprocated with feeling by Brig. Phil Gibbons.
"Jason was good mates with a lot of people," says Phil. "He was someone we could rely on." He revealed they first served together in Singapore in 1989, and later in Bosnia in 1995.
An insight into Jason Ducre's personage occurred in a phone call by Major Jim General Boswell a few days before he died.
"He knew it was a tough phone call but he asked after my family," says Jim. "It was the mark of the man."
Jason had achieved the highest non-commissioned rank in the New Zealand Army.
Other speakers waxed eloquent, few more so than his close friend Dave Hunter, but the best came from his stepson Anthony Ducre who Jason had accepted from the age of three.
He provided personal insights, of growing up alongside a big, strong man of 195cms (6ft 4in) of generous disposition to all but who yielded to no one.
Though he achieved his distinction outside Rotorua, Jason was remembered within it, for Bryce Morrison, chairman of the Rotorua RSA, also extolled his service.
Later, as Jason Ducre's casket was loaded onto a gun carriage opposite the massive but dormant and now abandoned sawmill barn, the mourners witnessed a parade of military endearment.
Followed by a retinue of family and close friends, the carriage carrying Jason's casket headed by 20 armed soldiers meandered on a 150m journey down Mamaku St, to a sharp turn right into Karamu St, opposite the children's playground.
There, a six-gun salute was fired from the tennis court area, the uncompromising south-westerly wind blowing whiffs of cordite back toward the mourners.
Jason Ducre's casket was transferred into a hearse, which was parked 300m from Jason's home, the location fringing a cultivated bush area.
NZ Army personnel, who oversaw the funeral with first consideration to Jason's family, were now ready for their return journey. So, too, were the bulk of the contingent which had driven up from Linton early Saturday morning and were to return again on Saturday night.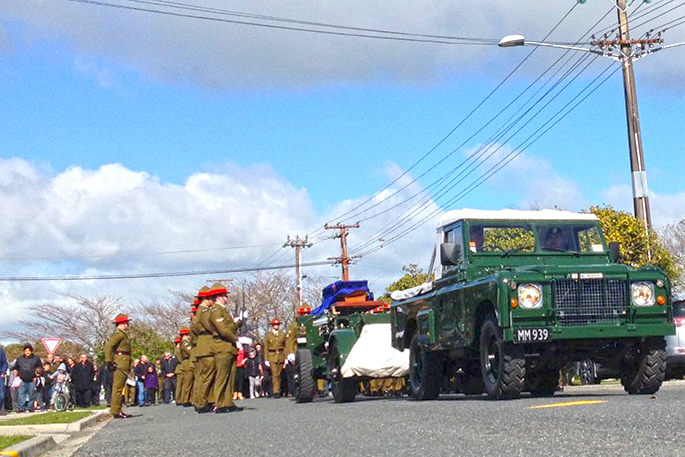 The military train reaches Karamu St, with a guard of honour
Jason's military record as follows:
War or operational service: Former Yugoslavia/Bosnia – UN Protection Force (UNPROFOR); East Timor - United Nations Transitional Administration in East Timor (UNTAET).
Theatre/Area of operations and posting: Former Yugoslavia/Bosnia – posted to NZ Force UN Protection Force 3 (25/07/1995 to 31/112/1995); East Timor – posted to NZ UN Force in East Timor – 5th Rotation (from 15/11/2001 to 27/05/2002).