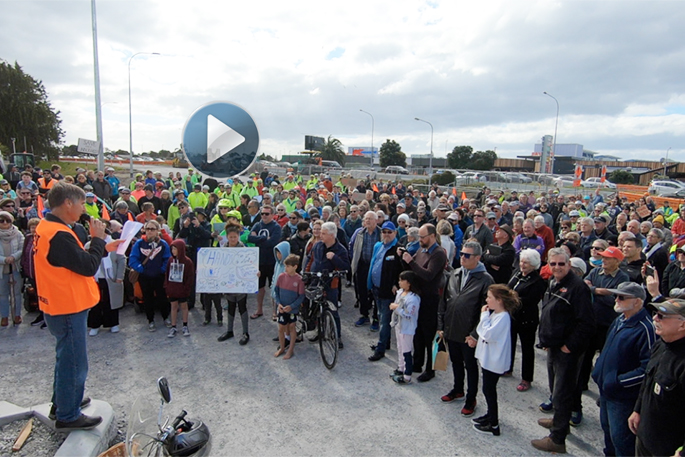 Click the image above to watch the video
Hundreds of people turned out to a protest on Sunday afternoon at the Bayfair Underpass.
The underpass, which runs under State Highway 2, is set to be demolished within the next four weeks and there are no plans for it to be replaced.
The Bayfair Underpass Alliance, which formed to ensure the current pedestrian underpass would be maintained at the Bayfair roundabout on the Baylink Project, organised a protest for 1.30pm today.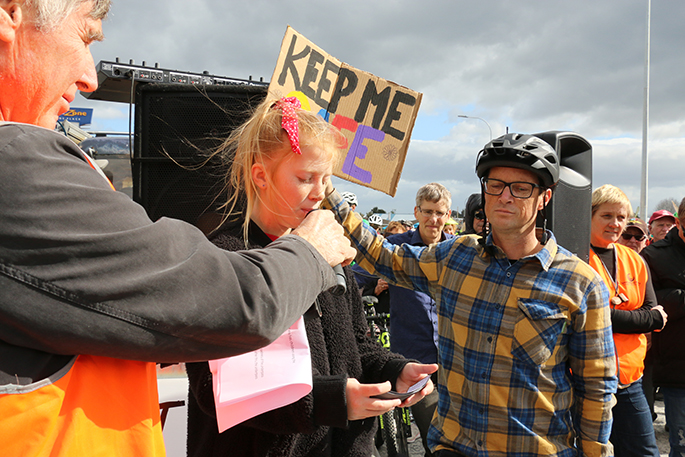 "The New Zealand Transport Agency has been doing a massive upgrade to the intersection at Bayfair," says one of the protesters. "There were plans to include a new underpass for walkers and cyclists. These plans changed as it was going to cost too much and no safe alternative plans have been made."
"I'm here today to support all these people," says another. "I can't believe such a backward step in not having an underpass. It's absolutely crazy. Look at all the traffic. How is anyone going to get over here. It's just ridiculous. So here we are hoping that Phil Twyford will come to the party."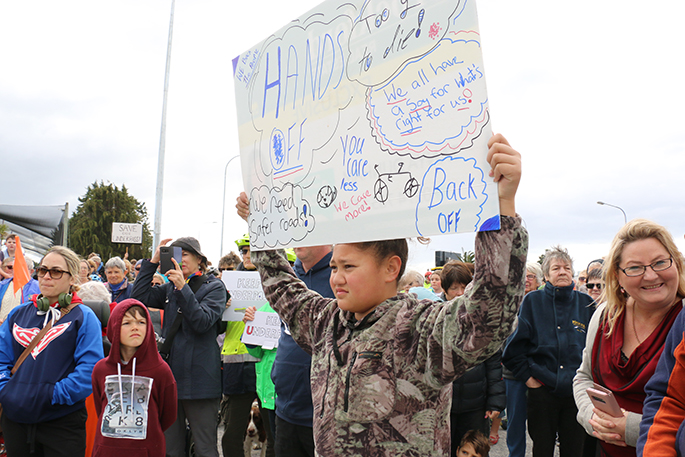 Taesha and her friend Lexie brought protest signs to hold up.
"We thought that we would make these signs because we use this underpass and we really need it," says Taesha. "It's just crazy what they're doing, because we just need it. Just hands off it. We come over here and do walking. We all have a say in what is right for us, and this is one of the things that is right for us and we need it."
Her friend Lexie agrees.
"I haven't used the underpass but I think it's bad that they're doing it," says Lexie.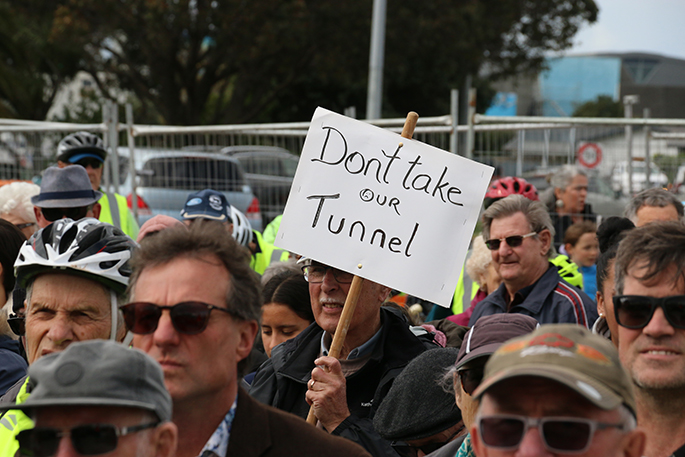 Protesters held up signs
Amongst the hundreds of protesters were the Tauranga City mayoral candidates including Tauranga Mayor Greg Brownless, who arrived on his bicycle. Greg was part of the council that put the underpass into place in the late 90s. The underpass was opened on July 10 1999 by then deputy mayor Stuart Crosby.
Greg is adamant that the decision made to demolish the underpass has not involved Tauranga City Council, but has been a decision made between NZTA and the contractors working on the Baylink Project.
Greg wrote to Mark Ratcliffe, the Interim Chief Executive at NZTA on August 15 and 19 urging the association to reconsider demolishing the underpass. Copies of the letters were also sent to Minister of Transport Phil Twyford.
"It is extremely disappointing that congestion on the two-lane flyover over the Bay Park and Bayfair intersections is expected to become a significant issue in just 8.5 years," writes the mayor in the letter to NZTA. "Given the $120-plus million cost of this project, we believe a better, longer-term solutions should have been achievable.
"Secondly, you should be aware that there is a groundswell of community concern about the decision not to proceed with the planned underpass link between Matapihi and Bayfair. The implications of this decision are far-reaching for all stakeholders and the inevitable outcomes are at variance with NZTA's obligations to give effect to the Government Police Statement for Transport. Specifically, the GPS key strategic priorities of safety and access will not be met for pedestrians and cyclists, who will need to negotiate a series of signalised crossing points to get from one side of SH2 to the other."
He continued in his letter to highlight the involved delays and heightened risk during road crossings, while road users will also face unnecessary delays at the crossing points.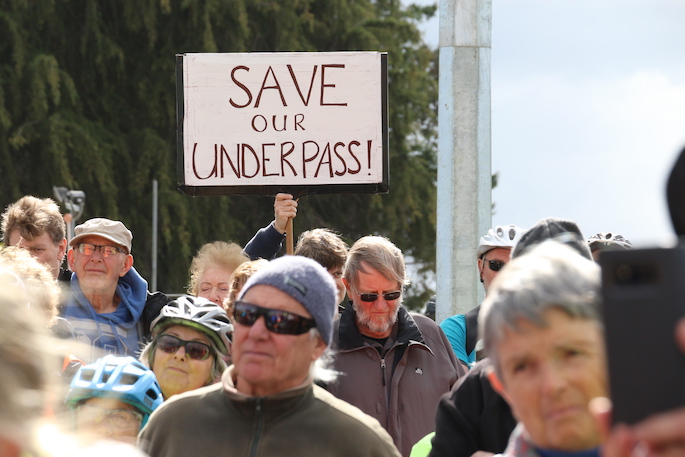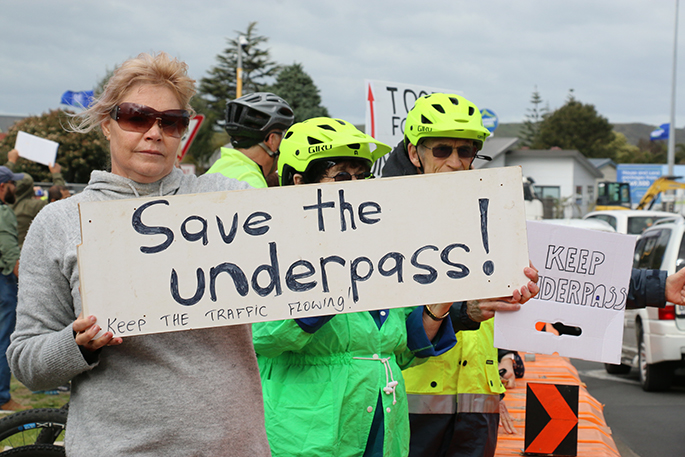 A key Tauranga City Council transportation project focus has been to encourage a progressive shift away from cars to other modes of transport – public transport, cycling and walking – so the decision by NZTA not to proceed with the underpass is seen by many as extremely unhelpful.
Also NZTA's reluctance to engage with community members and hear their concerns is being construed by some as arrogant and uncaring.
Many protesters were very vocal in expressing their disappointment with NZTA.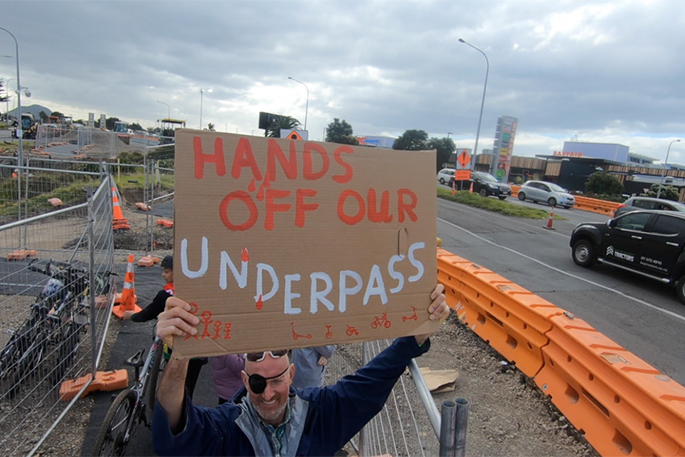 "We're here today to save the pedestrians and cyclists to cross the motorway", says one. "It's a really good effort by the locals to turn out on a cold Sunday afternoon."
"We're here to save lives," says another. "This is vital. You imagine this traffic that's here at the moment, and putting people on a crossing or putting us loose on bikes amongst it all is just crazy. This is serious."
Another local highlighted the various communities that all pass through the underpass and how safety was paramount.
"We're here to support this very important kaupapa and that is to try and keep this underpass here for our local community. Our community here is Arataki, Bayfair and Matapihi. We need a safe way for our children and our community to get across this state highway."
"The underpass is needed now, and that need will only increase as our population continues to grow over the coming decades," says Greg.
The estimated cost of the planned underpass has increased significantly from $13 million to $33 million, but Greg believes that the contribution that the underpass would make to future-proofing this key transportation corridor, and providing safe, unimpeded access across State Highway 2 does justify the additional investment involved.