Frustrated motorists are out of pocket after hitting a substantial pothole on State Highway 2 between Bayfair and Baypark.
Dean and his wife Gayleen's car was damaged last week when they were returning from Tauranga around 9pm.
"There was a pot hole that in the dark and in the rain we couldn't see. Our car hit it and consequently damaged 2 rims, it didn't blow the tires out but we had to replace those," says Dean.
It was between Exeter St and the State Highway 29 roundabout on the older section of road, he says.
Dean didn't think the pot hole was very big but it seemed quite deep from the impact.
"I didn't actually see it to be honest but we certainly felt it. That's for sure."
He says they pulled up in the slip lane on SH2 heading toward Papamoa and there were 7 or 8 cars pulled up with similar damage.
The cost of repairs and a wheel alignment was around $500, he says.
Dean followed up with the contractors in charge repairs for the road to see if they would provide compensation for the damage.
He was told he wouldn't get compensation because the company's policy is they have 24 hours to respond and the pothole was identified around 8pm and was repaired by 10 or 11pm.
"It was too late for us, they've responded within their time frame. There was virtually no conversation, meanwhile we're $500 out of pocket for two new rims, two new tires and a wheel alignment."
Dean works in road construction so understands that potholes can just happen.
"Compensation would be nice, but it's a hard one to sort of predict when the rain comes potholes appear."
"There's not much you can do about it doesn't matter how good you maintain things just one of those things it's unfortunately."
"They probably should have been a bit more proactive especially on that old part of the pavement."
"The amount of traffic using it, I think they should have done something about it before it got to this stage."
"It's one of those unfortunate things, there was a lot of other people out there with similar damage."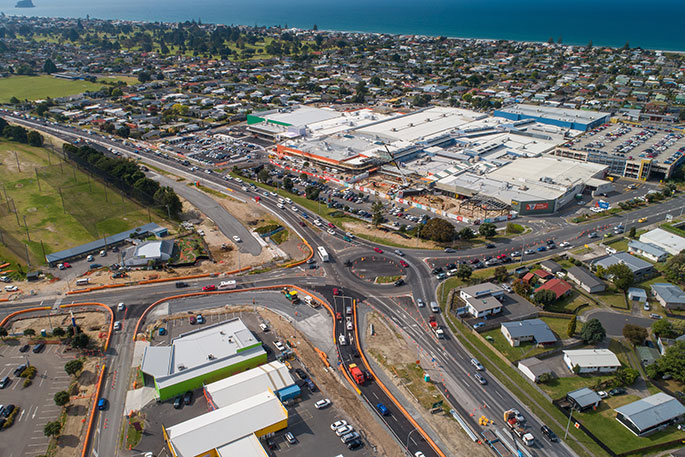 Construction of the Bayfair to Baypark link continues. Image: File photo /SunLive.
NZ Transport Agency Project Manager John McCarthy says they take the safety of motorists travelling through the Baypark to Bayfair Link site seriously and investigate each reported incident.
"We have received several reports following the pothole last week, which was a result of heavy rainfall and was repaired in a timely manner at the first available opportunity, he says.
"A temporary fill is usually carried out first and a more permanent repair is scheduled for drier, warmer weather conditions."
John says potholes are more common on roads where there is higher traffic particularly trucks, and they tend to appear more often in winter when there is higher rainfall.
"Driving on any roads, and in particular roads through a nominated work zone will never be completely risk-free and will always require drivers to be vigilant and aware of the changed road environment."
"We understand the frustration that these incidents cause for motorists, and our contractors patrol highways and project sites daily to monitor for the appearance of potholes so they can be filled as soon as possible."
If people have experienced damage to their car as a result of potholes they should speak with their insurer first, he says.
The NZTA also urges people to get in touch soon as possible if they spot potholes or other problems on the road on 0800 44 44 49.