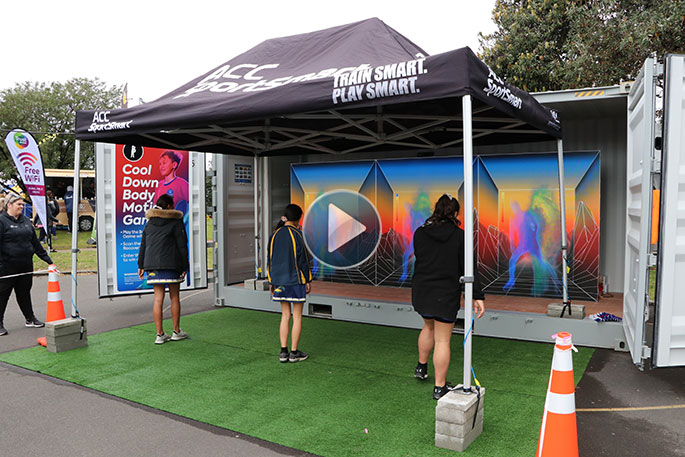 Click the image above to watch the video
It's not just sports keeping kids entertained at this year's Anchor AIMS Games - they can immerse themselves in Virtual Reality.
The VR experience set up by ACC aims to raise awareness about concussion and teach children how to recognise the symptoms.
"You've got to do stuff that's interesting for the kids, when you explain it they don't always take it in. When you get them immersed in the technology that's what they gobble it up," says ACC Injury Prevention Leader Kirsten Malpas.
Around one in 10 concussions are going unreported, she says.
"Those are a really big concern for us because if the kids aren't getting the treatment they need life becomes quite tricky in terms of school and sport."
Kirsten says they're trying to make everyone aware of the three Rs of concussion which is recognise the symptoms, remove themselves from play and refer to a doctor.
We want people to be removed from play, if there is a suspected knock. Stop what they're doing then get themselves to a doctor within 24 hours, she says.
"We know the invisibility is half of the challenge with it. We want kids to know how to look out for how a concussion can be caused."
Kirsten says symptoms can include a sore neck, blurred vison, loss of appetite, vomiting and a headache.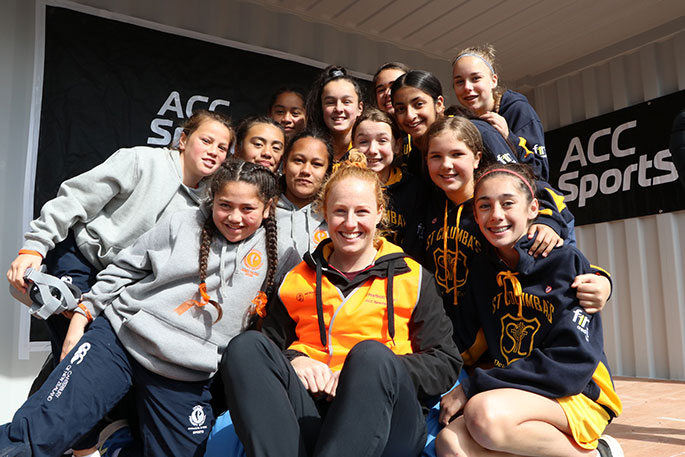 BOP Magic centre Sam Sinclair with AIMS netball players. Image: Daniel Hines/SunLive.
Treatment for concussion is to rest and it can be pretty hard for kids because they need to stop play, she says.
Another benefit of the VR zone is it enables kids to get some down time during their busy days playing.
"We're encouraging kids to take some time out and get off their feet."
Bay of Plenty Magic's player Sam Sinclair experienced a minor concussion during a game last year and had to take a week off training.
"It's tricky because it's a week that you have to take off training for an injury that you can't even see."
"You just have to trust the experts that it is concussion and you have to take it easy."
"Your brain is a precious thing and you have to look after it."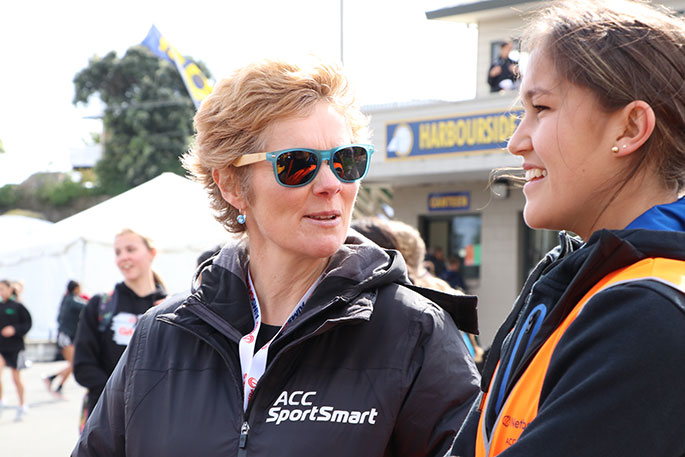 ACC Injury Prevention Leader Kirsten Malpas. Image: Daniel Hines/SunLive.
Sam and ACC are also ensuring the players are warming up and cooling down correctly.
A body recognition screen takes kids through a warm up and cool down.
Sam says she's realised the importance of warming up because when you play and haven't warmed up that's when you run risk of getting injured.
She wants everyone to enjoy the tournament but ensure they're looking after themselves as well.
"Have fun, look after your body cheer on other teams and look after your team mates."