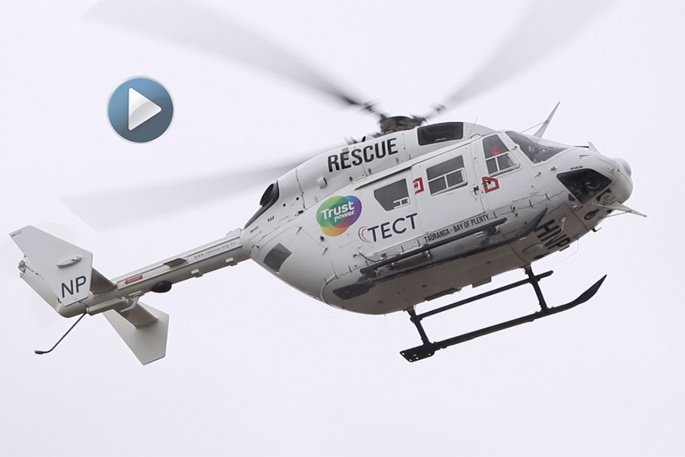 Click the image above to watch the video
For a job where you never know what you are going to get each morning when you wake up, Line Pilot and Intensive Care Paramedic for the Trustpower TECT Rescue Helicopter Todd Dunham and Dave Harrison are pretty proud about their line of work.
At the rescue helicopter base behind the Tauranga Hospital on Clarke Street, some days they will get some down time, whereas others they are busy flying around the central region saving lives.
"Because we do have a lot of rest period, we've got living accommodation here, bedrooms, television in the lounge, and we solve many problems of the world sitting around having a cup of coffee," says Todd.
When they get called out, during the day they have a 10 minute response time, with a 20 minute response time at night.
"The aircraft is in a state of readiness, ready to go, so it's pretty much out the door, our flight vests on, I'll do a weather check as pilot command and make sure that we've got all the coordinates and know where we're going," says Todd.
"The paramedic will assess what they need for what the injuries are and then we are engine started and gone."
Todd says it's quite rewarding helping people in distress.
"The job itself entitles quite a lot of skill level, night flying, flying in an adverse weather, trying to help people out in distress.
"It's a pretty cool feeling when you can actually get people in distress to hospital and save lives."
Every mission is different Todd says and they all have their things that you can tell a story about.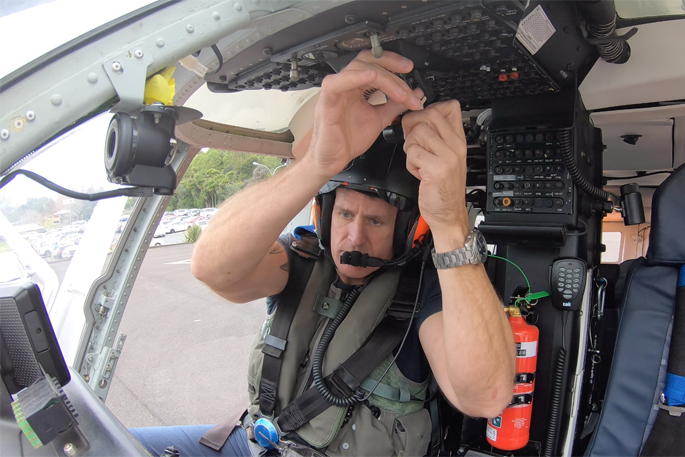 Line Pilot Todd Dunham.
"One in particular was when I was on duty down in Taupo, and I went down to Mount Taranaki. There were two mountain climbers that had been caught in an avalanche. They managed to get SAR rescue team to the two guys and we winched them at about seven and a half thousand feet off the side of Mount Taranaki.
"What I really remember about that job, was the actual avalanche itself that actually managed to just stop on a very steep part of the mountain where they stopped. Not far further down was a sheer bluff and we would not have obviously been winching two guys alive.
"So that's one of the jobs that sticks in my mind."
Todd has been a part of the Phillips Search and Rescue for 10 years. He started down in Palmerston North and was there for 12 months, he then became a relief pilot for the trust. He has now been in Tauranga for the past nine years flying the Trustpower TECT Rescue Helicopter.
"As a pilot, we do it because we love flying and it's a flying job that comes with other stuff as well, where we can help to assist people in distress.
"It's the unknown in this job. We don't know where we're going until the pager goes off.
"It's a job where you come to work, do all of your checks and stuff like that and if the pager goes off, the pager goes off. If it doesn't, you do other stuff around like paperwork and catch up on some other stuff," says Todd.
As an intensive paramedic, Dave says the main thing for him while he is at work is to be prepared.
"Making sure that we have all the gear equipment and making sure the crew's briefed so we know what's going to happen for the day. The biggest thing with this job is we don't know what's going to happen, but making sure we have a lot of gear equipment ready to go is probably the most important thing."
When arriving on scene at a job, his primary role is patient care. He will assess what the injuries are, the number of patients and the will work out a treatment plan based on that.
When Dave first started his training and wanted to be a paramedic, he says he saw being a paramedic on a rescue helicopter the most exciting and way that you could provide the most benefit.
"You work in a confined environment, you see critically injured patients with high acuity workload, and I think if you want to challenge yourself to actually bring the most you can for your patients I see this as the best vehicle to do that, and it's also just hella fun to fly."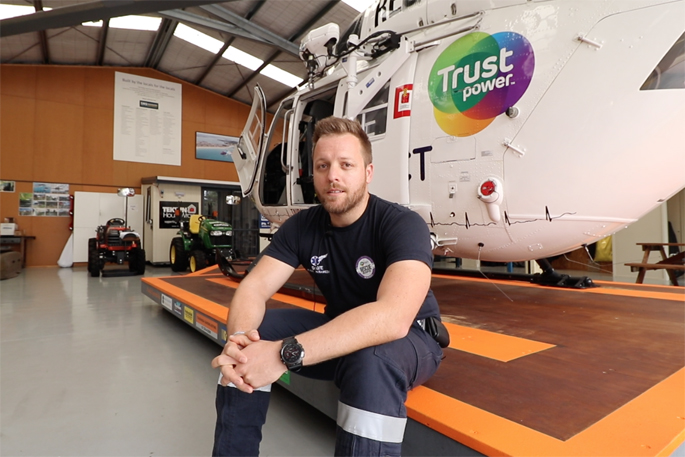 Intensive Care Paramedic Dave Harrison.
Dave has been with St John for 10 years. He's being doing this in a part-time component for two years and has only started full time with the trust earlier this year.
He says one job that has stuck in his mind was when he attended to a lady in her 30s who was involved in a head-on collision.
"She has her mum next to her and she had two children in the back seat. They'd hit another vehicle that rolled off the side of the road. She had an arm out the side of the vehicle and it partially severed her arm.
"She had chest, head, neck, and lower leg injuries. It took us a significant amount of time to extricate her out of the vehicle. She was intubated and ventilated on scene, taking her to Waikato Hospital.
"I think what made it stick in my mind was not so much the injuries, but her family wanting the best for her and having them so close made it hit home about the impact you can have on people's lives. What made it really rewarding was we found out that she did spend six weeks in hospital, but she's made an almost full recovery."
To get into the same career path as Dave, he says with the way the industry is going you will need to have a university degree.
"A Bachelor of Health Science and Paramedicine is the first step there then subsequently, you need to get a job with an ambulance provider and start to develop your career, increase your practice levels so that you can eventually become an intensive care paramedic. Subsequently to do that you also need to do postgraduate study and then it's about getting an opportunity to get a job on a trust and then you can do this job.
"There's very limited jobs of this kind in New Zealand, but I think for a lot of people starting as a paramedic, this is seen as what you want to be and what you want to attend to.
"This is a job that I've been training for, for the last 10 years. I still think that by working in the confines that we work, work with the patients that we see, it's that inherent excitement and that not knowing what you're going to go to, that motivates me.
"It keeps me motivated to be as best that I can be, so I can provide the best care for my patients and that's really what motivates me to come to work," says Dave.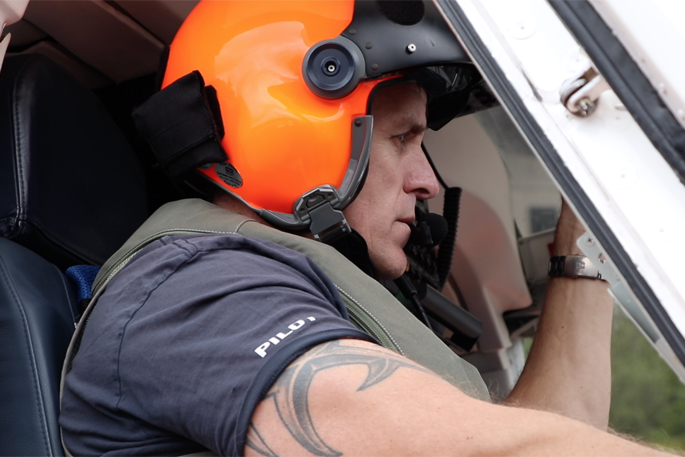 On September 22, from 10 to 2 the Trustpower TECT Rescue Helicopter will be holding their annual open day. Different emergency services will be there as well including Fire and Emergency, St John, SAR, and Coast Guard.
"It's just a good time for our community to come and meet the crew and to talk to us," says Todd.
"They see the helicopter flying over the houses every day, so they can come and say g'day."
There will be face painting for the kids, and the winch trainers will also be operating.
"They can also come and talk to the firemen and the police will have the AOS come along and do a display, everyone loves that. They have the bad guys racing around the car park, and they use the dog to attack the bad guy," says Todd.
"I think it's nice of the community to connect with the rescue helicopter that's here in Tauranga," says Dave.
"It's just a nice day to come and see what we do, meet the crew, and see the machine up close and personal.
"I think it develops a relationship between us as a provider as well as the general community," says Dave.
Entry into the open day on September 22, is a gold coin donation.
To donate to the charity, or to find out more about the Trustpower TECT Rescue Helicopter, head to www.rescue.org.nz