Tauranga's Paul Smith is not just a champion at indoor bowls – he's the champion of champions.
Paul won two national indoor bowls titles in two weeks when he won the national final of the New Zealand Indoor Bowls Henselite Champion of Champions Singles at the Canterbury Indoor Bowls Association Hall, Kearneys Road, Christchurch on Saturday.
Last week the NZ Mat Black skipped the winning team at the national final of the NZ Mixed Fours.
This brought his tally of national titles to six. He has two National Championship titles, the Triples in 2016 and Fours in 2018 and three Mixed Fours titles 2014, 2017 and 2019.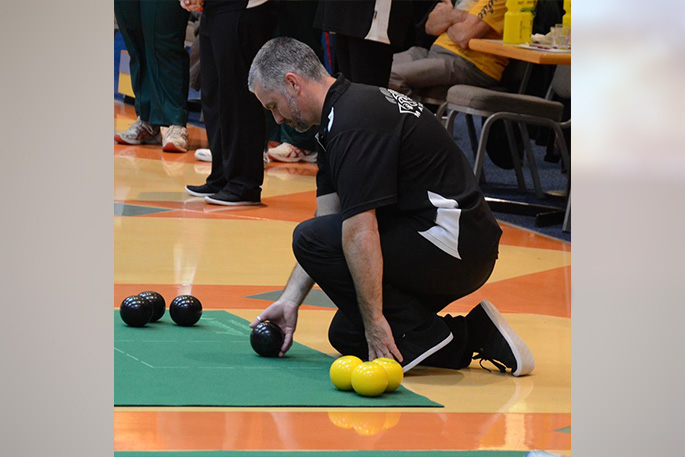 Paul has had a very successful year as he was also runner-up in the Open Singles at the nationals this year.
In the final on Saturday he defeated Gary Low, another Mat Black, of Southland 13-6.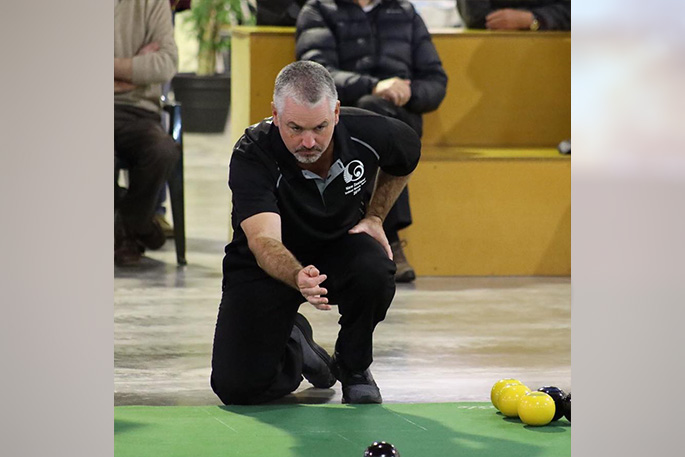 The final saw Gary holding three shots on the first end of the 12 end final when Paul ran at the head and moved the jack to go from three down to two up to lead 2-0. Gary came back on the next two ends to score two singles to draw level 2-2 after three ends. They then traded two shots each on the next two ends to be four all after five ends. Paul then took control to score 1, 2, 3, 2 on the next four ends to lead 12-4. Gary scored two shots on the tenth end to narrow the gap to 6-12 but a single to Paul on the eleventh end saw Gary concede the match.
In the semifinals Gary defeated Mark Ridley, North Taranaki 10-8 and he defeated Grant Wilson Ashburton 11-5.
The plate event was won by Bruce Meyer, Manawatu who defeated Cameron McKay, Manawatu 12-9 in the final.
Post Section
Main Event
Round 1: Byes: Mark Ridley, North Taranaki; Les Heywood, Wanganui; Pat Hoult, Upper Hutt Valley; Gary Low, Southland bt Joseph Zino, Hutt Valley 12-11; Grant Wilson, Ashburton bt David Lynn, Poverty Bay 9-7; Ross Brayshaw, Roskill and Districts bt Marilyn O'Neale, Wairarapa 10-8; Paul Smith, Tauranga bt Sharon Peters, North Harbour 14-6; David Webb, Otago bt Jeff Stuart, North Wellington 10-6.
Quarterfinals:
Ridley bt Heywood 9-4; Low bt Hoult 13-6; Wilson bt Brayshaw 14-10; Smith bt Webb 12-7.
Semifinals:
Low bt Ridley 10-8; Smith bt Wilson 11-5.
Final: Smith 13, Low 6.
Plate
Last eight:
Cameron McKay, Bush Ruahine bt Eilean Rawson, Northland 11-4;
Jakeb White, Counties bt Chris Matthews, Canterbury 10-9;
Steve Fisher, Auckland bt Peter Grant, South Otago 11-7;
Bruce Meyer, Manawatu bt Giovanni Persico, Nelson 12-7.
Semifinals:
McKay bt White 14-7; Meyer bt Fisher 11-9.
Final: Meyer 12, McKay 9.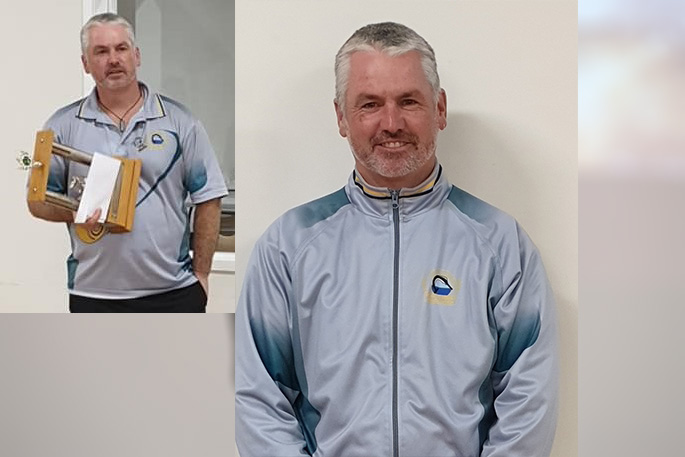 Paul Smith - inset with the Henselite trophy.