People in Whangamata are being asked to conserve water and cooperate with water restrictions following a surge in water usage over the weekend.
Thames Coromandel District Council is asking people to keep all non-essential hose use (including sprinklers and irrigation systems) to alternate days.
This is determined by the street number of the address you are at. Even-numbered addresses can water gardens on even days of the month (eg today - November 26) and odd-numbered addresses on odd days of the month.
These restrictions will be in place until the levels have returned to normal, hopefully over the next few days.
Council's Infrastructure Manager Mohamed Imtiaz says water volumes at the town's five reservoirs have reached critically low levels following the warm dry weather and with greater numbers of people in the town.
"It's not unusual that during periods of prolonged warm and dry weather the water reservoir levels drop, so we are taking this opportunity to remind residents that with water being a precious and finite resource in terms of the amount that we can take from the rivers and bores, we need to use it carefully and conserve wherever possible."
Recent usage compares to volumes usually seen in the peak summer period when the town's population swells significantly.
"While it's unusual for this time of year, the recent dry weather has seen increased water usage.
"Weather forecasts are telling us to expect long, dry periods over the next weeks, so please be aware and use water carefully to avoid further restrictions."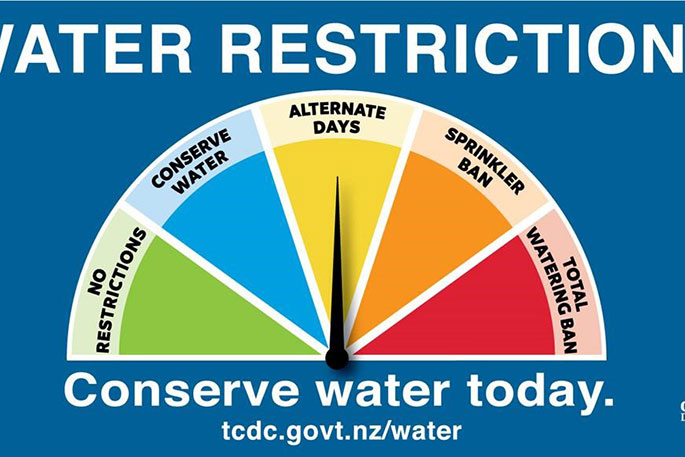 Changes to water restrictions are posted on our website, email newsletters and our Facebook page -@ThamesCoromandelDistrictCouncil
Water conservation signs around Whangamata also now reflect the restriction to 'alternate days'.
Please report water wastage and water leaks to our customer services team on 07 868 0200.
Top 5 smart water conservation tips
• Wait until you can do full loads before you wash dishes or use the washing machine.
• Don't run the water when brushing your teeth.
• For cool drinking water, fill a jug and keep it in the fridge. Running water to cool it down can waste 10 litres a minute.
• For lawns, apply the 'step test' – if grass springs back after you walk on it, it doesn't need watering.
• If your toilet has a dual-flush button, use the half flush.