Tauranga was a sea of orange as hundreds of school children walked the streets encouraging road safety and travel this morning.
More than 700 students from Tauranga and Western Bay primary and intermediate schools all dressed in orange and gathered along The Strand – near the waka, for the opening address by Deputy Mayor Larry Baldock.
Larry then officially cut the parade ribbon with Inspector Zane Smith, before the parade officially started.
Along with designing their own banner for the parade, each school came up with their own chant to yell out as loud as they could while walking in the parade.
Before the parade started, the students were told to make as much noise as they possibly could – as it's their only chance to do it without getting arrested.
Deputy Mayor Larry Baldock says the parade is a recognition of all the kids and all the other volunteers that work with the police to really make it safe for kids to walk to school, bike to school and encourage kids to be active when going to school which is what we want to see.
"It's the first time I've been to one of these parades. I used to be a road patroller in 1966 at the Gate Pa Primary School – it was the highlight of my day to be there with the lollipop, stop the traffic for my friends to walk across that pedestrian crossing."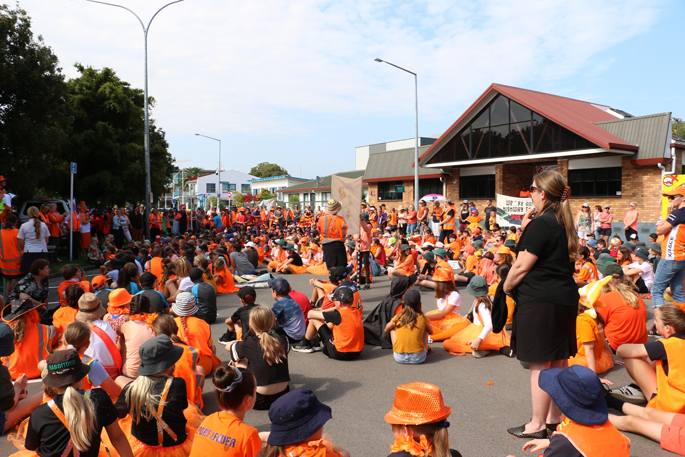 It was a sea of students that gathers on The Strand near the waka this morning.
Katikati Primary School teacher Ashleigh Gaudion says it gives them the chance to let the road patrollers know that what they do is really important to their community.
"It also lets them see the amount of effect that it has on all our community in Tauranga as well.
"They've had to work really hard to find all of their orange stuff. They've had to paint and design the banner and decide on a chant that they are going to use."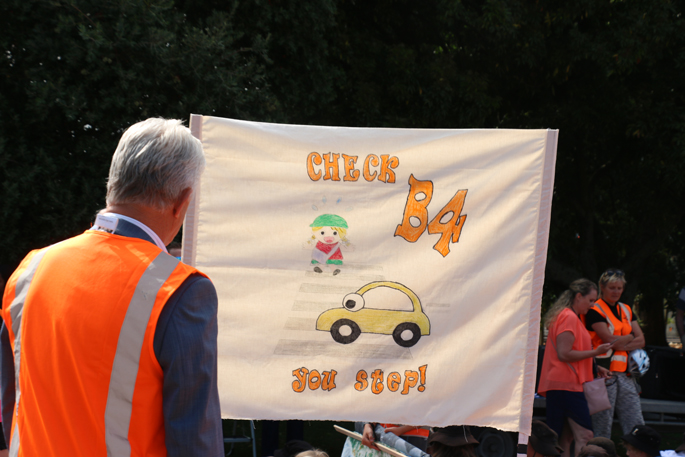 Larry Baldock looks on at one of the banners designed by one of the schools.