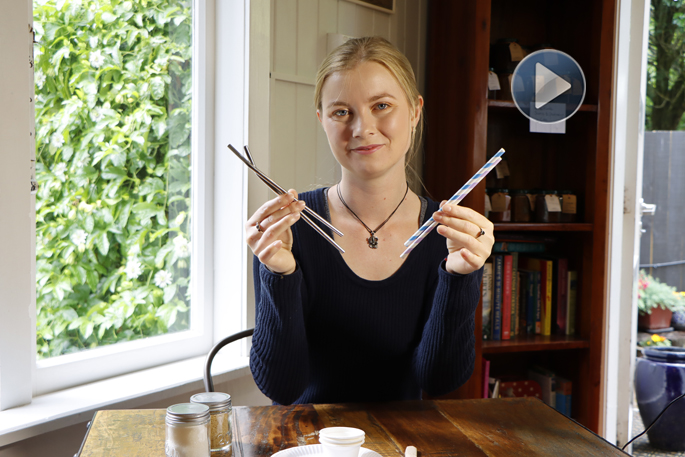 Click the image above to watch the video
A Tauranga café is doing their part to cut their waste in the hospitality industry.
The Falls Café, located in McLaren Falls Park, has been making changes here and there with one of their biggest changes being switching from two litre plastic milk bottles to 10 litre milk bladders.
"They've been a huge impact for cutting down our waste. It's been fantastic," says one of the café owners, Harriet Campbell.
"We started using them on October 5, and since November 30, we've used 50 bladders, which is 500 litres of milk, which is 250 two litre milk bottles that we haven't used and that haven't gone to landfill.
"About the same time, we got rid of the last of our plastic juice bottles from the fridge, so now we're 100 per cent glass. That's also had to push us to go to a more boutique, smaller juice production.
"So we've gone with Pete's Naturals and a couple of other small New Zealand juice companies, which has been really awesome and it's great supporting the smaller businesses and instead of the big Coca Cola and stuff like that."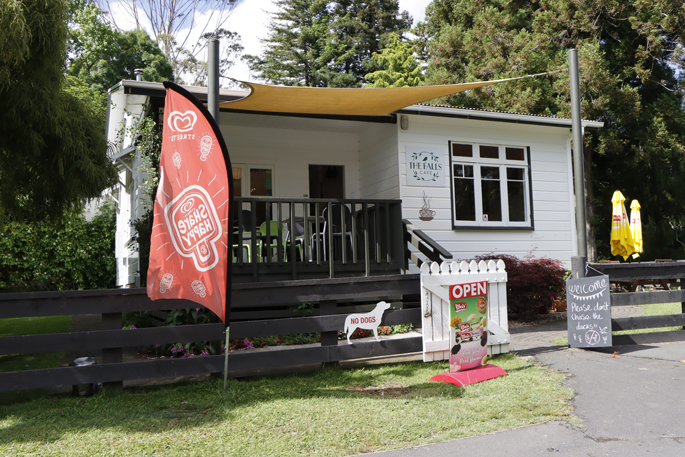 The Falls Café
Harriet says they first started talking about cutting down their waste when they started looking into how much they were actually producing.
"We were just looking at how much waste we were producing and with always trying to be an eco-friendly café, we just weren't happy with it.
"So we looked around and thought how can we make some changes? And they were the things that really stuck out to us.
"We were looking through our rubbish, seeing what was coming up the most, and it was the plastic drink bottles and the plastic milk bottles.
"After some investigation about what happened to them when we did recycle them, we found out that a lot of them weren't being recycled and they would just probably just go to Malaysia and being dumped somewhere."
Harriet says the changes have been really positive and the customers have been really happy with it.
She says it's all about changing your mentality more than anything.
"And trying not to be lazy and just trying to work a little bit harder to improve what you're doing, which in some ways has taken some thinking about. Others, it's been very simple."
New Zealand has more waste than the country can actually handle, which is why most of it isn't even getting recycled, says Harriet.
"I know for some cafes around Tauranga that are a lot busier than us, they're getting through so much plastic waste. It's ridiculous.
"We'd be recycling every week, especially during the summer. Maybe twice a week and now that's cut right down to maybe once every two weeks. Whereas before most of it was plastic waste and milk bottles. But now, not at all."
She says they have cut down at least 70 to 90 per cent of waste.
"We're always really careful with our food waste and seeing how much food is coming back. Portion sizes is something that's never been a big problem with us. But the plastic waste was the biggest."
Don't be scared by it, is Harriet's advice to other businesses wanting to cut down their waste.
"Don't feel that it's going to take too much time or effort, because while it does take a little bit of thinking about to see how it can work for your business, once you get into it, you see that it's really easy and it feels really great to be able to do it as well. Just give it a go really."
She says one thing she's learnt from this is that cutting down on your waste is definitely not as hard as people make it out to be.
"And when you do it, the positive impact that it has on yourself and everybody around you was really awesome and it has such a great feeling."