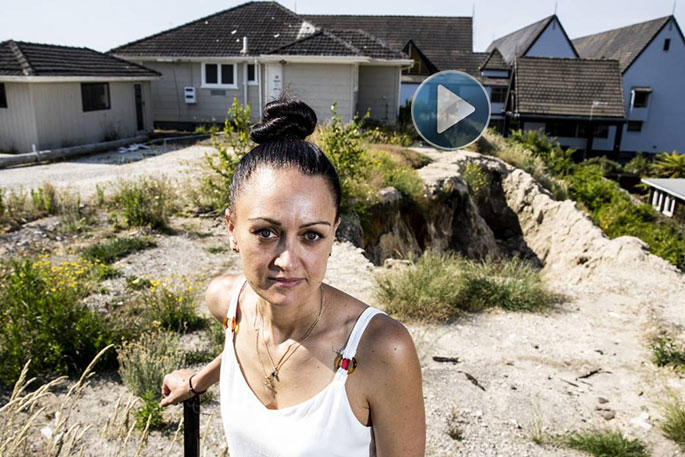 Click the image above to watch the video
It wasn't just boiling mud and steam that erupted into Susan Gedye's life when a mud pool unexpectedly opened up in her Rotorua garden, there were "beautiful things" too.
Gedye's Meade St home made national headlines last year when in the early hours of June 25, a newly formed mud pool exploded into life.
When Stuff first spoke to Gedyes, just a few hours after the initial eruption, it was with a backdrop of bubbling noise, huge vents of steam and hot mud being flung into the air.
Speaking again recently, just a few feet away from the now dormant crater, Gedye's said there had been no indication ahead of the eruption that thanks to what she now believes was a combination of Mother Nature and God's plan, her life was about to change.
It all started at around 2am with the house shaking in what she believed at the time was an earthquake.
Then she looked out of her kitchen window.
"Huge pile of steam, shaking house, I grabbed the kids to get out."
She said she phoned Rotorua Lakes Council and within ten minutes their geothermal inspector Peter Brownbridge was on the scene, and he had words of reassurance that the mud pool was unlikely to swallow the house.
Despite those words, Susan admits it was "a long night".
"It was shaking the bed all night so it was hard to sleep."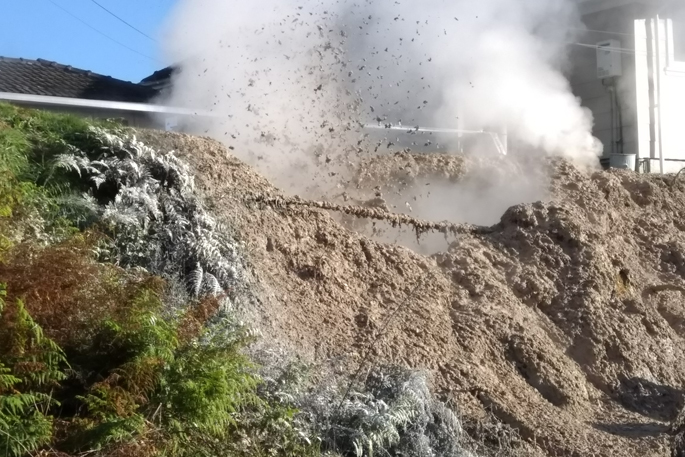 The mud pool opened up at the back of a property on Meade Street, Rotorua. Image: Supplied/Rotorua Lakes Council.
By morning, with the mud pool continuing to expand, the advice had changed.
"Me and Peter were standing down here and looking at the property and both said yeah, it's time to go," she says.
"It was growing by the hour."
Even on that initial morning, Susan dealt with the unexpected eruption with good humour - at one point telling assembled media she should start charging curious tourists who had also been visiting the site.
"At first it was pretty scary, and then just to see it change so quickly and dramatically, it was really rather spectacular as well," she says.
She cited an additional reason for her calm demeanour too.
"Funnily enough I guess my faith in God is what grounds me and I knew I had to just get on with it. Couldn't just sit around and feel sorry for myself."
Speaking months after the event, Susan says she now believes the mud pool, and her subsequent move back to her father Wayne's house, was "part of the plan".
Cancer and old age had recently robbed him of his wife, his best friend and his father.
"I was a bit worried about him. I could feel he wasn't OK and the grief was starting to happen."
Her daughter's presence has been particularly uplifting she says, and for all of the whanau.
"To be able to have her grow up with her grandfather, there's a real beauty to that. Beautiful things have come from it.
"She's the apple of his eye and brings him joy, there's a lot of life in the house now."
She says her beauty business has gone from strength to strength with her father insisting on a new log cabin premises in his back garden, and of course him being available to look after his granddaughter.
"I'd have stayed [at Meade St] and been comfortable, and we don't grow when we're comfortable."