It was skipper Brandon Stone's tip to a passenger enjoying a trip out with him on his boat 'Bay Explorer' that resulted in the overjoyed shout "There's a crocodile!"
The passenger had burst in through the wheelhouse door after sitting up front for a large part of the trip, enjoying the sound of water on the bow. It was his first time ever being on a boat.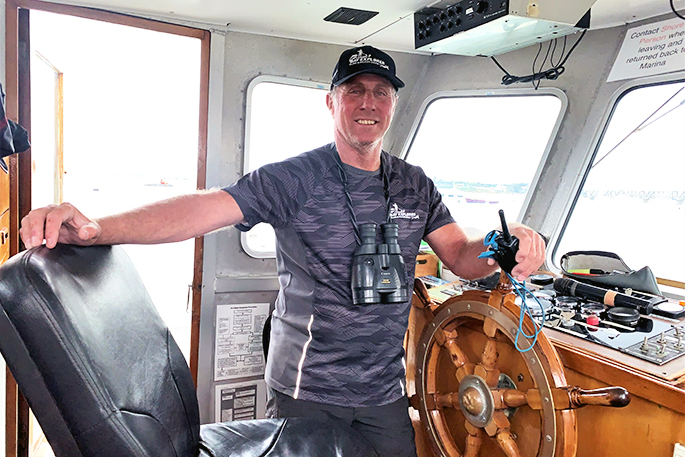 Brandon Stone
"When we brief people, we tell them how to look for wildlife – usually texture on the surface. We say 'Keep a lazy eye on the water'," says Brandon. He swung the boat around and discovered that the passenger had spotted a blue shark.
"It has large pectoral fins, comes to the surface to take in Vitamin D, and actually does swim like a crocodile."
He wasn't surprised to see it. He's finding that the diversity and number of marine life out in the Bay of Plenty waters is increasing enormously.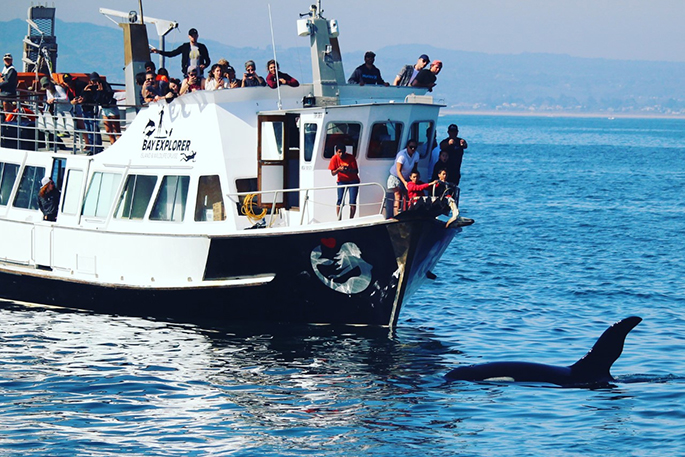 Watching orca from Bay Explorer.
"New Zealand-wide we have probably the strongest diversity of marine wildlife.
"On our dolphin and wildlife cruise, we talk to people about our relationship with the continental shelf and sea currents. We're seeing species like leatherback sea turtles and sunfish as well as migratory species like the blue striped and black marlin coming into the area.
"Also tuna species - the skip jack tuna and yellow fin tuna. More recently there's been the discovery of Maui dolphin here in this part of the coast. The last confirmed sighting was in Hahei."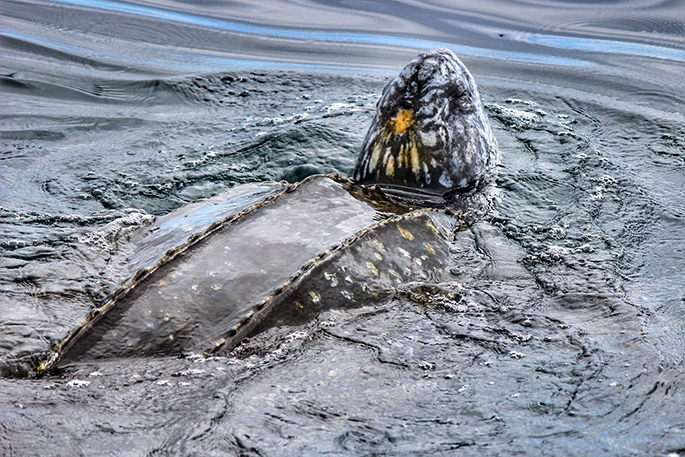 Turtle seen from Bay Explorer
Brandon's interest in the marine environment stemmed from coming over from Rotorua where he was born, to watch surfers at Mount Maunganui.
"Then I entered the corporate world, owned a business in Hong Kong doing corporate theatre and used to do fashion shows and launch events all over the world."
His Hong Kong-based company 'Upstage Corporate Theatre' did work for the likes of Richard Branson in Singapore and launched Cathay Pacific Airline."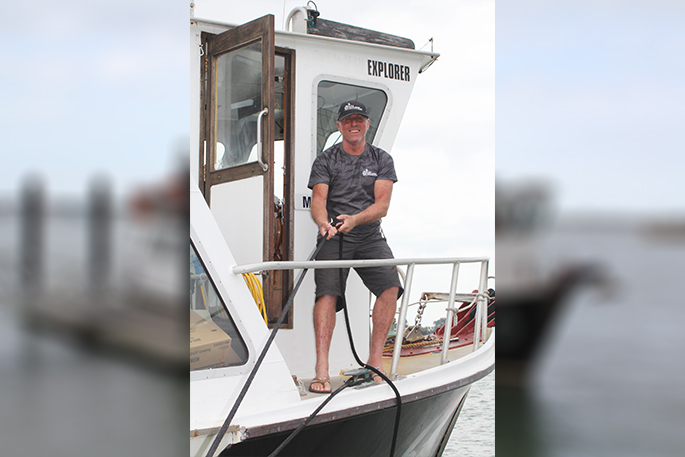 Brandon Stone, skipper of Bay Explorer
"When I returned to NZ in my 30's I decided I wanted to connect with the marine environment rather than the corporate environment.
"I made Mount Maunganui my home and studied marine science at Toi Ohomai."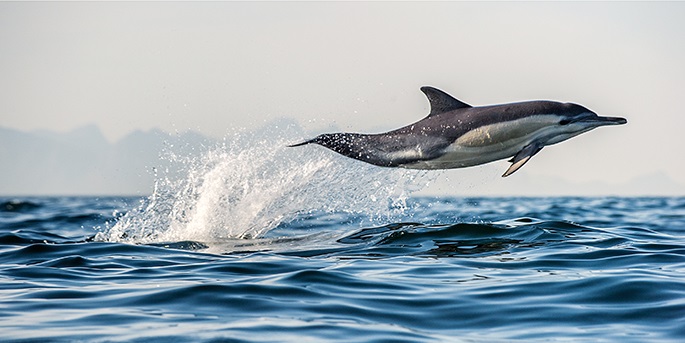 Dolphin seen from Bay Explorer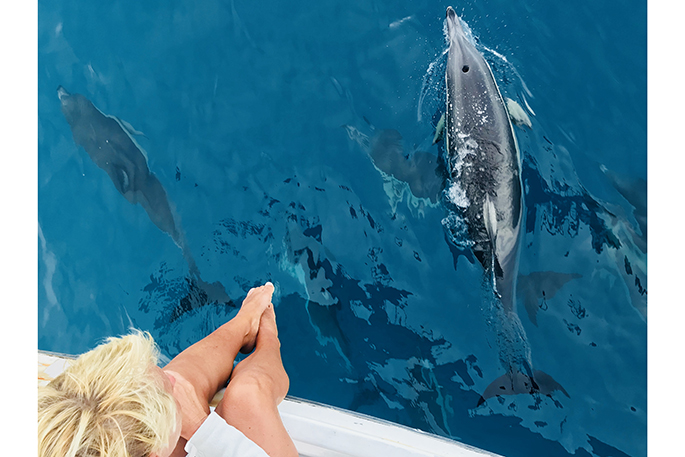 As a consequence he landed a position lecturing marine science at the tertiary centre.
"It was my first job being employed and I wasn't really wanting that. I'd been my own boss for many years."
He'd had another small company called 'Aquanauts' and started the first dolphin swimming operation in the Bay of Plenty more than 20 years ago. He's spent time on the water with different vessels doing various projects, including as scientific observer for the Ministry of Fisheries, and doing film work for the Natural History Unit on the southern right whale, both roles in the Subantarctic.
"That was a full-on expedition wintering over in the Campbell Islands. Also spent a season as a skipper on whale swimming boats in Tonga."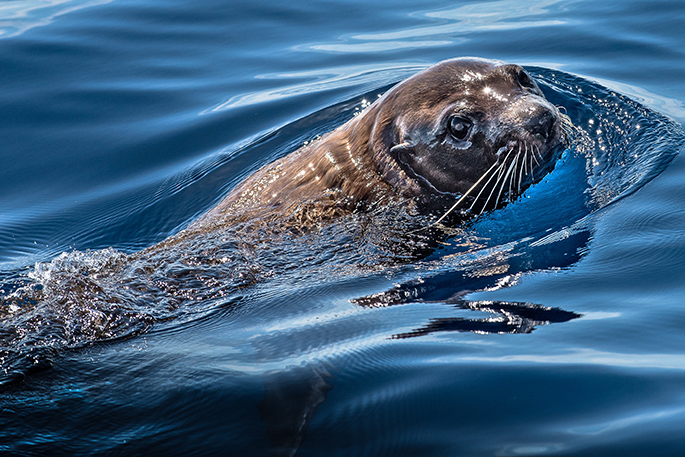 A seal swimming past the Bay Explorer
The work with whales and attending whale symposiums reignited his passion for marine mammals. During his second year at Toi Ohomai he studied humpback whales, which included DNA sampling, working with biopsy samples and photo identification of humpback whales in the Tongan waters.
His skill set has extended to being an expedition leader, and a logistics organiser with his company 'On the Wild Side', taking people from all over the world to Tonga to swim with whales. He holds NZ's second highest qualification in diving, as a master scuba instructor.
He bought the Kewpie, which takes people for trips around the inner Tauranga harbour. A lot of things were aligning to focus him on being more involved with marine wildlife.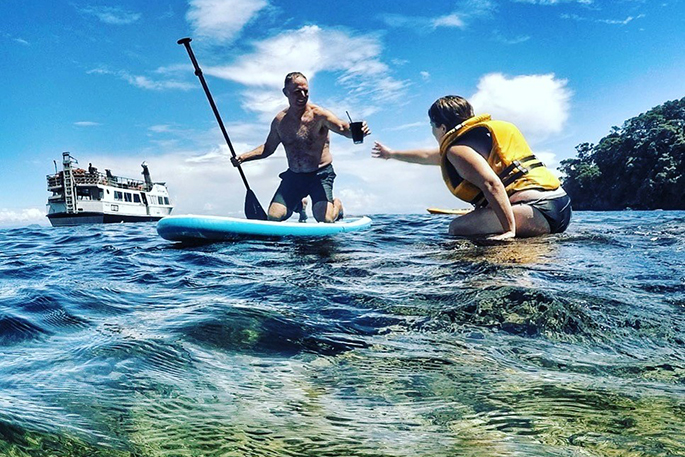 "I want to show people what was out there as I'd seen so much amazing wildlife. There's so much more to it than swimming with dolphins.
"The bigger wildlife story is about how the oceans work, how the habitat is important and how other species interact and interconnect."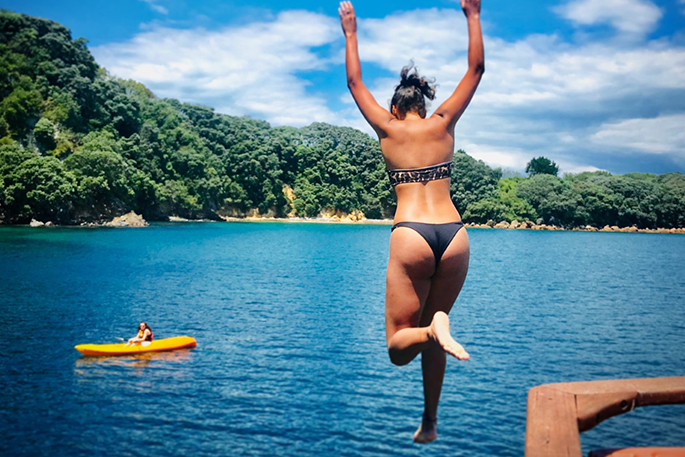 With that vision, he bought another boat from Motueka that had plied passengers into the Abel Tasman National Park, named it Bay Explorer and started 'Bay Explorer Island and Wildlife Cruises', with the intention of getting people out into the Bay of Plenty waters.
And he keeps a more-than-lazy eye on the water.
"There's lots going on. Leopard seals, Hector's dolphins and leatherback sea turtles in unprecedented numbers are coming through here. This year we've seen pygmy blue whales."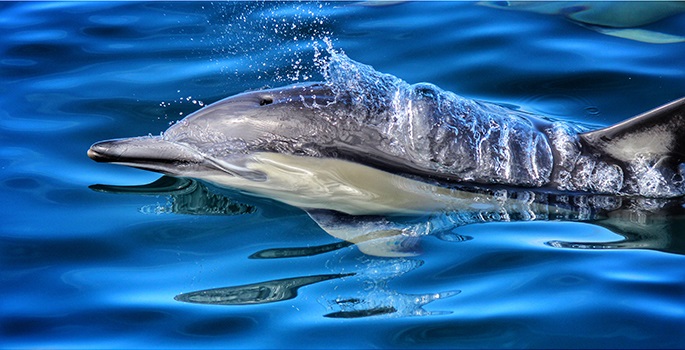 A dolphin seen from Bay Explorer
"What is underestimated is the variety of whale species. We get whale sharks, manta rays, dwarf minke whales, beaked whale species, Bryde's whales, fin whales, sei whales, southern right whales, and humpback whales.
"Last year we had an unprecedented number of false killer whales." Also known as the Pseudorca, it is a member of the dolphin family.
Albatross, sunfish, penguins, petrels – it's a rich wildlife environment. One season he may see more than 20 sunfish in a day, and the next doesn't see a sunfish the entire season.
"It doesn't mean there's a decline, it just means that the currents haven't come down or the food source hasn't come with it."
It's about the timing of nature. Wind and nature doing its magic. Brandon is sharing his passion and keeping his lazy eye on the waters, day by day, season by season.