The Celebrity Solstice is staying overnight at the Port of Tauranga on Saturday, February 1, for the last time this cruise ship season.
Tauranga is the only New Zealand Port where the Celebrity Solstice stays overnight.
Locals are invited to make the Celebrity Solstice passengers feel welcome at a special market being held to celebrate her final overnight stay in New Zealand.
The Little Big Markets has organised an evening Street Food Union for the cruise passengers to mix with locals and feel the welcoming spirit of the Bay of Plenty.
The Street Food Union is on Saturday, February 1, from 5pm to 9pm and will have live music and a range of dinner and dessert options.
Tourism Bay of Plenty Chief Executive Kristin Dunne encourages residents to come down to Coronation Park at 5pm to celebrate the Celebrity Solstice and chat to the passengers to make them feel welcome.
"The Bay of Plenty is renowned for its manaakitanga and we want our cruise passengers to feel our warm welcome.
"Cruise ship activity brings significant benefits to the Bay of Plenty including the $90.3m boost the economy received during the 2018-2019 season."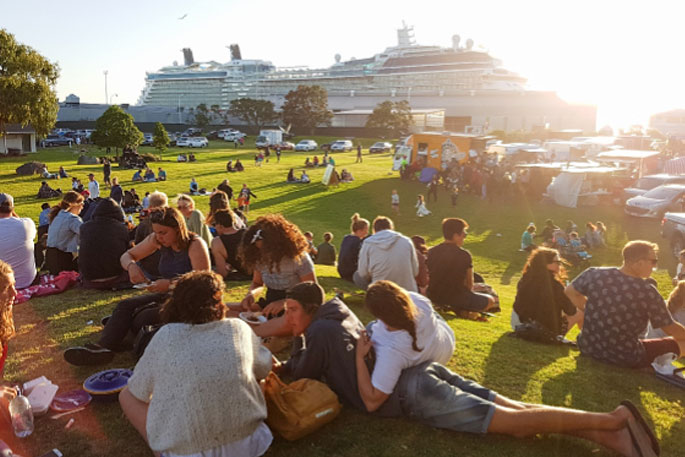 Supplied photo.
Last season Tauranga had the second largest total spending by port in New Zealand (up 35 per cent).
This season the Bay of Plenty will welcome about 302,985 passengers and crew from 111 ships including 27 double ship days, one triple ship day, and seven overnight stays.
The Celebrity Solstice is scheduled to arrive at 6.45am on Saturday, February 1, and depart at 7.30pm on Sunday, February 2.
The Celebrity Solstice is a modern ship that sails to New Zealand, Australia, South Pacific, Indonesia, Hawaii and Tahiti.
On her roof are 216 solar panels that contribute to the ship's electrical grid, and a half acre of lush living grass known as the "Lawn Club".
The Celebrity Solstice is the third largest ship to visit the Port of Tauranga with a gross tonnage of 121,878. She can accommodate 4,100 passengers and crew. She measures 317.3 metres long.

What: Farewell the Celebrity Solstice during her last overnight stay in New Zealand
Where: Street Food Union, Coronation Park, Mount Maunganui
When: Saturday, February 1
More information: www.facebook.com/events/654335744977822 -