It's time to splash around and learn some safety in and on the water ahead of summer.
Tauranga Swim School in conjunction with Water Safety New Zealand is hosting 'Splash 3', a free Water Safety Community Day today to boost education around staying safe in water.
The fun and informative event will give an opportunity for everyone to develop and improve on their water skills.
"We're excited to be hosting Splash 3 - our free water safety community day," says Tauranga Swim School director Andrea Sinden. "The Water Safety Community Day has something for everyone."
Andrea says we must have water safety skills.
"We live on an island. We are surrounded by water and the kiwi way of life is to hang out in the water," says Andrea. "It's so important kids and adults know how to swim. Swimming lessons are non-negotiable for everyone."
The Water Safety Community Day will be a day of fun, learning and activities, so people can gain more knowledge, understanding and learn skills to equip themselves and their children to be safer in and around the water.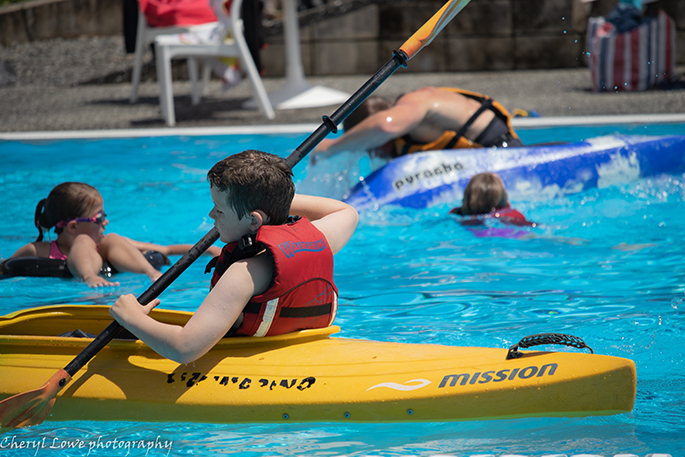 Life saving, swim skills, the 'amazing race', kayak and stand up paddleboards, and dry land activities will be part of the day which runs from 8.30am – 2pm.
The popular DJ Spin will be spinning out some great music and vibes. There will also be spot prizes, food, coffee and ice-cream carts, a sausage sizzle, prizes and raffles.
The day's programme starts at 8.30am with registration and a welcome. To compete in the amazing race later, a participant first needs to complete all the water safety rotations.
At 9am the rotations begin with floating, reach rescue, life jackets, and a distance swim. The distance swim will be 25metres, 50 metres, 100 metres, 200 metres, or 500 metres swimming any stroke without stopping.
The 'Amazing Race' at 11.30am will have teams competing against each other from the initiatives from the rotation activities.
At 12.30pm there will be kayak and paddle board demonstrations with members of East Coast Paddlers who will demonstrate water safety when out on the water on a paddle board or in a kayak.
"Prepare for a safe summer. Come and have a go. It's free," says Andrea.
There will also be the famous Tauranga Swim School lolly scramble.
Prize giving follows at 1.45pm and the day will end at 2pm. The goal is to have swimmers more confident in and around the water so they can enjoy the summer ahead.
"Prepare for a safe summer. Come and have a go. It's free," says Andrea.
The Water Safety Community Day will run from 8.30am – 2pm today Sunday October 18 at the Toi Ohomai Aquatic Centre in Windermere. To register for the Water Safety Community Day go to www.taurangaswimschool.co.nz