So we're now over a week into 2021. Hmmm...
There was a vague sense that once we farewelled that savage Year Of Our Lord 2020 things would change. Unsurprisingly, that hasn't happened.
It's been a torrid time. The first things to hit were thunder storms and torrential rain, followed by gales, flooding and broken bridges. In Dunedin 200 people were trapped overnight at a festival and forced to listen to nothing but folk music.
Meanwhile, Kiwis all round the country declared yet again how lucky we are as the rest of the world dives deeper into Covid-contagion, Britain plunging into a full lockdown, America sinking further into the virus-infected swamp.
At least as we watch President Trump preparing to leave office with the class and magnanimity we have come to expect we can pause briefly to celebrate his accomplishments.
Because many new records have been set by the ex-POTUS. For instance, the highly-prized record for the most false or misleading statements made by a president.
Consider this: It took Donald Trump 827 days - over two years! - to make 10,000 false and misleading claims, which was an average of 12 claims a day. But on July 9 last year, just 440 days later, the president crossed the 20,000 mark, an average of 23 claims a day over a 14-month period. What an effort! Of course part of the credit must go to the pandemic. Pandemics are so fact-intensive that false statements can be easily fact-checked, so it gave a whole new life to Ol' Swampy's constant stream of falsehoods.
Another achievement President Trump can now boast of is officially pardoning the most Thanksgiving turkeys ever. Also, war criminals.
MOVING ON...
But now let us move on. As, hopefully, America and the whole world can start to do on January 20.
Let's move on because I have a gig for you. And I'm hoping you're reading this sharpish, having either grabbed it straight from your letterbox or dialled it up on the SunLive site. Because the gig is tonight. Yep, Friday 8 January. I usually avoid mentioning things so imminent but this is a bit special and cropped up quite late in the day...
It's happening down at The Matua Bar which is, as the name would suggest, in Matua. Owners Tony and Karen took over there in mid-2017 having previously been around the corner in the Tilby Drive shops at Hooked On. They have Open Mic nights every Wednesday from 7.30pm with a live band and occasional music on Friday nights. And it's the band this Friday night that's of particular interest.
Kicking off at 7pm Trevor Braunias, long one of Tauranga's leading guitar players, is unveiling the debut of his new band, the TJS Blues Band.
TJS refers to the band members, Trevor on guitar, vocals and harmonica, Julian Clark on bass, vocals and harmonica, and Trevor's son Stefan on drums and percussion. Together they promise a night of classic electric blues from Chicago, San Francisco, Texas and the English blues boom of the '60s.
FIRST LOVE
There are many people who will be excited about this. Trevor has played in many styles over the past decades, with his own jazz trio, his duo, with bands from Hobbit and Cloud to Torch Songs and The Bay Big Band. There's a chapter about him in Graham Clark's history of Tauranga music, The Right Note. But as musicians who know him know, Trevor's first love was the blues and the likes of John Mayall's original Bluesbreakers album which, many years ago, introduced the world to a young Eric Clapton.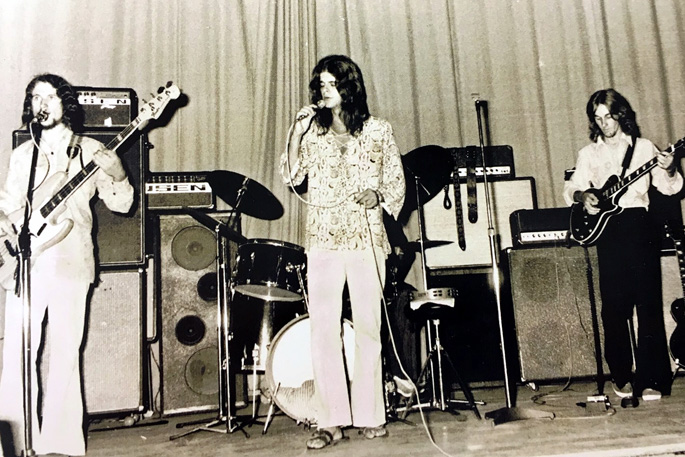 Even before I started writing about music in the Bay, over 30 years ago, there were awed stories about Trevor, who had apparently learnt every Clapton solo on that legendary album note-for-note, about his wild long hair and even wilder playing.
And now Trevor's having another crack at it. Going back to the blues, back to Freddie King and Albert, back to Otis Rush and Buddy Guy. And of course to the songs that inspired young Eric and in turn a young Trevor. It should be a fun night.