Bay of Plenty residents are being warned to plan for another hot day, with temperatures expected to reach anywhere from 25 – 29 degrees today.
Record-breaking temperatures were recorded in New Zealand on Tuesday. Timaru recorded its second hottest January temp since 1885 – 37.9C.
According to NIWA, Akaroa reached 38C.
Back in the BOP, people were reporting temperatures of 34C during the day.
WeatherWatch.co.nz says a high pressure system lies to the north today and approaching from the south is a cold front.
"In between we have a very warm westerly quarter airflow over the country.
"Most places around the country will be dry today apart from South Westland, expect showers then heavy rain moving in from afternoon."
Showers move into Southland and Otago late afternoon/evening.
"Most of the country can expect warm temperatures, hot in the east especially for the eastern North Island.
"The West Coast south of Hokitika experiences the coolest highs.
"Winds are moderate for most however through the Southern Alps, Cook Strait plus coastal parts of the lower South Island winds may be gusty or strong at times."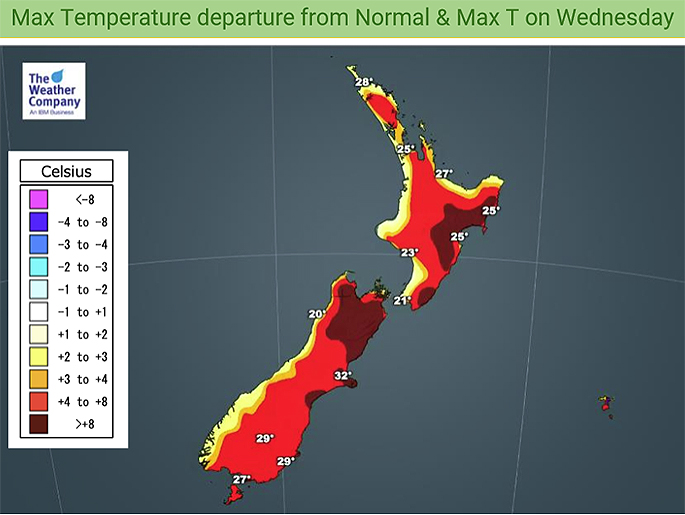 Image: WeatherWatch.co.nz
Northland, Auckland, Waikato & Bay of Plenty
Morning cloud then mostly sunny, southwesterly winds apart from Northland and Bay of Plenty which see sea breezes.
Highs: 25-29
Western North Island (including Central North Island)
Any morning cloud clears then mostly sunny, some high cloud later in the day. West to northwesterly winds.
Highs: 22-27
Eastern North Island
Sunny and hot, afternoon east to northeast winds about coastal Hawkes Bay / Gisborne. Northwesterlies inland and about the Wairarapa.
Highs: 29-35
Wellington
Some morning cloud then mostly sunny, a touch of high cloud later in the day. Gusty northerlies.
High: 23
Marlborough & Nelson
Sunny and hot (especially about Marlborough), some high cloud later in the day. North to northwesterly winds.
Highs: 28-34
Canterbury
Mostly sunny with increasing high cloud, northwesterlies become gusty in the afternoon. Early Thursday morning cooler southwesterlies push through with showers.
Highs: 27-33
West Coast
Mostly sunny north of about Greymouth with some developing high cloud, cloudier skies further south with showers for Fiordland. Heavy rain moves into Fiordland during the afternoon then slowly pushes northwards in the evening. Northwesterlies.
Highs: 19-29
Southland & Otago
High cloud, perhaps some sun. Late afternoon northwesterlies change southwest about Southland bringing showers. Rain spills over into the Southern Lakes district from the west afternoon onwards then later in the evening or overnight southwesterlies push through Otago bringing showers.
Highs: 25-28