There seems to be an increase of dissatisfaction in Tauranga these days; people are cross and getting crosser.
Perhaps it's because this is an ever-expanding city that has been constantly growing at a pace impossible to keep up with. If lots of people move here then more stuff is required for their day-to-day needs and that stuff unfortunately takes ages to build. Even if you build the right stuff.
It does appear that a fair amount of said dissatisfaction stems from stuff being built – concrete parks at the Mount, bizarrely slow traffic systems in Greerton, to mention just two – which appears to be the wrong stuff for the place it's being built. Or the right stuff for the wrong place. Or more usually, just to complete the trifecta, the wrong stuff in the wrong place. Way too late.
And amongst the many things people are dissatisfied with, I couldn't help but notice a recent survey on the SunLive website. Readers of the printed paper won't have seen these surveys, but they perform the valuable weekly function of letting people express how dissatisfied they are. One from a couple of weeks back particularly struck me. It asked for opinions on the Wharf Street upgrade, which has created a new dining walkway in the CBD. To no one's great surprise, 65 per cent of respondents declared themselves dissatisfied.
I wonder what that actually means...?
I ask since there wasn't an option to explain the reasons for dissatisfaction, and – much as I've bashed the Wharf Street "project" in the past – I do think the developers of the completed new space are in something of a no-win situation.
NO-WIN
Because Tauranga has a large minority of people who don't want anything new built, unless it's not ratepayer funded.
These are older people living on fixed incomes and their highest priority for Tauranga is that their rates don't rise. Because of that fixed income. Fair enough. They want exactly no improvements to the city except sewage and other absolutely essential services. They don't drive or get out much so don't care about the traffic, events, or other luxuries such as an art gallery or museum. That's half your "dissatisfieds" right there.
Then there's the other half, comprising amongst others the many new arrivals from Auckland, who just see all the things Tauranga is still lacking and want it improved. They want upgrades. They look at Wharf Street and see a slab of concrete with some lights and say "Is that all?" Again, fair enough. It's not exactly extravagant. There's no outdoor stage. Half the businesses don't even want to expand outside.
But then this was – unlike most council developments – done relatively cheaply. There didn't seem to be any particularly wasteful cock-ups and there wasn't a budget blow-out. And so, yes, it looks a bit basic. Not exactly Auckland. But it's there.
Where this ends up, particularly with the sad state of the CBD, is anyone's guess. More businesses will no doubt go under before the Farmers redevelopment with the dumb name is finished. Then, we're told, everything will be hunky dory again.
MUSIC
But even without an outdoor stage there is music happening on Wharf Street.
The Barrel Room have been having some interesting sounds, leaning towards blues and jazz, and next Friday (February 5) showcases singer/songwriter Zoe Scott of band The Foxtrots (who may or may not still be active...). She sings in a folky/poppy/country vein and is well worth hearing. Zoe's just returning from the Auckland Folk Festival and is at The Barrel Room from 6pm with no charge.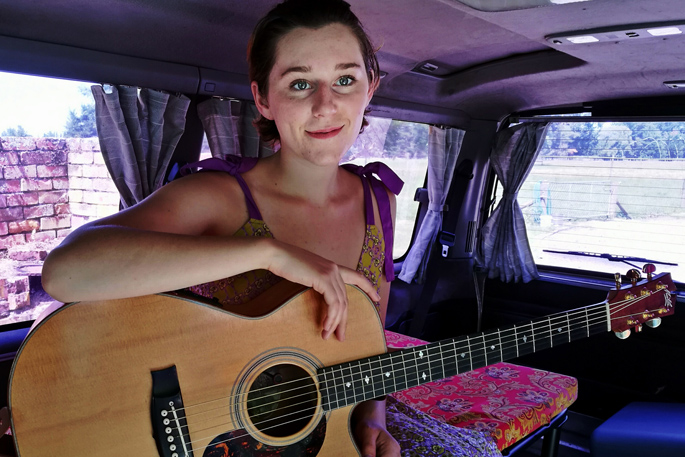 Zoe Scott.
Further down the concrete at The Hop House the following Friday (February 12) Auckland's Guardian Singles will be pumping out their enthusiastically rough post-punk guitar rock. They'll be supported by local band Eddie and The Dreamers, featuring punk hero Edward Gains (formerly of Ed Gein and the Human Remains) and his 18 year old son Wilco Gains. Together with Luke Turner (drums), Dave "Eddie" Shannon (bass), and M A Williamson on vocals they create a truly devastating noise. It's really quite impressive. Things cost $15; doors 8pm; show 9.30pm.