Good morning and welcome to Sunday.
The MetService advise there will be fine spells with the change of one or two showers until evening, and westerly breezes.
A one-clothing-layer day, there is an expected high of 23 degrees around 2pm, and an overnight low of 15 degrees. High tide is at 2.45pm and low tide is at 8.57pm. Sunset is at 7.47pm.
What's on today?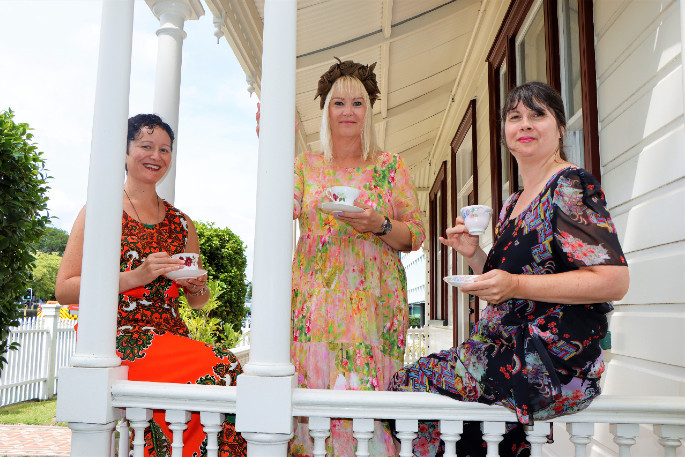 Garden party judges Sarah Webb, Tracey Rudduck-Gudsell, and Jolene James. Photo: Rosalie Liddle Crawford.
Would you like to dress up and attend an elegant garden party? This afternoon the Tauranga Historic Society are holding a vintage garden party at Brain Watkins House from 1.30pm – 4pm.
Looking for something to do this morning? Head along to the Extravaganza Fair at Memorial Park from 9am – 5pm.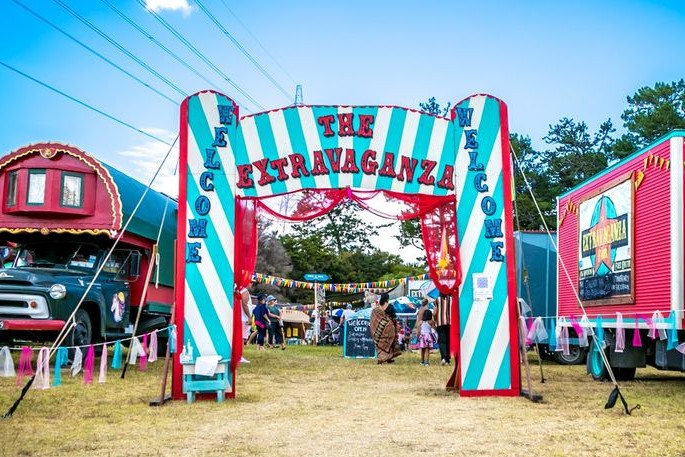 At Sydenham Park this morning, if you're a resident of Otumoetai, Judea, Brookfield or Bethlehem, you can grab a free rat trap and tunnel to support the native birds in your backyard.
There is comedy gold at The Jam Factory tonight with the Honest Liars Improv.
It's a beautiful day to go out and enjoy a market. The Vee Village Market is on until 1pm at Tauranga Historic Village. The Mount Farmers Market is vibrant with produce and food stalls at Mount Mainstreet, and The Little Big Market is happening at Coronation Park until 2pm.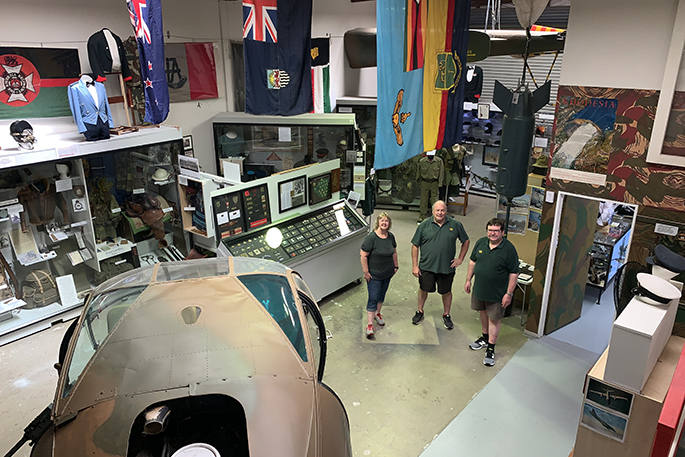 Diana Bomford, Tony Fraser and Hugh Bomford at the Lion and Tusk Museum at Mount Maunganui
Have you been to the Lion and Tusk Museum yet? It's open today from 10am - 3pm at Unit 4, 14 Portside Dr, Mount Maunganui. Come and see a massive display of Rhodesian military history records and exhibits of uniforms, medals and equipment. Opening hours are 10am – 3pm Thursday to Sunday. For more information click here
The Incubator
At The Incubator Creative Hub at Tauranga Historic Village, there are many exhibitions, workshops and events happening daily. For more information click here. Exhibition hours are 10am – 2.30pm.
What else is on today?
Art On The Strand
Original art for sale. Weather permitting. 9am-4pm, The Strand, Tauranga. Tauranga Society of Artists
---
Bible Seminar
1:45pm Greerton Senior Citizen's Hall, Maitland St, Greerton. Title: Water in the Bible. Trace its meaning. Interactive, Q&A. All welcome. Mary 573 5537
---
Brain Watkins Garden Party
Dress up & visit our Historic House Vintage Cafe, 1:30-4pm, 233 Cameron Rd! See our event page for details https://www.facebook.com/events/3412957972113188
---
Choral Evensong Service
By Chancel Choir of St Peter's Anglican Church, Victoria Rd, Mt Maunganui. 4pm. Music by Parry, Cooke & more.
---
Croquet
Tauranga Domain, Cameron Rd, Sun, Tues, Fri, 12:45 for 1pm start. Beginners welcome. Ph Peter 571 0633
---
Golf Croquet
At Club Mt Maunganui, Kawaka St. Tues,Thurs, Sun; 9.15am for 9.30am start. Visitors, new players welcome. Ph. Nev 07 575 5121
---
Maketu Market
Held on the 3rd & 5th Sundays of month at Maketu Village Green. Set up from 7am. Ph Maureen 021 267 1685
---
Medieval Swordfighting
Learn to fight with swords axes, spears, etc. in a controlled safe & fun environment. Memorial park 1:30pm
---
Rotary Tauranga Book Sale
Harvard Way Coolstore, opposite Classic Flyers. 9am-4:30pm. Parking onsite. Bring your own bags or box. taurangarotary.org.nz
---
Struggling with Debt?
Free help to anyone in need, through our debt counseling team. A sustainable solution and real hope for the future. Ph Free 0508 227 111 or www.capnz.org
---
Tauranga Organ Keyboard Society
1:30pm at Carmel CE Social Centre, 11 Hollister Lane, Ohauiti, Tauranga. Play or listen to Organ, Clavinova, Piano. PH June 574 2204
---
The Sociables
A group of males & females in their 30s/40s/50s that meet to participate in events, dining out or bushwalks. Ph 022 012 0376
---
Underwater Hockey
Baywave Pool. Intermediate age & above. Gear provided & first 3 Have-a-go sessions free. 5-6pm Have-a-go & novice players. 6:15-7:45pm experienced players. https://www.sporty.co.nz/taurangauhc