Being blind is no barrier to a Hamilton woman who is swimming in the NZ Ocean Swim Series at Mount Maunganui today.
Shannon Cleave, age 42, has been vision-impaired all her life, with about five per cent limited sight.
"I'm an albino. There are two type – with or without vision. I'm without," says Shannon.
"What I'm trying to do is enjoy myself and get out there and do stuff and also show people who can see what is possible."
Shannon says that some vision impaired people think they can only swim safely in a pool.
"But you can tie yourself to someone and go swim out in the ocean together."
Today in the Generation Homes Mount Swim, Shannon will be tethered by inner tubes and what she calls "modern day number 8 wire", utilising true Kiwi ingenuity.
"Farmers use elastic wire fencing to make temporary gates and I use a length of that to tie myself to the guide," says Shannon. "It needs to be stringy and slightly elastic.
"We found this fencing material, which is quite good as it doesn't take on the water. It's light and white so people behind can see."
When swimming in triathlons, the cord is about a metre long, which means Shannon is about one-and-a-half metres away from her guide.
There are five swims on offer today in the Generation Homes Mount Swim event which is also hosting the prestigious Global Swim Series Global Championships for the first time ever in New Zealand. Swimmers entered in the 2.8km swim will be automatically registered for the Championship event and swim alongside some of the best in the world.
The swims today are around Motuotau Island – 2.8km; around Moturiki – about 1250m; the Mount Main Beach – 500m; amphibian event – swim 750m/run 4.5km around Mauao; and the Global Swim Series – Global Championships – simply by entering the 2.8km event.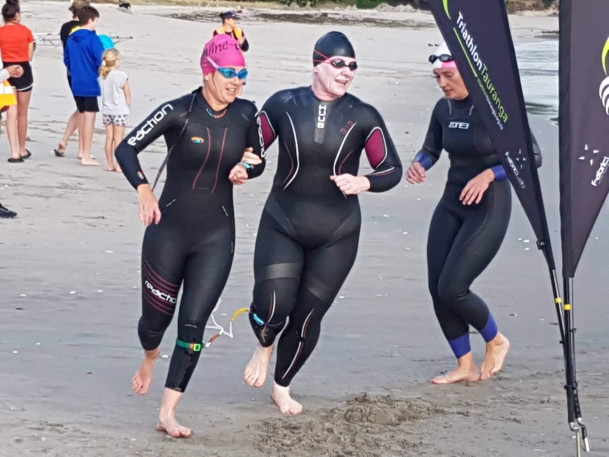 Shannon Cleave competing with guide Emma Parsons at triathlon at Mount Maunganui a couple of years ago. Photo: Supplied.
Shannon has been competing in triathlons for about four years and has won the national championship for four years in the PTVI – para-triathlon vision impaired category.
"I said to some people today on Facebook you need to look for ways to make things happen and look for ways to do what you want to do."
She found that there weren't many opportunities to participate in sports at high school.
"At primary school I played netball but there was not much opportunity at high school or afterwards. So it wasn't until a few years ago that I started doing anything very active.
"I got to the point where I got very overweight and started going to the gym to get fit and thought what can I do with this new body," says Shannon.
She joined a disability group called Achilles.
"I was 150kg. I'm now just over 100. I lost 50kg. People who haven't been overweight don't know how hard it is to do stuff if you are."
While competing in Canada she had a bike crash.
"I was doing a world cup race there for a triathlon and I've been semi-injured since then so that's why I'm doing the swim races. I can't do the other races yet so doing that at least."
Shannon competed in the NZ Ocean Swim series in Rotorua about a fortnight ago.
"I had a guide who had never guided before. He was so fun. We had swum together for about 20m before that and he wanted to have a go and I thought 'well I won't get a chance otherwise'."
This weekend, as well as a guide, she also has a friend swimming with her.
"My philosophy when losing weight was to consider the choice in front of me - if I make the best choice at the time and do that ten times a day I will be in a better spot. Don't be too hard on yourself there's enough other people doing that," says Shannon.