The
White Ferns will be standing between Australia and history when the Rose Bowl one-day international series gets under way today at Bay Oval in Mount Maunganui.
The Rose Bowl, which New Zealand haven't won since 1998-99, has game two on Wednesday and game three next Saturday.
White Ferns captain Sophie Devine will miss the ODI series against Australia to take a further period of rest to deal with fatigue.
The 31-year-old all-rounder didn't play in the final two Twenty20s against the Aussies, and a statement from New Zealand Cricket on Saturday said she would return home to Wellington, and have some more time on the sidelines.
New Zealand coach Bob Carter says the decision had been made in the best interests of Devine.
"As I said earlier in the week, this is about prioritising Sophie's needs first," says Carter.
"And we'll put things in place that will support her."
Devine was a late scratching from the dramatic last-ball win in the second T20I in Napier on Tuesday, with a team spokesman originally reporting she had woken up feeling unwell and had remained at the team hotel.
It was in a NZC statement on Wednesday afternoon when it was revealed Devine was suffering from fatigue and that she "didn't think she could do justice to the team or herself by playing".
It added: "After an extensive season that started back in September 2020, Sophie will look at how she can best balance her cricket commitments with the need to rest and recover over the coming days."
Devine then also didn't feature in the rained-out third and final T20I at Eden Park on Thursday.
While Devine has been in sensational form recently on the domestic scene – both in New Zealand and in Australia's WBBL, including being player of the series in the latter late last year, and smashing a record-breaking century in the former early this year, she has had a tough time of it in the international game
After scoring just 47 runs in the three ODIs and three T20Is against England in February/March, Devine plundered 97 off 54 and 74 off 44 in domestic one-dayers for Wellington, before making 17 in the opening T20I defeat to Australia in Hamilton last Sunday.
That had led to former player and selector Kirsty Bond suggesting Devine – who has played 111 ODIs and 98 T20Is – should give up the captaincy to focus more on her batting.
Devine was named as interim captain in January last year when Amy Satterthwaite went on maternity leave, and NZC announced in July that she would retain the leadership, despite the return of Satterthwaite.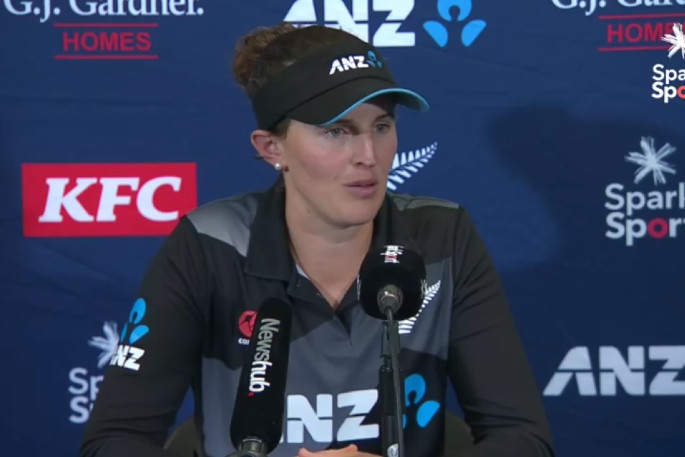 Amy Satterthwaite. Photo: Supplied.
Vice captain Satterthwaite will now continue to lead the side during the Rose Bowl series, with Carter not making any decisions yet about Devine's future at the helm.
"She was my captaincy choice, and we will deal with that later on, but until now, the big thing is for us to get our heads around this series," he said.
"Amy did a fantastic job in the final two T20s and brings a wealth of experience and knowledge to the role.
With all-rounder Frankie Mackay having also been ruled out of the series after suffering a calf injury in Napier, Central Hinds all-rounder Hannah Rowe and Wellington Blaze off-spinner Leigh Kasperek will now both stay with the squad for the entire series. Originally Rowe was selected for game one and Kasperek for games two and three.
White Ferns veteran Amy Satterthwaite has played in 12 Rose Bowl series since her debut in 2007, and she says having the chance to stop Australia breaking a record wouldn't provide them any extra motivation – because they don't need any.
"They've been a quality team. I think we're under no illusions around that. We've played in a few of those games where they've managed to get wins, and we know how much of a challenge they are.
"The Rose Bowl has always been a series that we really get up for, and it's been one that we'd love to get our hands on. It's always been one we really want to win, so I think there's no extra motivation needed to really turn up for that series."
The White Ferns have lost their last nine ODIs against Australia and were beaten comfortably the last time the two teams met in the format – for three matches in Brisbane last October – but they have won two of the last three completed trans-Tasman T20s and Satterthwaite felt that would give them a confidence boost.
The three-match series begins with a day game starting at 11am on Sunday, then concludes with a pair of day-night matches starting at 2pm on Wednesday and Saturday.