Mount Maunganui cricketer 10-year-old Lara Wright will never forget meeting her heroes.
Lara, who attends Omanu School, won the opportunity to be an ANZ Coin Toss Kid and experience standing side by side with the captains Amy Satterthwaite and Meg Lanning, as they decided who would bat and bowl at last Wednesday's White Ferns vs Australia match at Bay Oval.
When Lara told her school friends about the experience they all wished they could have done it too.
"I'll always remember being on TV with the two captains and the humongous coin. It wasn't heavy but it was really big," says Lara.
Lara, who wants to be a fast bowler one day, was inspired to play cricket after watching her brother play.
"I got bored watching him play so I decided to give it a go and really liked it!" she says.
Lara really enjoyed meeting all of the players and got heaps of autographs.
She chatted about her own cricket season and got to be involved in some of the White Ferns warm-ups.
"They did lots of weird warm-ups. They were passing medicine balls and I got to hold one of them."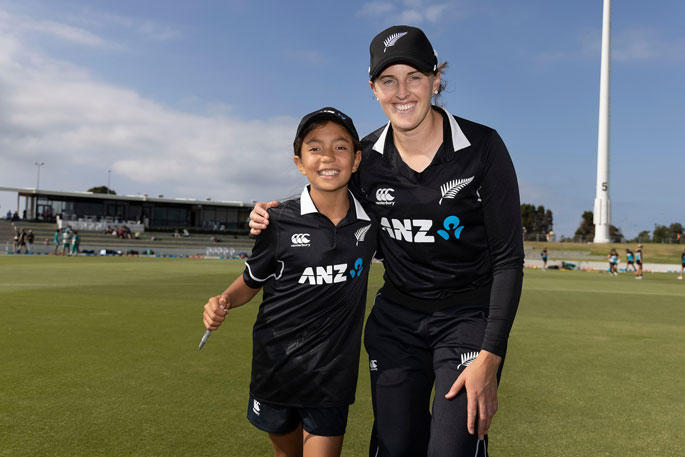 Lara Wright with White Ferns captains Amy Satterthwaite.
Head of Sponsorship at ANZ, Sue McGregor says Lara is one of 23 promising young cricketers chosen to take part in the pre-match custom this cricket season.
"After such a tough year for the country in 2020, it has been even more apparent the important role that sport and our sporting heroes play to inspire our future generations.
"We are so pleased to be able to continue creating these once in a lifetime opportunities for our future Blackcaps and White Ferns.
"Getting to meet their heroes is something we hope will stay with them for years to come."
The Coin Toss experience is part of ANZ's long-standing support of Kiwi cricketers.
Since 2009 ANZ has given over $1 million to local cricket players, teams & clubs.
In addition, ANZ has donated $1 million in grants to grassroots cricket and netball clubs to help them get back up and running after Covid-19.