Three students have been selected from hundreds of applicants to represent the Bay of Plenty at BLAKE inspire – a week long environmental leadership programme for young New Zealanders.
Jessica Lamb from John Paul College, Daniel Weiss from Otumoetai College and Jack Wilson from Trident High School, will be joining up to 70 year 11-13 students from around Aotearoa for the events.
The students will spend the week developing their leadership skills, as well as learning about key environmental issues, Matauranga Maori, and sustainability innovation in the Waikato region.
They'll be exposed to career paths in their field of interest and will be shown real world applications of subjects they learn in the classroom.
The first of the two programmes being held will run from April 19-23 in the Waikato, and the second from the 11-15th of October in Auckland.
BLAKE CEO James Gibson says BLAKE inspire helps to unlock potential and kick-start journeys to tackle environmental issues and help to create a more sustainable future.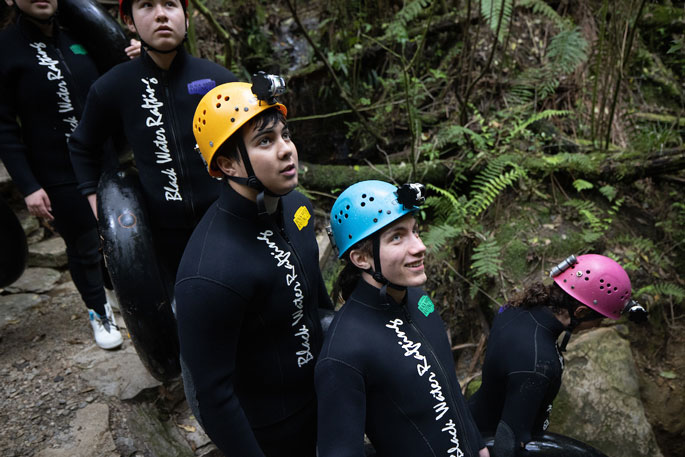 Students from last year's BLAKE Inspire river rafting.
"Environmental issues are a priority for our rangatahi (youth). They're very aware that their future will be negatively impacted if people don't start responding to challenges such as climate change, biodiversity loss and the decline of our marine health now," says James.
"Whatever their culture, school or background, BLAKE Inspire brings together these young, like-minded leaders to create new connections and find answers to pressing environmental challenges.
"Throughout the week, BLAKE Inspire students will interact with scientists, conservation experts and New Zealand business leaders who are leading the way with sustainability initiatives, so they can ask all the questions they like, and soak up every opportunity presented them," James says.
Ministry for the Environment deputy secretary, joint evidence, data and insights group, Natasha Lewis says leaders today need to be resilient, innovative and able to respond to a changing world.
"Young people are often called the "decision makers of tomorrow," but our rangatahi must be included in the decision making of today, because more than ever, those decisions will impact the Aotearoa they will inherit.
"Ministry for the Environment is proud to be able to be a part of this programme, and excited to see what will come from the rangatahi involved," says Natasha.