The judging has been completed for the 2021 Tauranga Bird Club Animates Annual Show, with the doors open to the public this afternoon.
Each year, the popular two-day bird show is set up on the Friday, with judging always held on the Saturday morning. It's a busy time with varieties of finches, cockatiels, canaries, budgerigars and parrots all being scrutinised by teams of judges.
The show itself opened at 1pm today and will continue until 5pm, and then is open again on Sunday morning.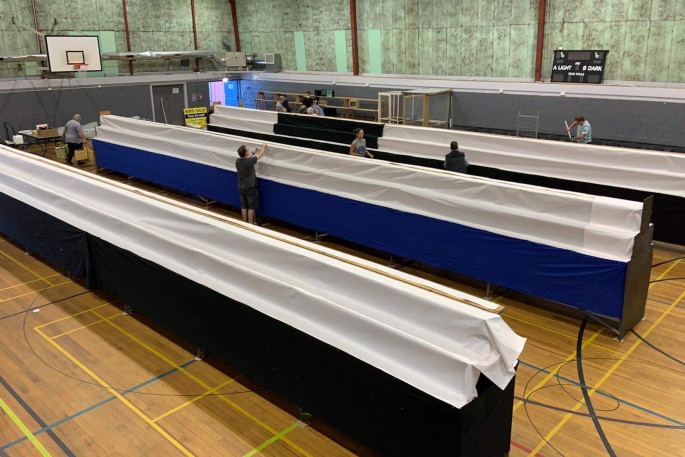 Setting up on Friday at the Mount Sports Centre. Photo: Supplied.
A team of volunteers were very busy all Friday constructing the display shelving that hold the competition cages and setting up tables.
"The sales tables is rearing to go with a wide range of birds and accessories for sale," says club president Sheryl Baron.
There was much anticipation overnight, with over 500 birds kept safe in their cages ready for this morning's judging.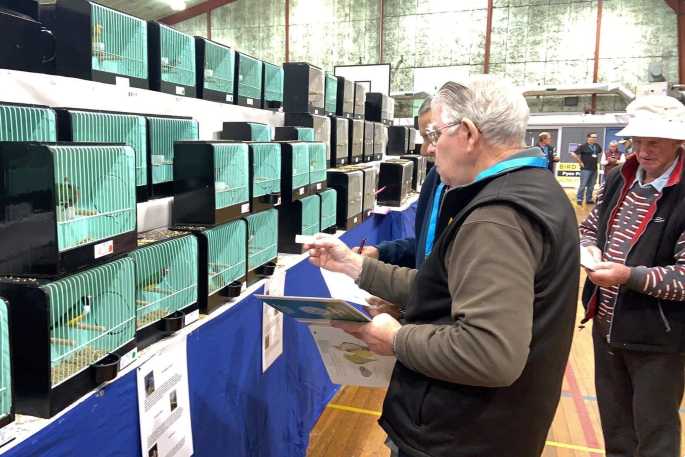 Judges deciding on winners for the finches. Photo: Supplied.
"There is usually a mixture of almost 200 budgies – they are very popular," says Barkes Corner Clinic veterinarian Martin Earles who helps run the show for the club with his father Graeme Earles.
Along with judging of the birds, there is also a colouring-in competition on display, with over 100 entries this year from many local schools including from Te Puke, Papamoa, Otumoetai and Pahoia.
"The winners were chosen yesterday afternoon," says Sheryl.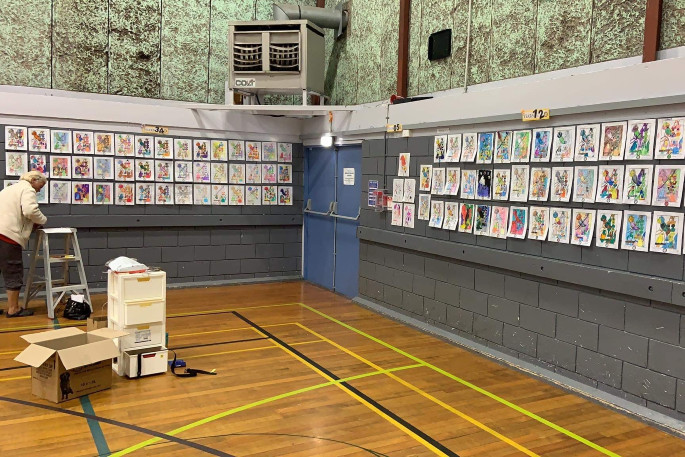 More than 100 entries were received for the colouring-in competition. Photo: Supplied.
As the doors opened at 1pm, a crowd of people were already waiting to stream in and enjoy the colourful array of birds.
"It's worth a look. If people are interested in birds there is someone here to talk to. Some businesses are also selling bird food and there are birds for sale," says Martin.
The Tauranga Bird Club Animates Annual Show is on today Saturday May 15 from 1pm – 5pm, and from 8.30am – 1pm on Sunday, May 16, at Mount Maunganui Sports Centre, Maunganui Rd. Entry is $4 adult, $2 child, 10 family and pre-schoolers are free. No Eftpos, cash only please.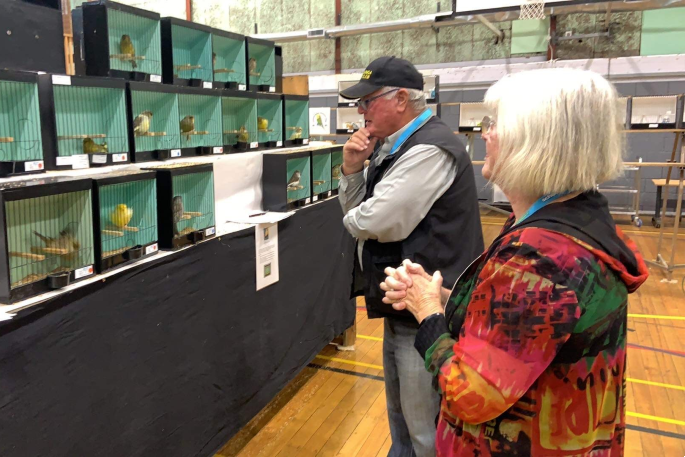 Judging the birds at the Tauranga Bird Club Animates Show. Photo: Supplied.