After last week's sustained rant we've got snippets this time; strap on those short attention spans.
And the snippets du jour are a distinctly mixed bag: new releases, new arrivals in town, more than a few gigs – previews, recommendations, warnings – and whatever else is on the Watusi radar this week in our buzzy little city.
First of all, because I guess this is the most pressing thing, I have a couple of suggestions for this weekend. Because there's a lot on on Saturday, July 31.
If blues is your bag, rush down to the Jam Factory. There you'll find Mike Garner's Ragtime Washboard Kings, presenting an evening of early acoustic music, from ragtime, through jug bands to blues, played on washboards, guitars, mandolin and upright bass.
Alongside him are bass player Stuart Lawrence, percussionist Warren Houston and multi-instrumentalist Robbie Laven. Tickets are $25, and things kick off at 7pm.
On the same night the Mount Social Club are holding a South African night along with their sister outlet in Rotorua, with $15 tickets and South African DJs playing from 7pm-2am. They promise an authentic South African jol like no other.
Meanwhile, from now until Christmas it seems the Bay will be getting visits from various versions of the Eagles. The first is that same night and sees Motel California playing at the Tauriko Pub Co at 8.30pm. Tickets are $34. A little later in the year we can expect to see two other Eagles tribute shows, Hotel California and Take It To The Limit, heading this way.
Saturday is also the last chance to catch the last night of eight-piece classic rock band Electric Universe's tour. They'll be playing over in Hamilton at the Nivara Lounge in what will be a treat for lovers of the heavier side of metal.
Also on the bill are a tribute to Black Sabbath by After Forever, and a tribute to Metallica and Megadeth from a band called Metadeth, as well as support from Checaine. Not only that but it's all free. Things get going at 8pm.
Arrivals
Moving along, to new arrivals in town...
Well, there have been a number of sightings of the venerable John Key. No, not that one, the other one. While the country – for better or worse, depending on your view of dead-eyed millionaires from the finance sector – is no longer in thrall of the so-named Prime Minister, the Bay is now lucky enough to play host to the jazz keyboard-playing legend of the same name.
Piano wiz JK released an album earlier this year, Dune Dancing, with a band of top Auckland players going under the moniker John Key's Jazz Monsters, and has now relocated to l'il ol' Tauranga where he was spotted last weekend at Mount Maunganui's Mexican dive bar Voodoo Lounge along with a jazz trio.
Word is that he'll soon be appearing at The Barrel Room in town on one of their jazz evening – I shall keep y'all posted.
Releases
And while we're on the subject of new releases, singer/songwriter John Michaelz (ex-Hard To Handle, Stone Babies, Kosher) is back with a new reggae outfit called the Black Brother Band, which does indeed contain two Black brothers, the rhythm section of Gary and Wayne, along with guitarist Mike Kirk (ex-Kokomo, B-Side Band).
The band's first single and an accompanying video, a solid slice of back-to-basics skanking, Come On In, is now on their official website and YouTube.
The band are currently working on two more singles, Do Tha Do's and Jah Face, at the Colourfield Studio along with John's son Dylan Israel (Summer Thieves) on keyboards, backing singer Porina McLeod, percussionist Nick Ririnui and harp player Mike Butler.
Looking ahead to next week, you may want to check out the Mount's Totara Street next Thursday (August 5) when alt-folk singer Graeme James plays there during his return to New Zealand after a couple of years touring, locking down and recording in Europe.
Graeme will be playing electric violin, guitar, bass, baritone ukulele, banjo, mandolin, harmonica and percussion as he recreates his foot-stomping tunes in real-time with his famous loop pedal. Things happen at 8pm and cost $20.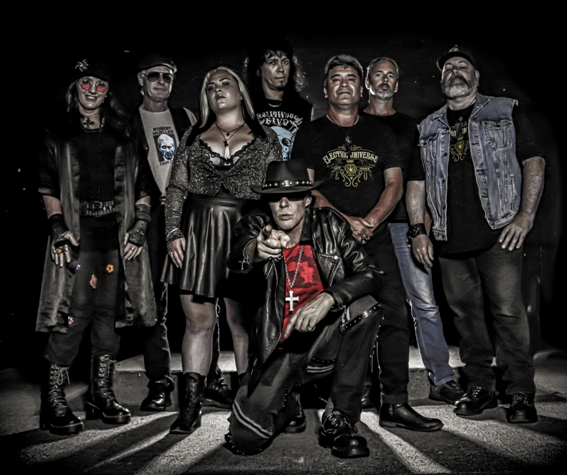 Electric Universe.