A jewellery store in Te Puke is thankful for the town's camera system, as well as police this morning, after an attempted robbery.
Te Puke Jeweller's store owner Rod Pearce says two car loads of people tried to break into the store last night, before being chased off by police.
He believes one of the two vehicles was captured by police following a chase through the town.
A police spokesperson says three people have been arrested in connection to the incident on Jellicoe Street.
"Police responded to reports of a burglary at a commercial address on Jellicoe Street in Te Puke at 3.17am.
"Three youths have been arrested in relation to this incident. One of whom will appear in youth court today and the remaining two in the youth court Monday week."
"We're a little bit upset as one could imagine, but in saying that, we are very happy and very appreciative for our town camera system and our police," says Rod.
"We think it's amazing and we're very appreciative for our unsung heroes."
Rod says the offenders used a hammer to try to get inside the store.
"They were using a hammer but they must have been body charging it and kicking it. They were pretty determined.
"I can't believe they didn't get in. We're getting the integrity of the door frame checked but it has held up.
"We're just lucky we've got a toughened building that deters most of the attempts that happen.
"We're also lucky that everyone is safe, but unfortunately we believe that it was a group of young people and so the consequences for them are very light."
Rod believes the store is looking at a $4000 plus repair bill following the attempted raid.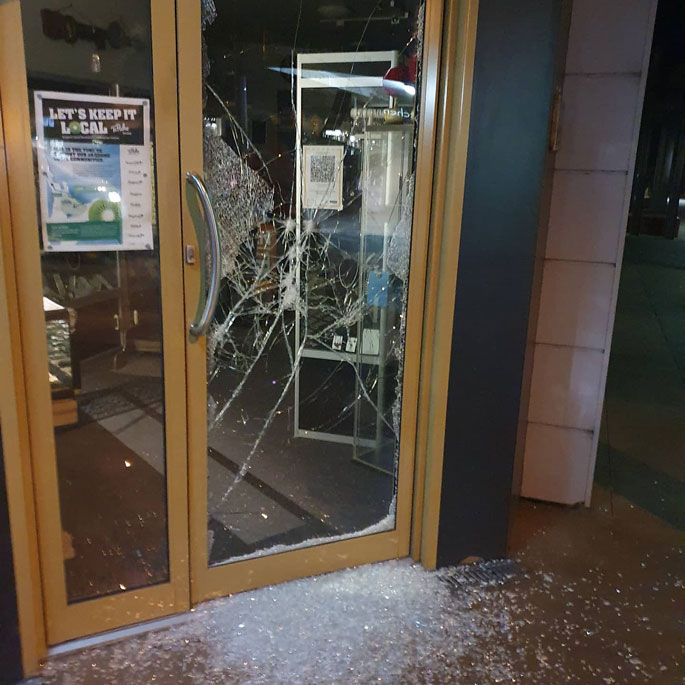 "I'd like the guilty people to pay for the whole lot and if it takes them a long time, I don't care because a dollar is a dollar, but reparation never quite works like that.
"I think they should realise the value of what they've broken because, unfortunately, I don't think these people appreciate the value of the destruction that they do and I think it's an important thing to teach our young people."
The store began cleaning up earlier this morning and people are being urged to be careful when walking past the shop.
"I've been outside rigorously looking for little shards of glass because obviously we don't want any innocent member of public cutting their feet, but I think now we've got them all," says Rod.
"The clean-up is going good, shops secure and we've got professionals looking after the repair.
"We're up and running now, we don't let things like this knock us back."