This week saw a resumption of planting in Te Ara o Wairākei stormwater corridor at Royal Palm Beach under an adapted planting approach devised to preserve views and access to the ponds.
Tauranga City Council Commissioners were there to plant the first of several large native trees to be included in the revised planting plan.

In May this year, the Commissioners agreed to restart pond-edge planting in the Palm Beach West area of Te Ara o Wairākei stormwater corridor.
The new planting plan, which allows for more open spaces, has been adapted in response to resident feedback.
Tauranga City Council Commission chair Anne Tolley says she is pleased to see planting resuming in the reserve.
"We appreciate the passion residents and local iwi have shown, advocating for what they feel is right for the area," she says.
"Te Ara o Wairākei is the main area for stormwater management and an important biodiversity corridor for the Pāpāmoa area. We have a responsibility to protect it."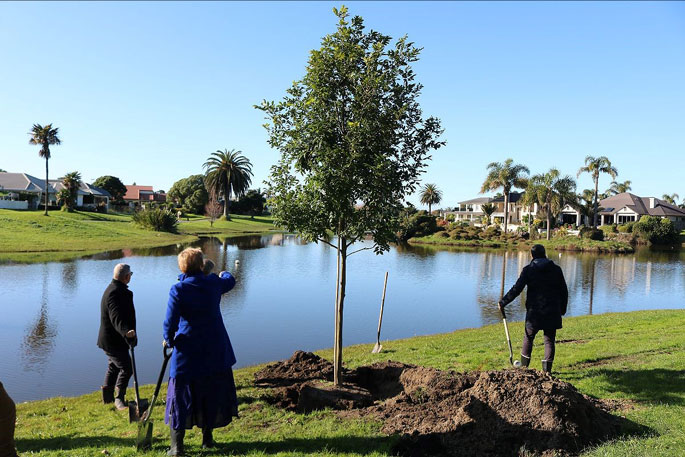 The plan includes larger areas free from planting that will enable water views and access to the water edge.
Key features of the plan also include the planting of lower growing native species and the inclusion of some larger native trees, surrounded by low-level planting.
These trees will provide shade and habitat for local wildlife.
Commissioners recently held meetings with project partners, local iwi Ngā Pōtiki and Waitaha, and resident representatives, landowners and user groups, to seek feedback on the amended planting plan. Feedback was incorporated into the final design and planting options.
Changes in the Wairākei stormwater reserve started with a variation to the stormwater consent, driving the landscape plan design and consultation which took place between 2015 and early-2017.
Planting started in April 2019, but was paused in May 2020 following feedback from residents in the Palm Beach West area.
The Te Ara O Wairākei landscape plan includes the enhancement of 15km of stormwater reserve, stretching from Pacific View Road to the Te Tumu boundary.
With features including planting, cultural recognition, signage and pathways, the plan aims to enhance the recreational value of the reserve for users and people who live nearby and recognise the cultural significance of the area to local iwi and hapu.
Over the last decade, Tauranga City Council's investment in shared walking and cycling pathways has also helped the Wairākei Reserve grow into a valuable recreation and commuter route.
For more information visit our website.