A Bay of Plenty man is distraught after his car was stolen with his young dog still inside.
Lawnmower Barry Riley was busy mowing the lawns of Tauranga's Academy Motor Inn on August 5 when a car thief made off with his work vehicle and his five-month-old Labrador puppy, Billy.
Riley is now desperately seeking his beloved pet – and his car.
"My wife and I are beside ourselves with worry. We just want Billy home safely. We just want him returned safely. We are so grateful if people could keep an eye out for him as he could have been put out of the car somewhere," says Barry.
The motel's owner Caroline Driessens said a woman who witnessed the theft ran into the property to let Barry know what had happened.
"The thief had quickly unhitched the trailer and had leapt into the driver seat and just drove off. The witness called the number on the trailer – Barry's mobile work number – but the mobile phone was in the car. The man who had just stolen the car answered the phone," she says.
"So the woman asked him if all was OK, as she'd just seen someone drive off quickly – she was thinking she was talking to Barry on the phone. The thief said it was fine, that she was misunderstanding and then hung up. So brazen."
Caroline says Barry had brought the puppy to work to show him off to the motel staff.
"He'd had Billy out of the car with him to show us – we'd all been fussing over this cute pup. Barry's been doing our lawns for a while – he's a lovely man. He was just finishing up and had put Billy back in the car, came back to get some things and that's when it happened, at about 11.45am."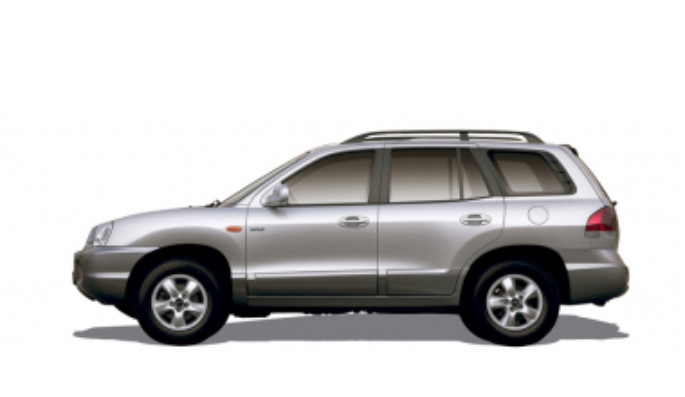 Police ask that if anyone sees the vehicle - a light blue Hyundai Santa Fe 2006 similar to photo - or see the dog to contact police immediately. Photo: Supplied.
Barry called police, Caroline says, as well as the Tauranga City Council.
Billy was wearing a pink collar – not a blue collar as in the photo provided.
Caroline said that the SPCA had also been informed in case anyone found Billy and took him there.
Barry's car is a light blue Hyundai Santa Fe 2006 with black wheels and black bonnet, registration BGF 836.
Police confirmed they had received a report of the incident just after 12pm on August 5 and that it had happened outside the property on Cameron Rd.
"If anyone has seen this vehicle or Billy the dog they should contact police immediately with that information," said police in a statement.