Ten Bay of Plenty Steamers will make their debuts for the blue and gold this weekend.
The team is travelling down to Wellington to play the Lions at Sky Stadium on Sunday, August 7, from 4.35pm.
"Sonny Collier is a proud Opotiki local who played for Greerton Marist this season and had a fantastic season," says head coach Mike Delany.
"Carlos Price is called into the side after an impressive club campaign for Mount Maunganui, including a flawless kicking display that helped lead his side to the Baywide title.
"Another Mount Marlin in Taylor Haugh earns a debut start on the wing after an impressive club and pre-season campaign, while Naitoa Ah Kui makes his long-awaited debut for the Steamers after injury saw him sit out the entirety of the 2021 season.
Mike says it's been a "really good" pre-season for the Steamers.
"Quite a few new faces, so it has been important for us to connect as a group. It's been great to give guys minutes, and everyone has had the chance to put their best foot forward," says Mike.
Blues standout Kurt Eklund will captain the team while Inga Finau will play the important role of vice-captain.
"It's great to have Kurt back leading the side. He's a great leader in our team and carries himself with a lot of mana and pride in the Bay jersey. His performance for the Blues this season was top-notch, and we know he will lead from the front this year," says Mike.
"Our message is to go out there and play with belief in the systems we've set up over the pre-season, and trust in our ability to solve problems. I have no doubt in the crew we've got that we'll put a performance on the board that we're proud of."
Make sure you catch our Steamers LIVE on Sky Sport 1 this Sunday.
Steamers Round 1 team vs Wellington Lions
1. Haereiti Hetet
2. Kurt Eklund (C)
3. Tevita Mafileo
4. Justin Sangster
5. Manaaki Selby-Rickit
6. Naitoa Ah Kuoi*
7. Jacob Norris*
8. Zane Kapeli
9. Te Toiroa Tahuriorangi
10. Kaleb Trask
11. Nigel Ah Wong*
12. Inga Finau
13. Joey Walton*
14. Taylor Haugh*
15. Emoni Narawa
16. Anaru Rangi*
17. Josh Bartlett
18. Pasilio Tosi
19. Sonny Collier*
20. Veveni Lasaqa
21. Jamie Dobie*/Carlos Price*
22. Wharenui Hawera*
23. Gillies Kaka*
*Steamers Debut
Not available due to injury:
Luke Donaldson
Nikora Broughton
Penitoa Finau
Jeff Thwaites
Melani Nanai
Emoni Narawa
Kitiona Vai
Lalomilo Lalomilo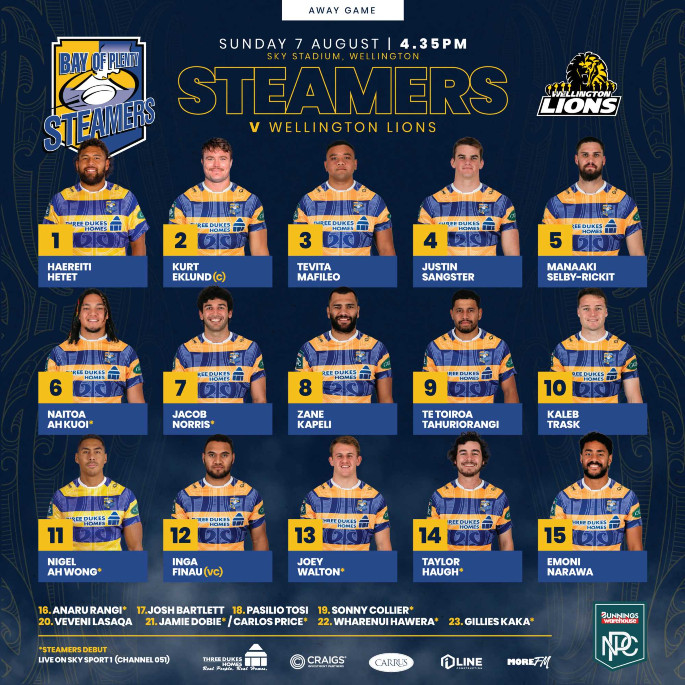 Bay of Plenty Steamers 2022 Bunnings Warehouse NPC Draw
Round One: vs Wellington, Sunday 7th August, 4.35pm, Sky Stadium, Wellington
Round Two: vs Taranaki, Sunday 14th August, 2.05pm, Tauranga Domain, Tauranga*
Round Three: vs Auckland, Sunday 21st August, 2.05pm, Eden Park, Auckland
Round Four: vs Counties Manukau, Sunday 28th August, 2.05pm, Tauranga Domain, Tauranga*
Round Five: vs Otago, Sunday 4th September, 2.05pm, Forsyth Barr Stadium, Dunedin
Round Six: vs North Harbour, Saturday 10th September, 4.35pm, North Harbou Stadium, North Shore
Round Seven: vs Southland, Sunday 18th September, 2.05pm, Tauranga Domain, Tauranga
Round Eight (Storm Week): vs Hawke's Bay, Saturday 24th September, 2.04pm, Tauranga Domain, Tauranga
vs Northland, Wednesday 28th September, 4.05pm, Tauranga Domain, Tauranga
Round Nine: vs Waikato, Sunday 2nd October, 4.35pm, FMG Stadium, Hamilton
*Double Header games
All Bunnings Warehouse NPC and FPC matches will be broadcast live and exclusive on Sky.
Farah Palmer Cup presented by Bunnings Warehouse - to view the full draw click here
Bunnings Warehouse NPC - to view the full draw click here