Tauranga City's housing dilemma rests squarely on city council's shoulders by removing barriers and putting more houses on the ground faster, says Finance Minister Bill English.
As part of yesterdays 'Managing a growing economy' presentation in front of about 100 National supporters, the Deputy Prime Minister offered his own political thoughts on the city issue.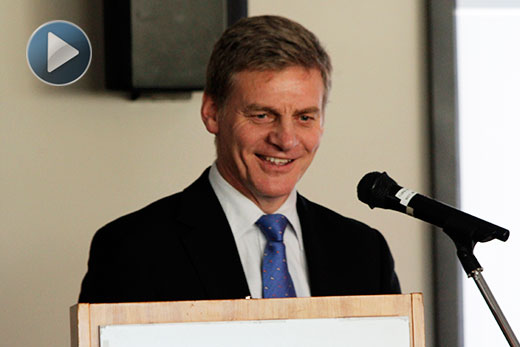 Click the image above to watch the video


Bill English in Tauranga yesterday.

Bill says the Government is determined to reduce the cost of housing through the Special Housing Areas Act and influencing council's impact on the market.
A recent international housing affordability study rated Tauranga as the second-least affordable place to live in New Zealand.
Bill says with the housing market "running hot" Tauranga City Council need to understand the wider economic impacts the housing crisis is having with interest rates set to continue rising unless something is done.
The Reserve Bank this week raised the official cash rate by 25 basis points to 3.25 per cent, the third rise this year, signalling more rises were to come.
"The Reserve Bank General is sticking the rates up until council's start taking notice.
"If councils say 'we are going to do everything we can to get homes on the ground faster' then the Reserve Bank will say 'maybe I don't need to put the rates up'."
Earlier this month Housing Minister Nick Smith asked the Tauranga City Council to report back to him on places where re-zoning could be fast-tracked under the Housing Accords and Special Housing Areas Act.
At the time, Radio New Zealand reported Mayor Stuart Crosby saying the problem in Tauranga is not a shortage of land, but that the combined cost of land, servicing of infrastructure and building was substantial, and the difference between incomes and housing had increased in a short period of time.
Stuart said it's projected that Tauranga would need another 30,000 homes over the next 50 years.
He said the council had identified 20 to 30 places in the city where housing developments could happen faster.
Bill acknowledges Tauranga is one of the country's more expensive markets, but sees the solution as simple - more houses on the ground fast.
Tauranga is one of the regions in New Zealand which is most difficult to live in with respect to high housing prices and low incomes.
"We are in one of the most expensive markets, but it's not like we are in Hong Kong or Singapore. But we aren't running out of room, when I last looked we still had plenty of paddocks."