More than 300 people are expected to walk the red carpet in Te Puke tonight before watching the world premiere of community-made film 'The Z Nail gang' in its hometown.
Invited guests – including cast members, crew and supporters – will arrive at the black tie event at Te Puke Capitol Cinema from 5.30pm onwards, with the film screening at 7pm.
Once premiering tonight, the film will be released tomorrow for Bay of Plenty residents to watch in cinemas in Te Puke, Tauranga, Whakatane and Rotorua. The film screens on the Coromandel from August 14 and is nationally released on August 28.

Directed and produced by Pukehina husband-and-wife team Anton Steel and Kylie DellaBarca Steel, the feature-length film is a feel-good action-comedy based around anti-mining protesters in the Coromandel in the 1980s.

The plot tells the tale of residents of a small coastal town living peacefully, before they receive a letter which changes their lives forever.

Kylie says the film extraordinarily cost a minimal $30,000 to produce, yet it looks, feels and represents millions of production value dollars.

"This is not your average low-budget film with a simple story and small cast – this is a highly-resourced production with a huge message, a community worth of principal cast, limos, helicopters, drill rigs, night scenes, choreographed stunt sequences, 20-plus locations and hundreds of extras.

"I'd say this is one of the biggest low-budget films ever to hit NZ cinemas – and this is an achievement certainly worth celebrating."

The film was shot in locations around the Bay of Plenty during February-March this year and post-production was completed in April-July for tomorrow's cinema release.

Independently produced – with truckloads of community support – the film features leading Kiwi actors, including Erroll Shand playing 'Dave', Vanessa Rare as 'Aunty', Geoffrey Dolan as 'Sgt Smith', Tanya Horo playing 'Mareeka', Jim McLarty as 'Ted Bates' and Paul Ballard as 'Ned'.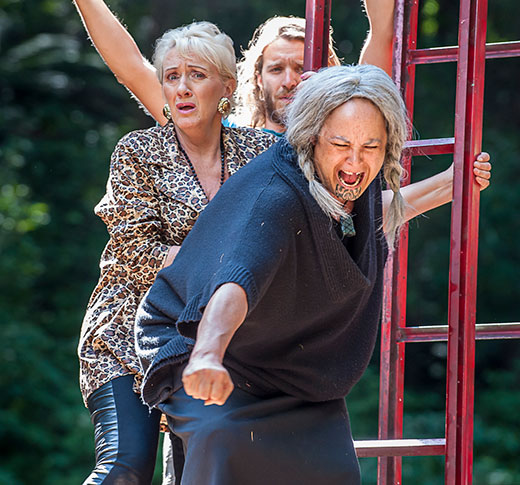 Actor Vanessa Rare performs an emotional scene in her part as 'Aunty' in the climax of 'The Z Nail Gang', shot early this year. Photo courtesy of Andy Belcher.

Kylie says the film is described as a comedic eco-drama with a conscience. "The Z-Nail Gang is an ensemble piece celebrating the strength of community.

"Based on actual – and unbelievably crazy – events that took place in the Coromandel, this inspiring story leads the audience on a journey of empowerment."

Set in a small coastal town, where mega-mining threatens the lives of its inhabitants, Kylie says it's a true 'David versus Goliath' tale where the outlaw Kiwi spirit of 'Goodbye Pork Pie' meets 'The Castle'.

"People can make a difference when they stand together.

"In today's Aotearoa, where mining on conservation land, oil prospecting and the sale of national assets are polarising the nation – this story has never been so relevant."

To make this film, the couple says they didn't employ the conventional model of film making.

"Because it's a story about community, we wanted it to be an act of community to make it.

"During the periods of both pre-production and production we had more than 400 individuals and organisation giving their time and resources for free.

"As with the central characters of the film, we wanted to show how a community can pull together, mobilising a creative momentum that empowers and unites."

Kylie says the majority of key crew were local volunteers, with only a few technical roles being filled by out-of-town film professionals.

Most key actors were cast from Auckland and were housed in Pukehina by generous home owners.

Supporting and extra roles were filled by local people and groups. Wardrobes and everything down to 16 character vehicles, a helicopter, drill rig and NZ's largest tractor were donated or loaned by local people, shops and businesses.

"All of those volunteering and those connecting with Z-Nail have remarked on how doing a project of this nature for no money has been a rewarding and inspiring experience, and has given them a renewed belief in the power of community.

"Some things really are worth more than gold."

For a full list of cinemas in each region, visit the film's website.