It was a standing ovation for the makers of the Kiwi film 'The Z Nail Gang' at the world premiere in Te Puke overnight.
More than 300 people packed Capitol Cinemas to watch the film made in the Bay of Plenty for the first time on the big screen.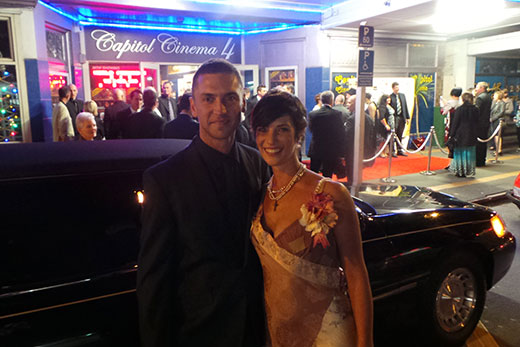 Pukehina husband-and-wife team Anton Steel and Kylie DellaBarca Steel at last night's Te Puke world premiere of their community-resourced film 'The Z Nail Gang'.
Congratulations flowed on and off the red carpet for Pukehina husband-and-wife Anton Steel and Kylie DellaBarca Steel, who directed and produced the film that brought the community together.
Anton and Kylie say they're blown away at the response to the film after living and breathing the project for the last 10 months.
"Anton wrote it five-six years ago, but since November it's been a runaway train we've been clinging on to – like holding a tiger by the tail," says Kylie.
Anton says it's been a "full on time" but he wouldn't change a thing.
"The way we've made it with our community really made the film much more of a crazy, awesome journey – a film about community, made by community."
"You put yourself out there and say you want to do this as a community project and you hope people will come on-board.
"Our first meeting had 12 people and tonight you saw more than 300 people – a list narrowed down from 600 – come to the premiere."
The feature-length film is a feel-good action-comedy based around anti-mining protests in the Coromandel in the 1980s. It was shot in locations around the Bay of Plenty in February-March this year.
Today, the film hits Bay cinemas in Te Puke, Tauranga, Whakatane and Rotorua. It will screen in the Coromandel from August 14 and be nationally released on August 28.
Independently produced – with truckloads of community support – the film features leading Kiwi actors, including Erroll Shand playing 'Dave', Vanessa Rare as 'Aunty', Geoffrey Dolan as 'Sgt Smith', Tanya Horo playing 'Mareeka', Jim McLarty as 'Ted Bates' and Paul Ballard as 'Ned'.
Hundreds of Te Puke, Pukehina and Pongakawa people, businesses and community groups came together to volunteer time, money and effort for the movie, which cost $30,000, says Kylie.
Brani Mead never imagined sharing a childhood experience with his mate Anton about six years ago would lead to a feature-length film.
"I told Anton about mining companies coming into our community and basically wanting to take our land – he thought it was a crazy enough story to make a big movie out of."
"I didn't really believe him – but he did it – and he's turned it into his own amazing story about how communities come together."
The film's main characters – a family of four – are based on Brani, brother Stephan, mother Nedilka Radojkovich and partner Mark Tugendhaft, who were behind mining protests on the Coromandel 20 years ago.
Brani says it's amazing what a small community can do for a good cause when it gets together and Anton has shone on a light on this – both on-screen and behind the scenes.
"Anton and Kylie have created their own story about how they've done that here, where they've brought people together and everybody chipped in with food, energy, equipment, time and money – and when all these things come together it's an incredible feeling that everyone gets."
Queen of the Pukehina potae, Lyn Barbour, says her red hat ladies' group thoroughly enjoyed being part of the film.
"It's been fun. A lot of us like dressing up and we had all the bling already," says Lyn.
"It was real community thing for Pukehina, Pongakawa and the whole area got involved."
Tom Kay of The Prime Suspects – a professional group of Tauranga actors –says six of his group got parts in the film and were last night representing Tauranga's acting community.
"It's great to have a feature film and great to have it filmed here in the Bay of Plenty – and the actors here on the red carpet are enjoying this for the first time."
Both Anton and Kylie want to thank all of the community who gave time and effort on the film.
"We decided to release it in Te Puke first – to let the community that have been such a part of it, celebrate it – it was integral to honour the people who gave so much of their time," says Kylie.